In a world where visual storytelling has taken centre stage, the ability to create captivating slow-motion videos has become increasingly important. With the evolution of smartphone technology, Android users are now empowered with many remarkable slow-motion video apps that enable them to transform ordinary moments into cinematic wonders.
You've come to the right place if you're looking for the finest slow-motion video apps to elevate your content. Dive into our comprehensive list of the top 12 slow-motion video apps for Android in 2023, each offering unique features to help you create stunning visual experiences.
List of Top Slow Motion Video Apps for Android 2023
This comprehensive guide presents a curated list of the finest slow-motion video apps tailored for Android devices. Unleash your creative potential as we explore these exceptional apps that effortlessly infuse your videos with mesmerizing slow-motion effects. Elevate your content game with these intuitive tools designed to transform ordinary footage into captivating cinematic experiences.
Read Also: Top 10 Best Face Swap Videos Apps for Android 2023
Unlock a world of creativity with SloPro. This app allows you to capture breathtaking slow-motion videos with ease. Whether you're a professional videographer or an amateur enthusiast, SloPro offers intuitive controls that enable you to adjust the speed of your videos while maintaining exceptional clarity. With its seamless interface, you can effortlessly control the intensity of your slow-motion effects, delivering content that mesmerizes your audience.
Efectum introduces a dynamic approach to slow-motion video creation. This app allows you to slow down your videos and offers the exciting ability to reverse the footage. Imagine the storytelling possibilities as you play with time, creating captivating narratives that leave a lasting impact. Efectum is your gateway to crafting videos that evoke emotions and profoundly engage viewers.
Transforming your moments into masterpieces is a breeze with Slow Motion Video FX. This app empowers you to apply stunning slow-motion effects to specific footage segments, emphasizing the essential details. Whether you're focusing on a heartwarming smile or an adrenaline-filled jump, Slow Motion Video FX ensures that every frame tells a compelling story.
Blending slow-motion elegance with comprehensive video editing tools, AndroVid is a versatile choice for content creators. Alongside its remarkable slow-motion capabilities, this app equips you with the power to add music, texts, and transitions, enhancing your videos with a professional touch. Elevate your content game by merging stunning visuals with creative editing, all within the AndroVid ecosystem.
Read Also: 15+ Best Apps to Hide Photos/Videos on Android 2023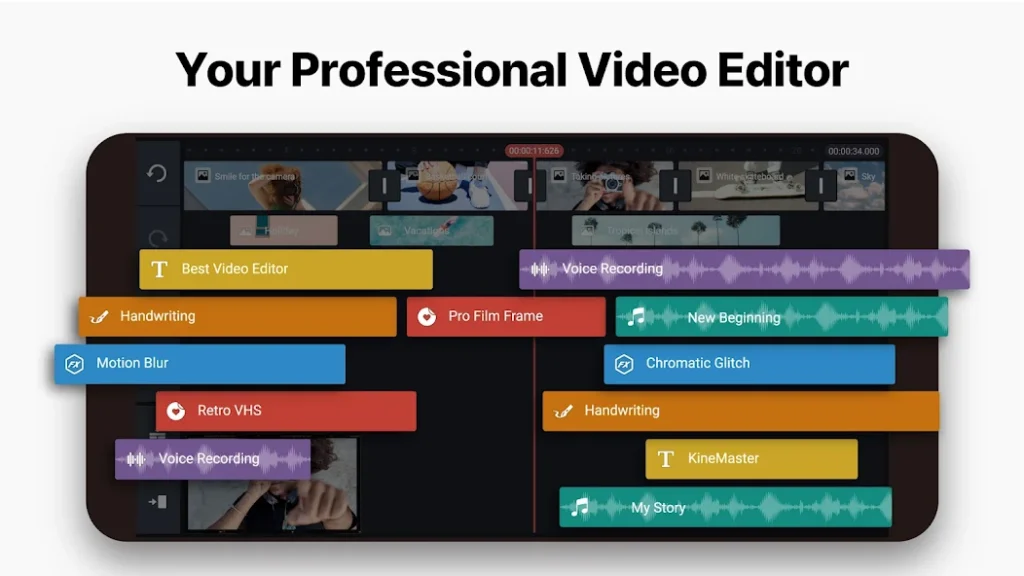 Step into the world of professional video editing with KineMaster. While renowned for its overall editing prowess, KineMaster's slow-motion feature stands out as a gem. The app empowers you to create seamless slow-motion sequences, ensuring smooth transitions that engage your viewers. Elevate your storytelling with KineMaster's precision controls and dynamic effects.
Incorporate slow-motion enchantment effortlessly using Videoshop. This app boasts various features that allow you to tailor your slow-motion effects to perfection. Whether adjusting the speed or trimming specific sections, Videoshop grants you the tools to curate videos that resonate with your audience. Craft stories that linger in the minds of your viewers with Videoshop's intuitive interface.
Unleash your inner filmmaker with CapCut's impeccable slow-motion capabilities. This app redefines creativity, enabling you to craft videos as unique as they are captivating. Seamlessly integrate slow-motion segments into your content, adding depth and emotion to your narratives. With CapCut, your storytelling potential knows no bounds.
For those who demand professional-grade results, VivaCut emerges as a prime choice. While its video editing prowess is undeniable, VivaCut's slow-motion features shine brilliantly. Elevate your content with meticulously crafted slow-motion sequences, maintaining the highest quality throughout. Immerse your audience in a world of visual splendour with VivaCut's precision and innovation.
Read Also: Top 10 Video Size Compressor Apps in 2023
Experience the fusion of simplicity and sophistication with PowerDirector. This app streamlines the process of creating mesmerizing slow-motion videos, allowing you to focus on your narrative without compromising quality. Enhance your content with immersive slow-motion effects that instantly capture attention and evoke emotions.
Quik transcends traditional video editing by offering an automated yet customizable approach. This app effortlessly analyzes your footage and transforms it into captivating slow-motion stories. With a wide array of templates and styles at your disposal, Quik enables you to create videos that are not only visually stunning but also deeply resonant.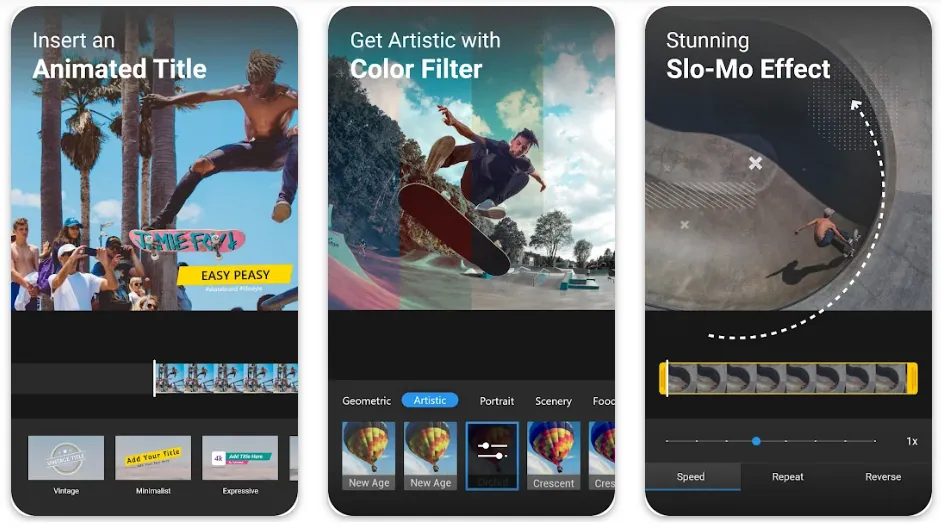 ActionDirector empowers you to infuse action-packed moments with slow-motion elegance. Whether highlighting a sports feat or a spontaneous adventure, this app enables you to create sequences that captivate and intrigue you. With ActionDirector, your slow-motion videos become a canvas for dynamic storytelling.
Concluding our list is InShot, a user-friendly app that combines simplicity with creative potential. This app offers a seamless slow-motion feature that integrates harmoniously with its other editing tools. Craft videos that reflect your vision and evoke powerful emotions while enjoying InShot's intuitive interface and robust capabilities.
Read Also: The 10 Best Video Editing Software in August 2023
In a world of endless possibilities, these 12 slow-motion video apps for Android in 2023 provide you with the tools to bring your creative aspirations to life. Elevate your content, engage your audience, and immerse them in stories that linger long after the video ends. Dive into the realm of slow-motion enchantment and craft visual narratives that leave an indelible mark on the hearts and minds of viewers.