In this tutorial, I will share with you the review of the Rank Math SEO Pro Plugin developed by MyThemeShop. This Rank Math SEO Pro Plugin Review will help you understand. Is it the best SEO plugin for WordPress?
MyThemeShop is a reputed theme development company in the market. It has developed many well-rated plugins and themes which are very popular among users. The schema was once one of the fastest WordPress themes created by MyThemeShop.
Recently, MyThemeShop has launched the brand new Rank Math SEO Pro Plugin for WordPress users. You can download it for free from MyThemeShop's site. This Rank Math SEO Pro Plugin provides more features than any other SEO plugin.
Read More: 33+ Best WordPress Plugins & Tools for Your Site.
In this review, we will give you a complete overview of all the features of the Rank Math plugin that will help you decide whether you should use it on your WordPress site or not. So let's start the Rank Math SEO Pro Plugin review.
Rank Math SEO Pro Plugin Review Complete Guide
Rank Math is a free WordPress SEO plugin that offers dozens of SEO features to optimize your website content.
However, this plugin has not yet been publicly released. But selected MyThemeShop users can test it. This plugin is promising to be the best among WordPress SEO plugins. The main reason for this, its features.
Here are the features of the Rank Math SEO Pro Plugin:-
1. Setup Wizard
Its configuration is very easy. Even a novice can configure it without any tutorial.
After activating Rank Math SEO Pro Plugin, it provides a quick setup wizard. Apart from this, it also checks your website compatibility. If an error is found, you can click on the More button to see it.
2. User-Friendly Interface
Rank Math comes with a simple and powerful interface. It highlights important information about your content. So that you can optimize your post properly.
It also provides snippet previews for your posts to see how your content will appear in search engines.
3. Google Webmaster Integration
It supports Google Webmaster integration and displays your website's index status and other ranking data in WordPress admin.
You can verify your website with multiple search engines and social networks such as Google, Bing, Alexa, Yandex, and Pinterest, right from your website dashboard.
4. Link Builder
Rank Math provides an innovative link builder for your website's internal linking.
It automatically creates internal links on your website to boost your website SEO. Just enter the keyword you want to make into a link. It will automatically convert it into a link.
5. Advanced Redirection Manager
With the Rank Math SEO plugin, you can easily set up and manage redirects. You can also import and export them. It also allows you to set individual redirects (301 or 302 redirects).
The best thing about this plugin is that it finds and helps you fix broken links (404 links) on your site.
6. Bulk Title and Description Editor
This feature saves both your time and money. Rank Math's bulk editing feature allows you to update the titles and descriptions of all posts in bulk.
Read More: Sarkari Result WordPress Theme Download
7. Automatic Image SEO
If you want to get a good rank in image search results, then image optimization is very important. Rank Math automatically adds ALT tags and title tags to images to improve image SEO.
8. Rich Snippet Support
Rich snippets provide additional information about your website to visitors and search engines. It supports many rich snippets, like news, articles, blogs, recipes, videos, etc.
9. News Sitemap
If you are running a news website, then you can easily create a news sitemap with the help of the Rank Math SEO plugin. It creates Google compatible news sitemap.
10. Video Sitemap
Rank Math SEO Pro Plugin also allows you to create a video sitemap. You can submit it to multiple search engines so that your video can be indexed quickly in the search engines.
11. WooCommerce Support
Rank Math SEO Pro Plugin does not just optimize the blog. It also optimizes e-commerce websites so that your products can get more traffic.
12. Modules
Many features of Rank Math come with modules. You can enable and disable them according to your needs. The best part is that each module has a description which makes it easy to understand.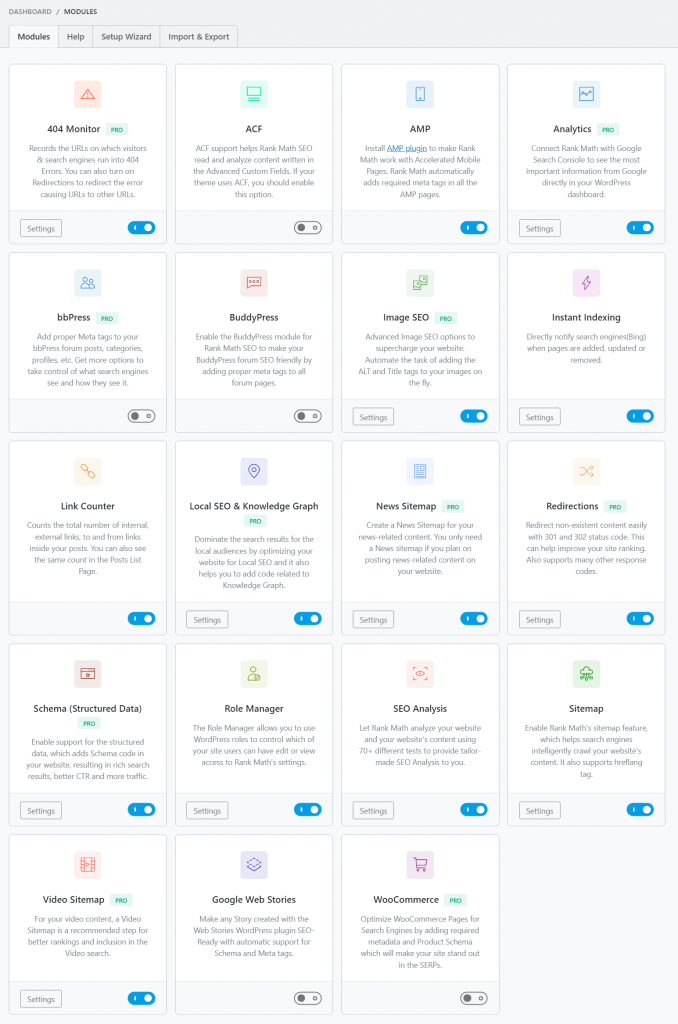 13. Content & SEO Analysis Tool
It is almost similar to Yoast SEO. If you have used Yoast SEO, you can easily understand and use it. It provides General, advance, Rich Snippet, Social tabs to optimize your posts. To make it easy, I'm going to break it down.
General
Focus Keyword
SEO Title (For Search Engines)
Permalink Structure (URL of your post)
Meta Description (description of the post)
Apart from this, you can see many more optimization improvement suggestions.
Advance:- Here you can configure advanced SEO settings for your blog posts like canonical URLs, custom redirections, robots meta.
Rich Snippet:- Earlier, rich snippets provide additional information about your content to search engines and your users. You can add rich snippets with a few clicks.
Social:- It allows you to set title, description, and featured images for Facebook and Twitter.
14. Import SEO Settings
If you are using any other SEO plugin on your site and are thinking of going to Rank Math, then you can easily do so. You can import all the settings from that SEO plugin by clicking the Rank Math import button. Currently, it supports Yoast SEO and in one SEO pack.
15. Robots.txt Editor.
Robot.txt file is a text file that helps search engine crawlers and other web robots index content. Rank Math SEO Pro Plugin allows you to create and update robots.txt files from the WordPress dashboard.
16. .htaccess Editor.
A .htaccess file is a powerful tool that is found in the root folder of the website. With Rank Math, you can edit and change your .htaccess file from the WordPress dashboard. Rank Math automatically backs up your .htaccess file before saving any changes. It protects you from any kind of accidental issues.
17. Optimize Category Archives
With Rank Math SEO Pro Plugin, you can enable SEO Meta Box to optimize categories. You can add a custom title and meta description to your category.
18. Remove Stopwords
As we all know, a short URL is very important for SEO and user-friendliness. Rank Math SEO Pro Plugin makes it clean and user-friendly by automatically removing stop words like "a", "and", and "the" from URLs.
19. Optimizations
Here you can set up some SEO tweaks for your site. But a minor mistake here can hurt the ranking and visibility of your site a lot.
20. XML sitemap
XML Sitemaps helps search engine bots to crawl your site. With the Rank Math SEO Pro Plugin, you can have complete control over the sitemap. It auto-generates XML Sitemaps for your website. You can enable and disable it with a single click.
21. Role Manager
Rank Math SEO Pro Plugin role manager is a unique feature that is not available in any other SEO plugin. If you are running a multi-author blog, then this feature can be very beneficial for you. You can limit the blog feature to the author role and change it.
22. Breadcrumbs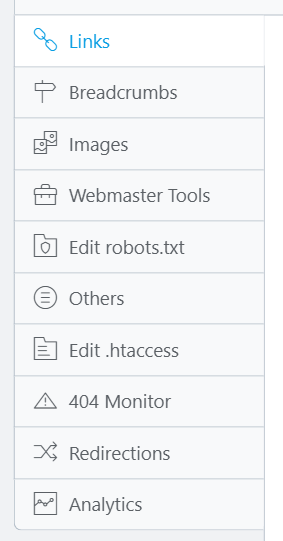 Breadcrumbs are very useful for both search engines and users. It helps search engines understand your site structure, while users can find out where they are on your site.
With the Rank Math SEO plugin, you can customize your breadcrumb according to your website and theme design.
23. Focus Keyword or Content Analysis
You can add focus keywords to your content as you do in Yoast SEO.
Focus Keywords show your content optimization, how you have optimized content for search engines, and give suggestions. But your keyword should be right with suitable locations based on On-Page SEO.
Changelog v3.0.2:-
v3.0.3
Added: [NEW!] An option to filter Analytics data by post type in Site Analytics & SEO Performance tabs
Added: An option to add an alternate name field in the FactCheck Schema
Improved: Auto-Import Focus Keywords in the Rank Tracker on new installations
Fixed: FactCheck Schema shortcode was not showing the rating data
Fixed: Accessing Schema Templates using the Divi builder was crashing the editor
Fixed: Watermark Option for Social Sharing was not working on the server where allow_url_fopen is not enabled
Fixed: Importing custom schema in Schema Templates was failing when properties had @id
Fixed: Exclude Post Terms option was not removing the NewsArticle schema from new posts.

v3.0.2
Added: You can now reorder focus keywords by simply dragging
Added: a filter to replace the location query, use the rank_math/location_args filter to change the query logic
Improved: Accuracy of pageview data in Analytics
Improved: Schema selection dropdown type in rm locations now shows only local business and no options.
Fixed: Post updating was not working on some setups when the auto-detect video option was enabled.
Fixed: Importing custom schema was failing when @id. Was
Fixed: Bulk editing primary category was not working for product categories of WooCommerce
FIXED: Recipe data added in schema shortcode pro version was not showing
Fixed: Bulk edit redirection was not working for multiple URLs
Fixed: Conflict with 'NextMove Thank You Page' plugin
Improved: Bulk editing of the primary category of WooCommerce products was failing

v3.0.1
Added: [HUGE!] Introducing Content AI - Your personal AI assistant
Improved: Updated the Russian translations
Fixed: On some setups, the link to edit post on Analytics page was broken

v3.0.0
Added:- Italian translation
Improved:- Multiple values can now be added to the @type property of a custom schema in an array format.
Fixed:- Add & to the publication name field was preventing the news sitemap from loading.
Our Verdict on Rank Math SEO Plugin
Rank Math SEO Pro Plugin is a powerful free SEO plugin for WordPress sites. It offers a lot of features (in-depth content SEO analysis and improvement suggestions, Sitemaps, Search console integration, 404 monitoring, etc.). Apart from this, it has many features that are not available in Yoast SEO and the All in One SEO Pack plugin.
Although, it is a newborn baby in the market, but can kill its competitors in the coming time.
Rank Math SEO Plugin solves optimize your content and technical SEO.
Have any thoughts about Rank Math SEO Pro Plugin review? What do you think about it? Tell me in the comment box?