This article will explore the top 11 free email service providers you can use in 2023. Although Yahoo Mail and Gmail are the most popular email service providers, you can choose from many other quality email providers. Each email service has advantages and disadvantages, so choosing the email service that best suits your needs is essential.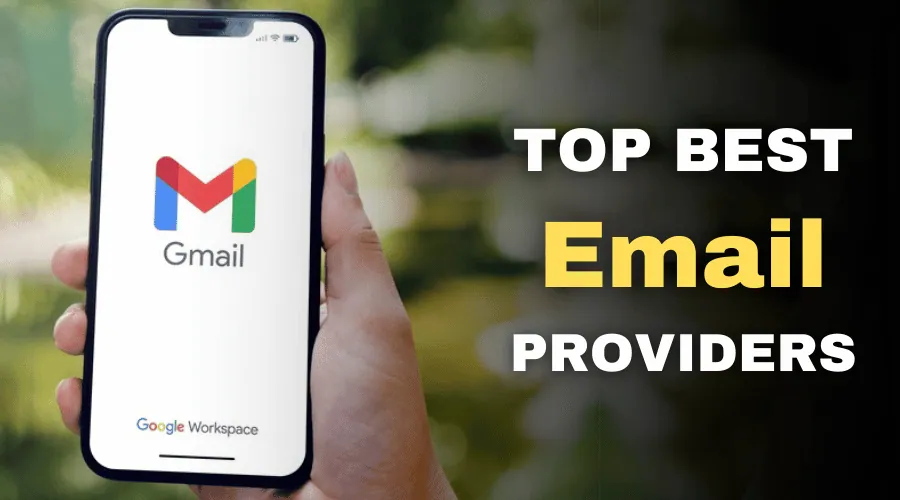 Top Free Email Service Providers in 2023
There are several free email providers that you can use. Perhaps the most famous of these are Yahoo Mail and Gmail. Well, below, we'll provide alternative recommendations from two email providers. Each email service has its advantages and disadvantages. So choose the email service that best suits your needs!
1. Yahoo Mail
Yahoo! Mail was the most prominent free email provider in the 1990s. Although the number of users has decreased, it is still a quality email provider. Some of the critical features of Yahoo Mail include:
Each user gets 1TB of free storage.
You can send GIFs directly while composing an email.
You can choose from many themes to change the email background.
You can import contacts from computer files, Facebook, Google, and Outlook.
It has a built-in news reader and notepad to make it easy.
Read Also: Top 10 Best Free Video Chat And Calling Apps
2. Gmail
Gmail is the largest free email provider globally, with over 2 billion users worldwide. Some of the advantages of Gmail include the following:
Each user gets 15GB of free storage.
Connects to all Google services like Google Drive, YouTube, Google Calendar, Google Keep, and Blogspot
Easy synchronization across different Android devices
It provides an email undo feature so you can un send emails
Your email address will be yourname@gmail.com.
If you don't want to create a Gmail account and look for free accounts, refer to our previous article on the list of free Gmail accounts.
3. Zoho
Zoho is another email option that you can take advantage of. The appearance of Zoho is immaculate and minimal, making it easy to use. This email service is for business people or freelancers who need professional emails. You can even create an email with your domain on Zoho for free forever! Some of the main features of Zoho include:
Each user gets 5GB of free storage.
The streaming feature makes it easy to send emails to multiple people in what looks like a chat on social media.
You can add Zoho Docs, Google Drive, One Drive, or Dropbox images.
You can upgrade your domain to a custom field.
Your email address will be like this: yourname@zoho.com.
4. Mail.com
The main difference between Mail.com and other email services is choosing a domain for your email address. Mail.com offers over 200 domain options for your email addresses. Domain options include @mail.com, @email.com, @engineer.com, @consultant.com, and more. Some of Mail.com's main features include:
Wide choice of domains
Every user gets 2GB of free storage
Email-attached calendar available
Each address on Mail.com may differ depending on the domain selected. You can choose yourname@mail.com, yourname@email.com, yourname@engineer.com, or any other part.
Read Also: 10 Best Free Photo Editing Apps
5. Outlook
Outlook is a free email service provided by Microsoft. So, you can easily connect with other Microsoft products through Outlook. Some of the main features of Outlook include:
Join Skype directly
Outlook Calendar available
Connect with other Microsoft products through Microsoft Office Online.
Your email address will be yourname@outlook.com.
6. AOL Mail
AOL Mail can still be used for free today. Some of the critical features of AOL Mail include:
Multiple theme options
Has a spell-check feature before sending emails (English only)
Has a calendar attached to the Email
Supports importing contacts from CSV, TXT, and LDIF formats
Your email address would be yourname@aol.com, but you can still receive emails if the sender sends emails to yourname@aim.com.
Read Also: 20 Best Video Editing Software Free For Windows
7. Yandex Mail
Yandex Mail and Yahoo! Mail are both email services that allow users to create email accounts and send and receive emails. However, they are operated by different companies with different features and user interfaces. Yandex Mail offers customizable spam filters, mobile app access, and integration with other Yandex services. In contrast, Yahoo! Mail offers features such as customizable themes, calendar integration, and the ability to send large files up to 2GB.
What features does Yandex mail provide? Here's the explanation:
Each user gets 10GB of free storage
Connect all Yandex services so that you can log in using one email account
Import image feature from URL
You can delay sending an Email
Notification feature when Email has been sent and if you haven't received a reply
Multiple options for notification themes
You can create free Emails from your website's domain name.
Your email address will be like this: yourname@yandex.com
8. Lycos
Lycos is a search engine which was quite famous in the 90s. Nevertheless, its popularity is waning, and now one of its products is giving up, Email.
Lycos doesn't have many features. Even the storage offered is only 500MB. However, if you want classic-style Email, Lycos may be an option.
Your email address will be like this: yourname@lycos.com
Read Also: 12 Best Data Saver Apps for Android
9. Protonmail
If you want secure and encrypted Email, ProtonMail is your email service so that only you and the recipient know the contents of the Email.
Even ProtonMail can't trace the content of your Email. What features does ProtonMail offer? Here's the explanation:
Advanced Encryption Features
You can set an expiration date for the Email. The maximum period for deleting an email is 28 days.
It has a link confirmation feature that gives an alert when you're about to open a link in an email
Your email address will be yourname@protonmail.com or yourname@protonmail.ch
10. Tutanota
Like ProtonMail, Tutanota provides an encrypted email service to maintain privacy and security. Another critical difference is that email passwords must be completely secure.
Your email creation is successful only if the password is secure and the security standard is higher than other email providers. What features does Tutanota offer?
Here's the explanation:
Each user gets 1GB of free storage
Email signature feature available
Advanced Encryption Features
You can choose one of several domains provided by Tutanota: yourname@tutanota.com, yourname@tutanota.de, yourname@tutamail.com, yourname@tuta.io, or yourname@keemail.me
11. iCloud Mail
If you are an iOS user, you can use this email service, iCloud Mail. Because it is specifically made for iOS users, this email service can only be used on Apple devices: iPad, iPhone, and Mac.
One of the most notable benefits of iCloud Mail is that it syncs across Apple devices. Also, what facilities are provided? Here's the explanation:
Each user gets 5GB of free storage.
iCloud Mail has an automatic forwarding feature to another email address
Connect to Mail Drop so you can attach files up to 5GB
Your email address will be yourname@icloud.com
Read Also: Top 10 Best VPNs For 2023
12. 10-Minute Mail
This last Email is quite different from the services discussed earlier. Because this Email is only temporarily available. Yes, as the name suggests, the email account you create in 10 Minute Mail lasts only 10 minutes. After this, the Email will be automatically deleted.
This email service is helpful if a website or service asks for an email address but you are unsure about its security. That's why you need an email address that doesn't put your privacy at risk. With 10 Minute Mail, you can verify your website or service without worrying about your privacy. After verification, the email address will be automatically deleted within 10 minutes.
Uniquely, you don't need to think about email addresses and passwords. 10-Minute Mail provides random email addresses and does not require a password. The domains provided always change regularly every 45 days.
Which Free Email Is Right For You?
Choosing the exemplary free email service largely depends on your needs and preferences. Here are some popular options and their features:
Gmail: Gmail is one of Google's most popular email services. It has a user-friendly interface, powerful spam filters, and much storage. It also integrates with other Google services, such as Google Drive and Calendar.
Outlook: Outlook is a popular email service offered by Microsoft. It has a clean and modern interface, provides ample storage, and integrates with Microsoft services such as OneDrive and Skype. It also provides a calendar and task management system.
Yahoo Mail: Yahoo Mail is a free email service that offers unlimited storage, built-in spam filters, and the ability to customize your inbox with themes. It also provides integration with Yahoo News and Yahoo Finance.
ProtonMail: ProtonMail is a secure email service that uses end-to-end encryption to protect user data. It offers a user-friendly interface, has no ads, and allows for self-destructing emails.
Zoho Mail: Zoho Mail is a free email service that offers up to 5GB of storage, calendar integration, and task management tools. It also offers a mobile app and can be used with custom domains.
Ultimately, the choice of email service depends on your specific needs, such as the amount of storage you need, the level of security you require, and the essential features. It's a good idea to try out a few different options to see which one works best for you.