Are you seeking a voice changer app to transform your in-game communication in Free Fire and other Android online games? Look no further, as such applications exist, and they add a layer of amusement and disguise to your gaming experience.
Voice changer apps are not just for concealing your identity but also for entertaining fellow players. Playing pranks and assuming various characters' voices can add a playful twist to your gaming sessions.
A voice changer app during Free Fire gameplay involves processing your voice input using advanced technology and then delivering it in the desired altered voice output. Once activated, these apps can modify voice outputs for all applications with voice call functionality, including in-game voice chat, calls, and messaging services.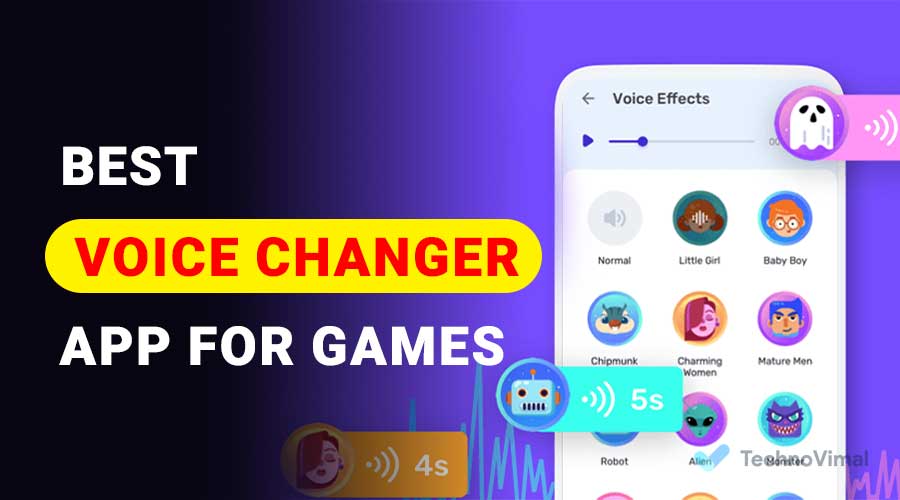 In summary, these voice changer apps are versatile, offering a range of voices like fun, robot, monster, chipmunk, echo, and ghost, enhancing the entertainment factor across various Android online games such as PUBG Mobile, Mobile Legends, Free Fire, CODM, and more. So, level up your gaming experience and have fun with these voice-changing applications.
Read Also: 10 Best Anti-Block Browsers for Your PC 2023
Voice Changer App for Free Fire on Android that Is Funny Without Root
Numerous voice-changing apps are available for Android gamers looking to enhance their Free Fire experience. Furthermore, for PC and laptop users, an effective voice-changing trick can be employed.
Without delay, we present a curated list of apps with detailed information:
1. VoiceFX – MOBZAPP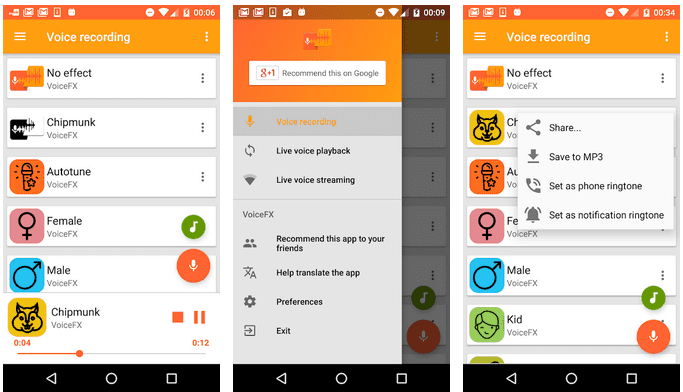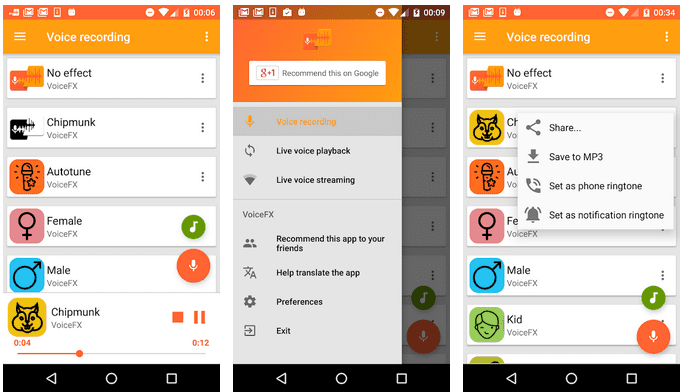 VoiceFX is the top choice for Android gamers seeking a dynamic voice-changing application. Packed with impressive features, it enhances your online gaming experience. Its live voice player and converter enable real-time voice modulation, while microphone streaming seamlessly integrates with games and media players. Recording and playback functionality and easy saving and sharing options add versatility.
What sets VoiceFX apart is its ability to transform your live voice and existing audio files, like music tracks, into a captivating variety of effects. These effects encompass robotic tones, feminine and masculine alterations, quirky aliens, playful children, auto-tuning for aspiring singers, adorable squirrels, bleating sheep, echoing caves, tipsy personas, cosmic soundscapes, time-altering options, and even monstrous vocalizations.
Remarkably, VoiceFX's free version doesn't skimp on quality, making it an exceptional choice for gamers and audiophiles. Elevate your gaming persona with VoiceFX and unlock a world of creative voice transformations.
Download: VoiceFX – MOBZAPP
2. Voice Changer Mic for Gaming – StereoMatch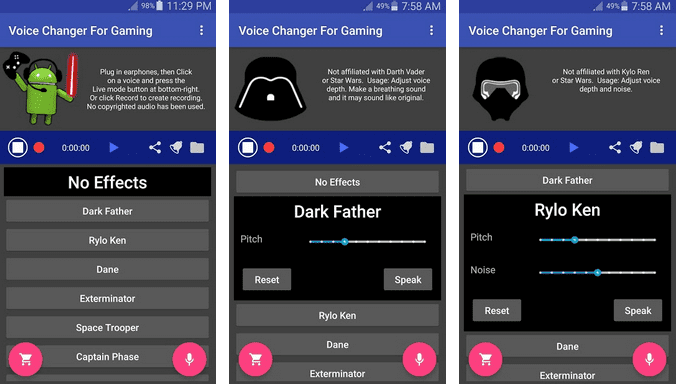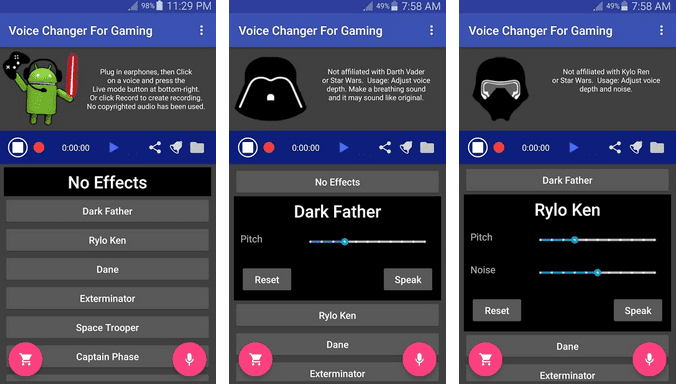 The Voice Changer Mic for Gaming app is primarily designed for gaming platforms like PS4, PC, and Xbox. However, it can also be utilized on Android smartphones with some additional equipment due to Android's limitation of allowing only one microphone-accessing application at a time. You'll need an extra Android device and a Y-Splitter to make it work on Android.
Thanks to its noise gate filter, the app offers 14 top-notch sound effects, enhancing the free online gaming experience. Even when your device screen is off, these sound effects operate seamlessly in the background.
Voice Changer Mic for Gaming is versatile and compatible with various services such as PC gaming, Xbox gaming controllers, PS4 gaming controllers, mobile games, Skype, Discord, cosplay, and even phone calls. This wide range of applications makes it an excellent tool for gamers and creative enthusiasts looking to add a unique twist to their experiences.
Download: Voice Changer Mic for Gaming – StereoMatch
3. Voice Changer with Effects – Baviux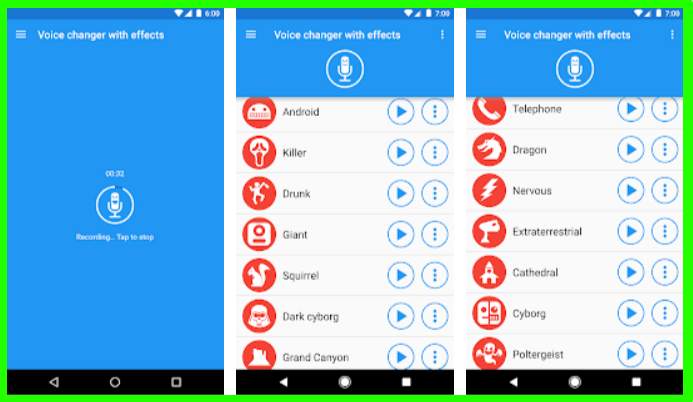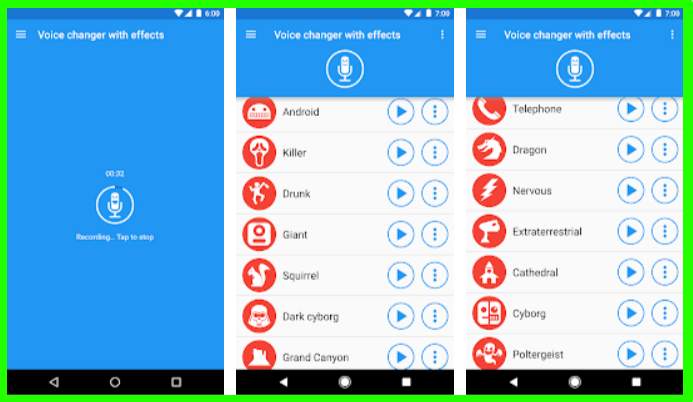 The "Voice Changer with Effects" application is a testament to its exceptional sound processing technology. Users have lauded its remarkable performance, characterized by swift response times and crystal-clear sound output. This app has garnered over 100 million downloads among Android users, maintaining a commendable 4.4-star rating—a testament to its widespread satisfaction.
One remarkable aspect of this application is its efficiency, boasting a mere 6.4 MB size while offering an extensive array of more than 40 effects. These effects encompass a diverse range, from the eerie sounds of zombies and giants to the comical tones of helium and aliens and even whimsical sounds like squirrels and celestial ambiances. It doesn't stop there; the app also boasts a unique feature that enables users to generate sound effects simply from text input.
In summary, the "Voice Changer with Effects" app has become a go-to choice for countless users. It offers a compact yet comprehensive package of top-notch sound manipulation capabilities, solidifying its status as a crowd-pleaser in voice-changing applications.
Download: Voice Changer Mic for Gaming – StereoMatch
4. Voice Changer – AndroidRock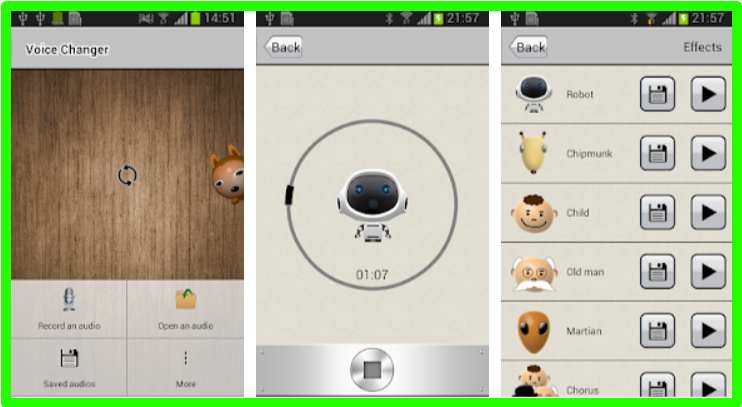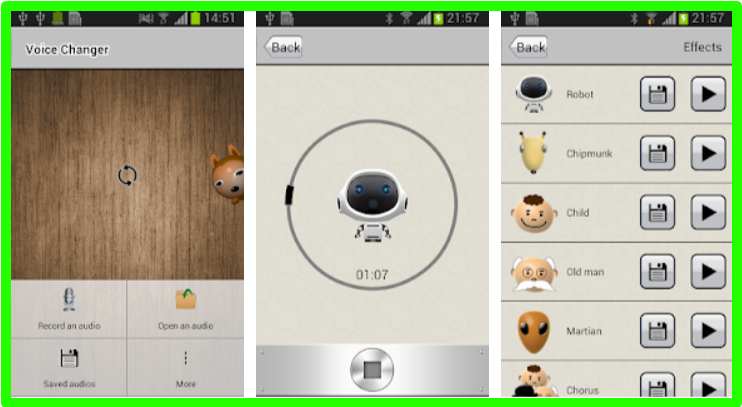 "Voice Changer" by AndroidRock is the premier choice among Android users, boasting an impressive track record with tens of millions of downloads and a stellar 4.4 rating. This app serves as a game-changer, enhancing the online gaming experience on Android.
This versatile tool offers a rich array of sound effects, from the quirky chirp of squirrels to the gritty resonance of a hoarse voice, the mechanical allure of robots, and the hilarious pitches of both genders. Its user-friendly interface ensures a hassle-free experience, while its core functionalities, such as sound recording, audio file manipulation with customizable effects, proper storage, and editing, make it indispensable for gaming enthusiasts. Furthermore, seamless integration with social media platforms allows users to share their audio creations effortlessly. In essence, "Voice Changer" by AndroidRock has established itself as the go-to application for gamers seeking an immersive and entertaining voice-altering experience on Android.
Download: Voice Changer – AndroidRock
5. Robovox Voice Changer Pro – Mikrosonic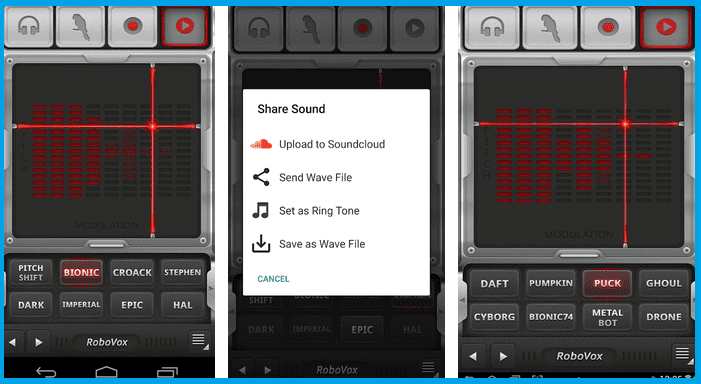 This premium voice changer application boasts an appealing, user-friendly interface and offers many features that elevate your online gaming experience. Although it comes at a price point of approximately Rp. 25,000, the value it provides is unparalleled.
The developer consistently updates the application, ensuring users receive ongoing enhancements and services. With your purchase, you gain access to over 30 amusing, unique, and spine-chilling sound effects, adding a delightful twist to your conversations.
This versatile app offers three modes: real-time, ideal for use with headphones for live voice modulation during gameplay; recording mode, allowing you to save and share your altered voice as a WAV file; and parrot mode, a fun feature to mimic voices.
Beyond gaming, this application also doubles as a voice recorder and can create personalized ringtones. It's a comprehensive tool that adds entertainment and utility to your digital world, making it a worthwhile investment for those seeking to enhance their online presence.
Download: Robovox Voice Changer Pro – Mikrosonic
The Final Word
When navigating the world of voice changer applications for Android while gaming online, making an informed choice is essential to enhance your gaming experience. Consider a more efficient approach instead of unthinkingly trying each app and comparing results.
Start by conducting thorough research on available voice changer apps. Read user reviews, watch video demonstrations, and consult online forums or communities where gamers share their experiences. This will help you identify apps that align with your needs and preferences.
Next, narrow your options to a select few based on your research. Download and test these chosen apps one at a time. Please pay attention to their ease of use, the quality of voice alterations, and any unique features they offer.
After trying each app, carefully evaluate your experience. Compare the results, considering factors like latency, customization options, and how well the app integrates with your favorite games.
Ultimately, this method will save you time and ensure you select the best voice changer application to use while gaming with friends. Making an informed decision immediately provides a smoother and more enjoyable gaming experience.