How to increase followers on Instagram? This question remains in the mind of every person these days. Because when it comes to social media platforms, the name Instagram also comes up in this list.
Earlier, only people used to stay connected with their friends and acquaintances on Instagram. But now, it has become a platform for people to earn money. And at the same time, you can get a lot of fame.
And for this, more followers are needed. Suppose you have good followers and engagement on Instagram. So you have chances of getting many sponsorships. From which you can earn a lot of money. And the more followers you have, the more money you can make from here.
Read Also: How to Download Private Instagram Videos, Reels, and Photos.
Many people do not know how to increase followers on Instagram / Instagram followers trick. Due to this, they cannot increase followers on their accounts. But you do not need to worry at all. You have come to us, meaning you will go after getting all the information.
Here I will tell you how to increase followers on Instagram organically and through shortcuts. You can use any method according to you.
How to Increase Followers on Instagram
You will find many ways to increase followers on Instagram on the Internet. But there are also some fake methods in them.
Here I will tell you three ways to increase followers on Instagram. First, I will tell you how to grow followers organically, by which you will get more followers on your account. Will maintain good engagement of your account. And more likes and comments will come to your post.
After this, I will tell you how to increase followers using an app and website. With this, you will get big followers on your account quickly.
13 Steps to Organically Increase Your Instagram Followers
#1 – Make an Attractive Profile
First, put a good profile photo in your account because most people follow you only after seeing your picture. Edit your profile photo well and put it, so people find it attractive.
#2 – Create engaging content
Engaging content means that you share content in a way that will appeal to your audience. Check out your old posts if you don't understand what content your audience wants to see more. Which type of post has more comments and likes? Share the same kind of post as much as possible.
With this, people will like your content more, like, comment, and share more and more. So, first of all, understand your audience and publish the content according to their need.
#3 – Schedule Your Posts
Friends, set a time to publish your content. It will improve the engagement of your audience with you. Because whenever you schedule your posts, your audience will be well-connected with your content.
Yes, it will take a lot of effort as you have to prepare the ingredients in advance. But by doing this, Instagram will show your content to as many people as possible. It will significantly increase your chances of growth.
#4 – Create Posts on Trending Topics
I do not need to tell you about this because everyone likes to see whatever is happening in the trend. So you, too, can take advantage of such opportunities and
Always keep such things in mind and share content on trending topics. It will allow people to see and engage with and follow your content.
#4 – Use Hashtags
Whenever you publish content on Instagram, use hashtags related to your content because by doing this, there are many more ways for the user to reach your post. And if you want, you can also use hashtags related to Trending Topics.
By doing this, your post will also appear in the result whenever a user searches for that hashtag. And the chances of the user coming to your post will increase significantly. After this, if the user likes the center, he will follow you.
#5 – Collected a list related to your niche
We take inspiration from others in any work. You have to do the same here. You find the account associated with your account category and analyze their content and
Try to create even better content by taking ideas from their content. So that if the user like your content, they will also share your account with their friends. It will increase your followers.
#7 – Follow Your Competitors Followers
Will is a great Instagram follower trick. First, you find your opponent, then target his followers by following them. They will get a notification that they will once in your account. If they like the content of your report, then they will follow you in such a situation.
But remember that never follow more than 40-50 people in a day because Instagram counts it as hostile activity, which can get your account banned. So be careful.
#8 – Like and Comment on Your Competitor's Followers
It is also a perfect way to increase followers; You share the posts of your competitors' followers. He will notice you and get into your account if you continue like this.
In such a situation, if he likes your content, he will follow you and like, comment, and share your post.
Read Also: How to Recover Deleted Instagram Posts
#9 – Signup With Facebook
Whenever you create an account on Instagram, sign up with your Facebook account because you may already be using Facebook. If you sign up with your account, all your Facebook friends will get notified so that all your friends can follow you on Instagram.
#10 – Stay Active & Post Regularly
Growing a friend's Instagram account organic is a daunting task. And if you increase the version by adopting natural methods, it also greatly benefits. So always be active with your account and answer users' comments and questions.
Also, keep posting on your account. If you do one post a week or one post a month, it won't help. Because now the competition has increased a lot on this platform too. Due to this, it is also essential for your content to be unique.
Along with this, you must do at least 4-5 posts in a day. If possible, you can publish more posts than this.
#11 – Use the Local Location
It is the default feature found on Instagram. Always add a live location whenever you publish a new post on Instagram. By doing this, Instagram sends a notification to the user of that location. In this way, your followers also have much potential to increase.
#12 – Instagram Live
It's also a great way to go live on Instagram occasionally and stay in touch with your audience. People will connect with this more. And keep in mind that if a user asks you any question in the live video, then definitely answer it.
#13 – Create Instagram Reel Video
Friends, the ultimate way to increase our Instagram followers is Reel Video. Currently, it is also a prevalent method. If you like making short videos, this method can be a panacea for you because Instagram shows the reel video randomly to everyone.
If any short video of you becomes viral, then your followers will increase in the same way. In this way, along with increasing your followers, you can also get social media fame.
Friends, these were some of the best ways to increase Real Followers on Instagram. If you want to know how to increase followers on Instagram without the app, then by using them, you can increase organic followers, and these followers will also be engaged with you. Now we know about the website and app to increase followers.
How to increase followers on Instagram from the website
Use the methods above to increase followers on your account who will engage with your content and like and comment on your posts. But you only have to show followers on your account. You can use these methods if you do not care about user engagement.
Step-1. First, open the get auto. in the website in any browser on your mobile or computer.
Step-2. Now select the language English and click on Login; after that, Login by entering your username and password.
Note: Login with a fake account. Suppose you enter your real account username and password here. So your account can also be hacked. For which you will be responsible.
Step-3. Now the home page of the website will open in front of you. Click on Send Follower, shown at the top of it.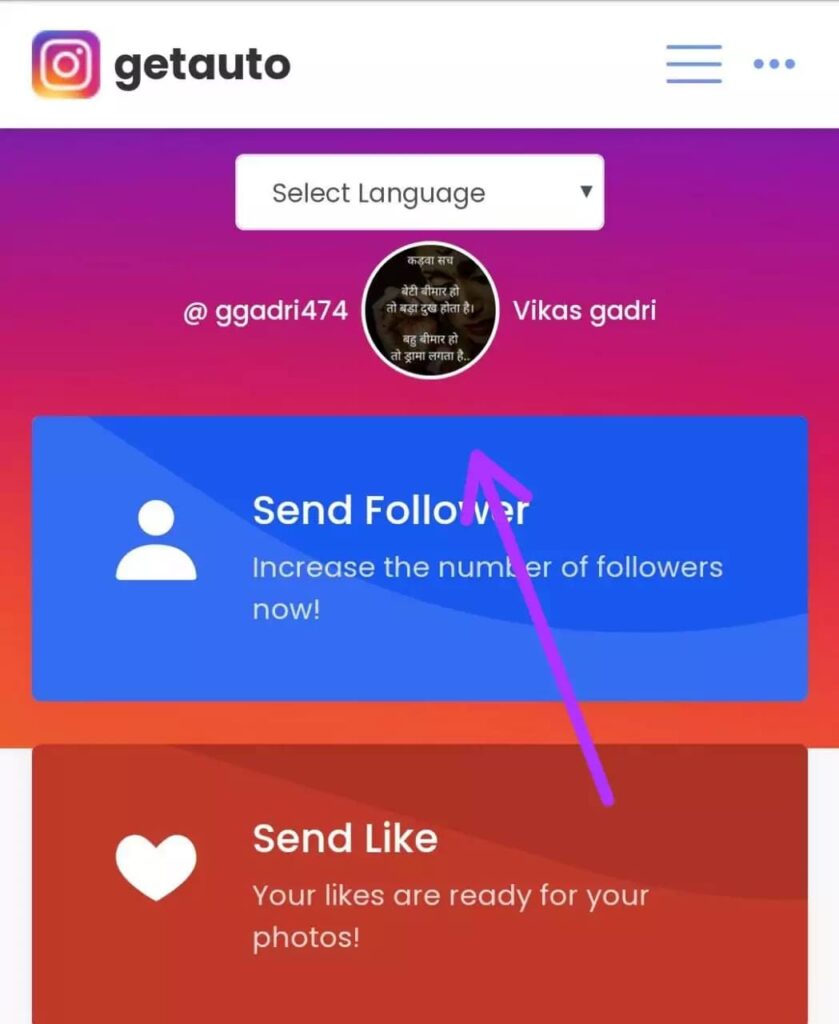 Step-4. In the User Name box, enter the ID username you want to increase your followers. And click on Search Users.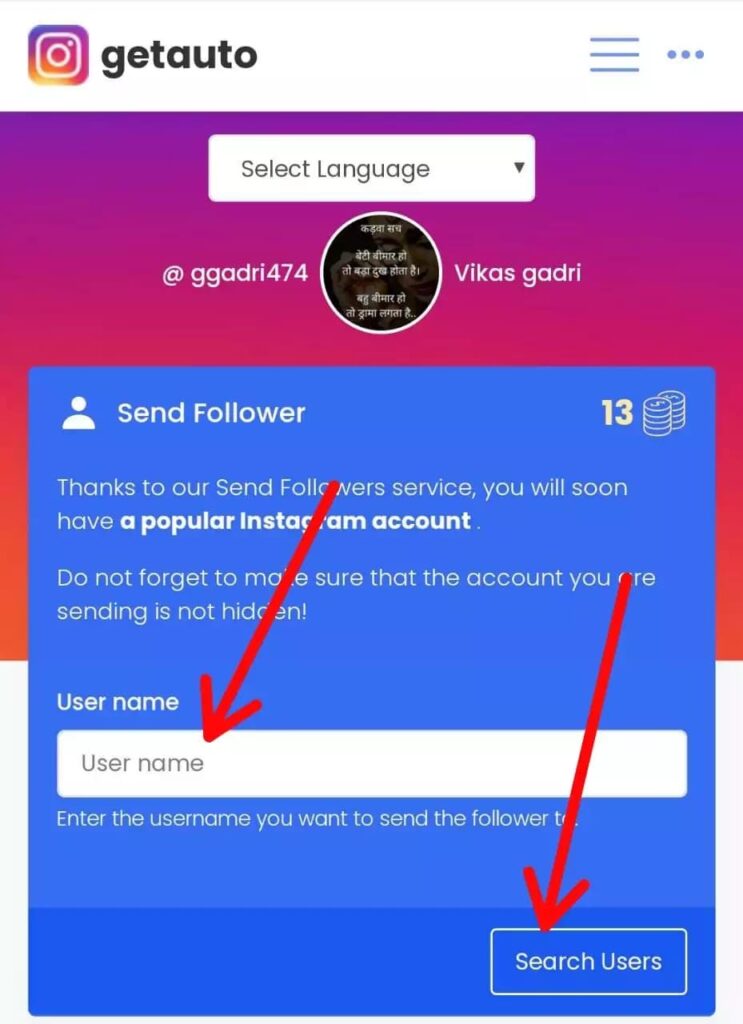 Step-5. Now your profile picture will open in front of you. Please enter the number of followers you want to send in the Number of Followers box below it and click Send Followers.
Read Also: GB Instagram APK Download Latest Version
Step-6. After taking some time Loading. Automatic followers will start increasing on your account.
With this, you will be able to increase only Limited Followers. You can improve them by logging in with different IDs to increase followers.
How to Increase Followers on Instagram From the App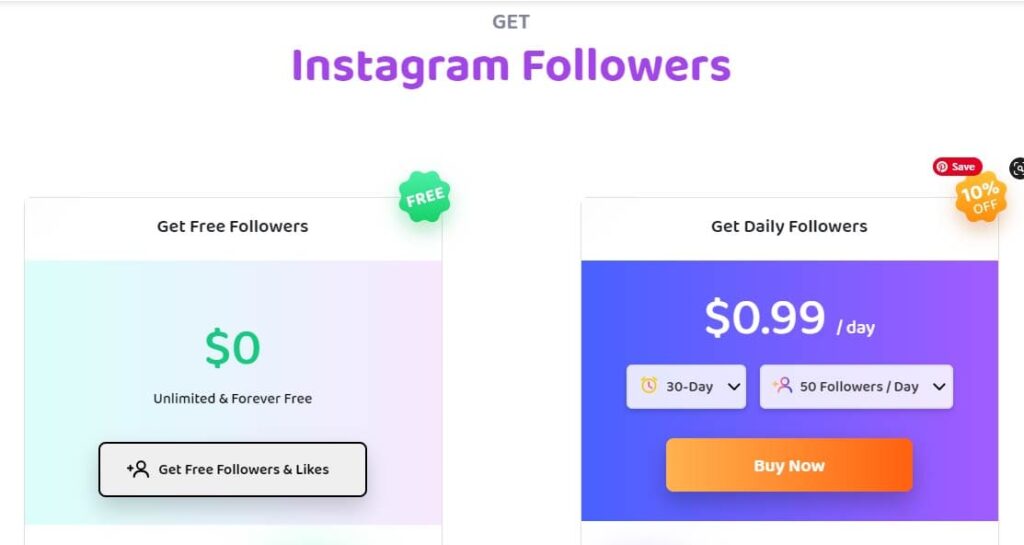 Step-1. First of all, install their app from the easygetinsta.com website.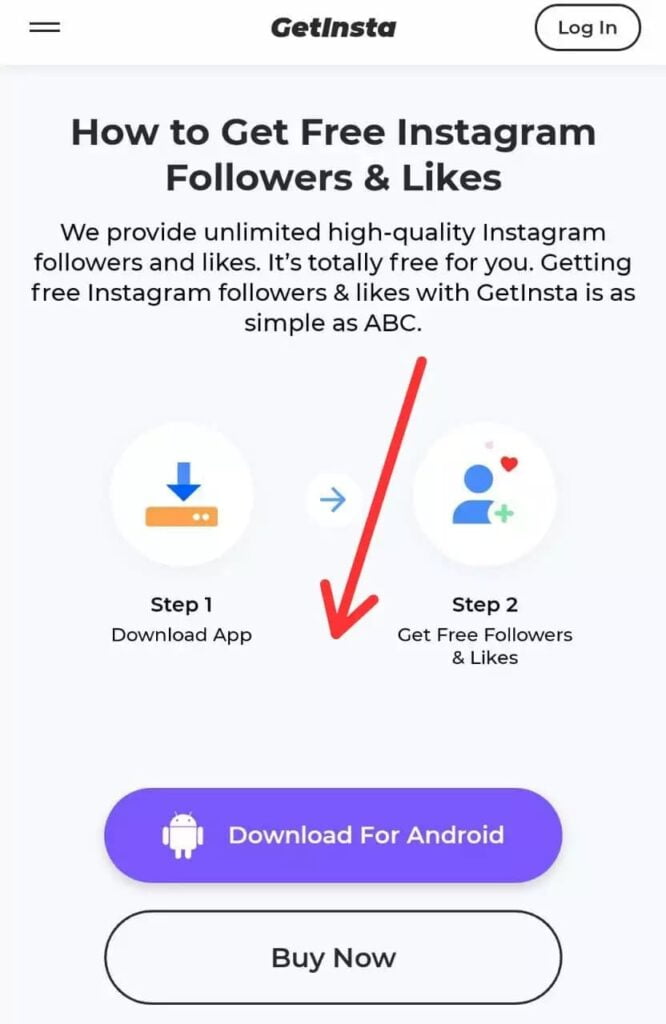 Step-2. Now open the application on your phone. After this, this app will ask for some permissions, allowing them.
Step-3. Now sign up in the application with the option of Sign Up. After this, the choice of Add Account will come. In this, whichever account has to increase the followers. Add him.
Step-4. Now you will see two options like and follow. If you like, then you will get 20 Coins. And if you follow, then you will get 100 Coins.
Step-5. On clicking Follow, your account password will be asked for. Enter the password here.
Step-6. After increasing the coin, select the second option from the bottom. After this, you have to increase the number of followers in getting Followers. Select and click on Get Followers Now.
Step-7. Now your followers will start growing. You can also increase your likes from here. So friends, isn't it a straightforward way?
Apps to Increase Followers on Instagram
Free Followers And Likes
Genuine Likes
Get Followers UP
InsEnGage
Get followers VIP
Follower Insight for Instagram
InstaInfluencer
Fastlykke
Turbo Followers for Instagram
Real Followers & Get Likes for Instagram
Friends, we do not advise you to increase followers from apps and websites. Because increasing such followers will not increase your engagement. And the followers from these apps and websites also unfollow you after some time. And
Your account can also be hacked by logging into unnecessary apps and websites. Therefore, log in to these apps and websites on your responsibility.
Conclusion
Therefore, if you believe us using the above methods, organically increase the followers, stay connected with you for a long time, and like, comment, and share your post.
Friends, I hope you have liked the post on how to increase followers on Instagram. If you liked the post, please tell us by commenting and sharing it with your friends on social media so that your friends can also increase followers on their accounts.