When it comes to e-commerce, Amazon stands tall as a true industry giant. With its unparalleled convenience and an extensive range of products, it has become a go-to platform for countless shoppers worldwide. However, it is essential to maintain accurate billing information to ensure smooth and hassle-free transactions.
In this all-encompassing guide, we have carefully curated a step-by-step process to help you effortlessly update your billing address on Amazon. Whether you have recently moved to a new place or simply need to make adjustments to your payment details, we are here to assist you every step of the way.
Our straightforward instructions will navigate you through the Amazon website, ensuring you have a seamless experience. We understand the importance of accurate billing information in safeguarding your transactions, and we are committed to providing you with the necessary guidance to make this process as smooth as possible.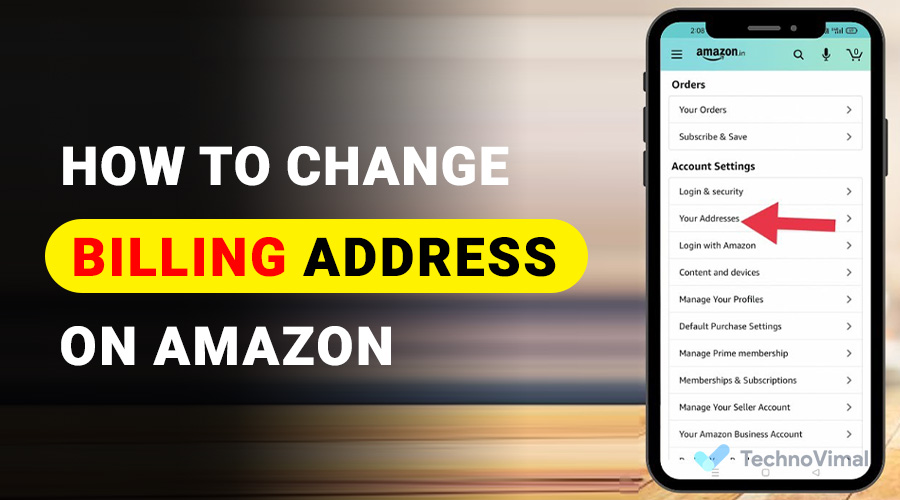 Count on us to eliminate any confusion or frustration associated with updating your billing address on Amazon. By following our comprehensive guide, you will have your payment details updated swiftly, allowing you to focus on enjoying the vast array of products and unparalleled convenience that Amazon has to offer.
How To Change Billing Address on Amazon 2023
Why Update Your Billing Address?
Keeping your billing address updated on Amazon is crucial for a seamless shopping experience. Why is it so important? Well, your billing address is directly linked to your payment methods, which means any outdated information can result in a series of complications. Imagine the frustration of facing declined transactions or experiencing delays in orders due to an incorrect billing address.
Read Also: 10+ Best Data Recovery Software For Windows And Mac 2023
Moreover, neglecting to update this information may even lead to potential account issues. To avoid all these hassles, it is highly recommended that you regularly verify and maintain the accuracy of your billing address on Amazon. By doing so, you can shop with peace of mind, knowing that your transactions will go smoothly.
Step 1: Log into Your Amazon Account
To begin the process, log into your Amazon account. Make sure you're using the correct credentials to access your account securely.
Step 2: Go to Your Account Settings
Once logged in, navigate to your account settings. You can find this option in the upper right corner of the Amazon homepage.
Step 3: Select "Payment Options"
Under account settings, find and select "Payment Options." This is where you manage your payment methods and billing address.
Step 4: Edit Your Billing Address
In the payment options menu, locate your current billing address and click on the "Edit" button next to it.
Step 5: Enter Your New Billing Address
Now, you'll be prompted to enter your new billing address. Ensure that all details are accurate to avoid any issues with future transactions.
Step 6: Save Changes
Once you've entered your new billing address, click the "Save Changes" button to update your information.
Step 7: Verification
Amazon may require you to verify your new billing address. This can be done through a variety of methods, such as sending a verification code to your email or phone number associated with your account.
Frequently Asked Questions (FAQs)
Can I change my billing address on Amazon anytime?
Yes, you can update your billing address on Amazon whenever necessary. It's essential to keep your billing information accurate to ensure smooth transactions.
Will changing my billing address affect my pending orders?
If you have pending orders, updating your billing address may affect their processing. It's best to change your billing address before placing new orders or as soon as you move to avoid any complications.
What if I encounter issues while changing my billing address?
If you face any difficulties or encounter errors while changing your billing address, it's recommended to reach out to Amazon's customer support for assistance.
Can I use a different billing address for each payment method?
Yes, Amazon allows you to use different billing addresses for different payment methods. This flexibility can be convenient for various situations.
Is my billing address shared with third parties?
Amazon prioritizes the privacy and security of your information. Your billing address is not shared with third parties without your consent.
How long does it take for the billing address update to reflect?
Typically, changes to your billing address on Amazon should reflect immediately. However, it's a good practice to double-check your information after the update to ensure accuracy.
Conclusion
Maintaining an updated billing address on Amazon is key to enjoying a seamless and stress-free shopping experience. With our simple yet effective step-by-step guide, you can effortlessly ensure that your payment details are always accurate and secure. Don't let outdated information cause unnecessary hiccups during checkout or delay the delivery of your favorite items.
By taking the time to verify and update your billing address, you can shop with confidence, knowing that every transaction will be processed smoothly. Say goodbye to unnecessary headaches and embrace the convenience of worry-free shopping on Amazon, with your payment information always up to date.