In today's digital age, the world of Radio has undergone a remarkable transformation. Gone are the days when radio enthusiasts were tethered to their traditional FM/AM receivers. Thanks to the proliferation of smartphones, Android users are now endowed with a vast array of radio apps that seamlessly deliver music, captivating talk shows, and engaging podcasts right to their fingertips. This comprehensive guide is your passport to exploring the vibrant universe of radio apps designed exclusively for Android users.
With a lineup of 15+ exceptional radio apps, we are set to embark on a journey that will elevate your audio experience. These apps have been meticulously curated to cater to diverse tastes and preferences. Whether you're a music lover seeking the latest tracks, a traveler longing for a slice of home, or simply someone who relishes diverse and enriching content, there's an app on this list that's tailor-made for you.
From the comfort of your Android device, you can now effortlessly access an unparalleled world of entertainment and information. In the following paragraphs, we will delve into the intricacies of these apps, shedding light on their unique features and capabilities. So, prepare to immerse yourself in the rich tapestry of radio apps, each offering a distinctive flavor of audio delight.
15+ Best Radio Apps for Android (Dec 2023)
In the vast landscape of Android applications, many options await radio enthusiasts seeking the perfect app to tune in to their favorite channels. Within this extensive selection, we have meticulously curated a list of the finest Android radio apps that will capture users' hearts.
Now, let's delve deeper into this captivating realm of radio apps. Explore various options designed to cater to your unique preferences and listening pleasures. Whether you're a music devotee, a news lover, or a fan of talk shows and podcasts, an app on this list is bound to resonate with you.
Read Also: 10 Best Anti-Block Browsers for Your PC 2023
Join us on a journey through the exciting world of Android radio apps, where convenience, variety, and quality converge to provide an unparalleled listening experience. Discover the perfect app to complement your tastes and preferences, all from the comfort of your Android smartphone.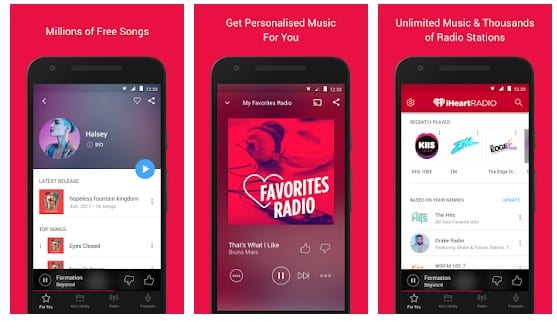 iHeartRadio is a versatile and dynamic radio application that seamlessly integrates music, live radio broadcasts, and podcasts into a user-friendly platform. Its multifaceted features make it essential for anyone with a penchant for audio entertainment.
Extensive Music Library: iHeartRadio boasts an expansive collection of songs spanning various genres, ensuring something to cater to every musical taste. From contemporary hits to timeless classics, music enthusiasts will find themselves spoiled for choice.
Live Radio Experience: One of the app's standout features is its live radio functionality. Users can effortlessly tune in to their favorite radio stations in real time, making it an excellent choice for those who relish talk shows, live events, and DJ sets. This feature brings the immediacy of the Radio right to your fingertips.
Podcast Paradise: Besides music and live Radio, iHeartRadio is a treasure trove of podcasts. Whether you're into storytelling, news analysis, or educational content, the app offers various podcasts to satiate your curiosity and interests.
User-Friendly Interface: The app's intuitive interface ensures that navigating its vast content library is a breeze. It's designed to provide a seamless and enjoyable user experience, making it accessible to tech-savvy users and those new to digital Radio.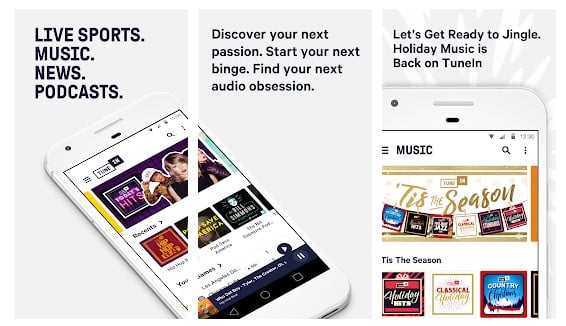 TuneIn Radio stands as a veritable powerhouse of entertainment, unlocking a gateway to many radio stations and podcasts from across the globe. This remarkable app, known for its versatility, offers exceptional features that cater to users' diverse preferences. Here are four key aspects that make TuneIn Radio a must-have for those seeking an immersive listening experience:
Global Radio Access: TuneIn Radio transcends geographical boundaries by providing access to many radio stations worldwide. Whether in New York, Tokyo, or Paris, this app ensures you can effortlessly tune in to your favorite stations from back home, making it an indispensable companion for globetrotters.
Versatility Across Genres: Whether your passion lies in sports, current affairs, or music, TuneIn Radio has you covered. It offers a comprehensive range of stations and podcasts spanning various genres, ensuring every user can find content that resonates with their interests.
Podcasts Galore: Beyond live Radio, TuneIn is a treasure trove of podcasts, making it an ideal platform for podcast enthusiasts. With an extensive library, it lets you explore a vast collection of captivating episodes on a wide range of topics.
User-Friendly Interface: TuneIn Radio prides itself on its user-friendly interface, making navigation and content discovery a breeze. Its intuitive design ensures that even new users can quickly find their way to their preferred stations or podcasts without hassle.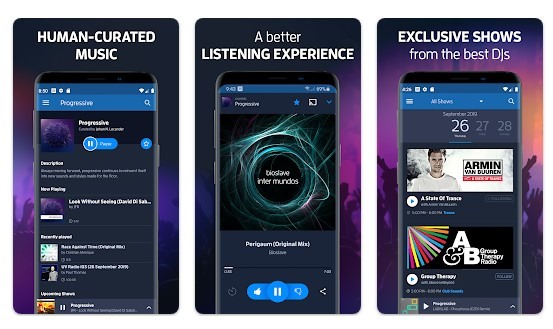 For aficionados of dance music, DI.FM stands as an unparalleled destination. This exceptional app is dedicated exclusively to electronic dance music, offering a treasure trove of auditory delights that cater to an extensive array of sub-genres. Let's delve into the key features that make DI.FM is the ultimate choice for dance music enthusiasts:
Genre Diversity: DI.FM boasts an extraordinary collection of channels, each meticulously curated to satisfy diverse musical tastes. From the charming melodies of trance to the pulsating rhythms of techno, this app ensures that you're never far from the beats that make you groove.
Unmatched Quality: DI.FM is renowned for its commitment to audio quality. Whether listening through your smartphone's speakers or high-end headphones, you'll experience dance music in its purest form, with crystal-clear sound that does justice to every beat and melody.
Sub-Genre Exploration: Dive deep into the world of electronic music by exploring various sub-genres. Whether you're into progressive house, drum and bass, or deep house, DI, FM offers dedicated channels for each, allowing you to refine your musical journey.
Personalization: Tailor your listening experience with DI—FM's customizable features. Create playlists, mark your favorite tracks, and receive recommendations based on your musical preferences, ensuring that every moment of your listening journey is uniquely yours.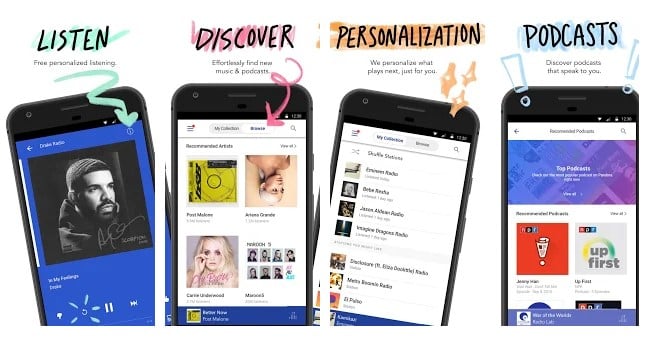 Pandora Radio, a venerable presence in digital music, stands as a trailblazer in the realm of personalized radio stations. Its enduring appeal can be attributed to several remarkable features that captivate music lovers worldwide.
Pioneering Personalization: Pandora's claim to fame lies in its pioneering approach to personalized Radio. Analyzing your music preferences and behaviors tailors radio stations that perfectly align with your taste. This innovative approach has set the standard for music discovery.
The Music Genome Project: At the heart of Pandora's magic is the Music Genome Project, a meticulous cataloging of songs based on hundreds of attributes. This project enables Pandora to delve deep into the nuances of each track, ensuring that the music it serves is a true reflection of your musical sensibilities.
Endless Exploration: Pandora isn't just about sticking to the familiar. It encourages musical exploration by introducing you to new artists and tracks that align with your preferences. It's a journey of musical discovery that never grows stale.
User-Centric Experience: With Pandora, the user is at the center of the experience. The app constantly learns from your interactions, fine-tuning its recommendations and playlists to provide an ever-evolving, tailored musical journey.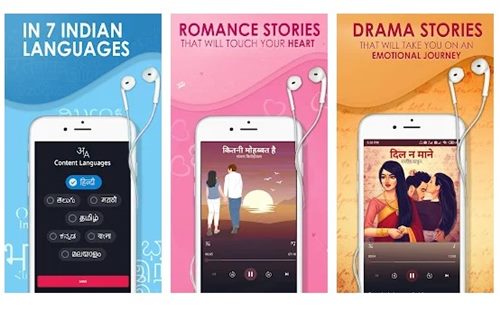 Pocket FM is a multifaceted gem among Android radio apps, offering a treasure trove of diverse content that caters to various interests and tastes. Let's delve into the four key features that make Pocket FM a must-have for the modern listener.
Variety of Content: Pocket FM's extensive library boasts a rich tapestry of content, including music, captivating stories, up-to-the-minute news updates, and inspiring motivational content. This eclectic mix ensures something for everyone, regardless of mood or inclination.
Multilingual Offerings: One standout feature of Pocket FM is its commitment to inclusivity. With content available in multiple languages, it caters to a global audience. Whether you're a polyglot or simply looking to explore content in your native tongue, Pocket FM ensures accessibility for all.
Knowledge Expansion: Pocket FM isn't just about entertainment; it's also a fantastic resource for expanding your knowledge. You can dive into informative podcasts, stay updated with the latest news, or learn valuable life lessons through motivational content.
Seamless Enjoyment: The app's user-friendly interface and intuitive navigation make it a breeze. Whether you're commuting, relaxing at home, or embarking on a journey of self-improvement, Pocket FM offers a seamless and enjoyable listening experience that keeps you engaged and informed.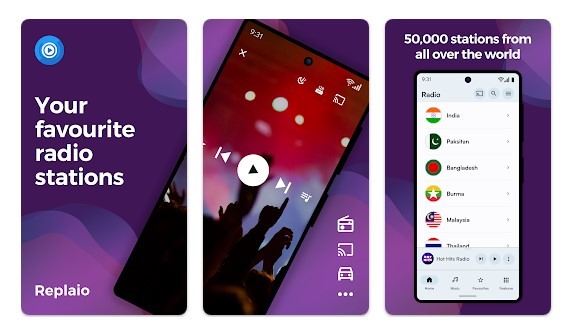 Concluding our comprehensive list of outstanding Android radio apps is Replaio, a versatile application that seamlessly blends radio streaming with a built-in MP3 player. What sets Replaio apart are its standout features that cater to a diverse range of audio enthusiasts:
Unified Audio Hub: Replaio is a centralized hub where your music library and cherished radio stations converge. No more switching between apps to enjoy your favorite tracks and radio broadcasts. This integration ensures that your music collection and preferred radio channels are readily accessible in one convenient location.
Customized Playlists: With Replaio's intuitive interface, you can effortlessly create personalized playlists that encompass your MP3 files and radio station favorites. This level of customization empowers you to curate your audio experience according to your mood and preferences.
Seamless Transition: Seamlessly transition from your curated playlists to live Radio streaming without missing a beat. Replaio's fluid interface ensures that your music journey remains uninterrupted, making it an ideal choice for those who relish variety in their audio consumption.
Offline Listening: For users on the go, Replaio offers the convenience of offline listening. Download your preferred tracks and radio broadcasts in advance, ensuring you can enjoy them even when a stable internet connection is unavailable.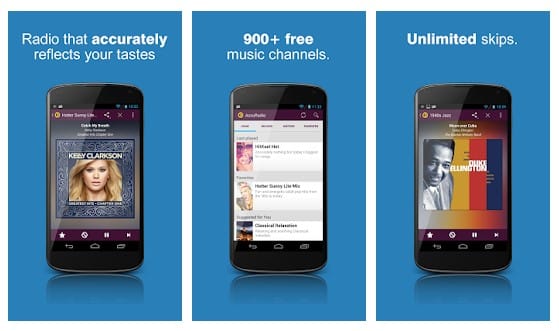 Accu Radio sets itself apart by offering a meticulously curated selection of handcrafted channels, each dedicated to a specific genre or theme. This distinctive feature is just one of the many reasons Accu Radio stands out in radio apps. Let's dive deeper into what makes Accu Radio a top choice for discerning listeners:
Genre Diversity: Accu Radio boasts an impressive array of genres, ensuring there's something for everyone. Whether you have an insatiable appetite for classic rock that takes you back in time, a penchant for the smooth sounds of jazz, or a desire for the festive cheer of holiday tunes, Accu Radio's diverse range of channels caters to all musical tastes.
Handcrafted Excellence: The channels on Accu Radio are not generated by algorithms but are instead lovingly handcrafted by music experts. This human touch ensures that every track is a unique and immersive listening experience, free from the predictability often associated with automated playlists.
Immersive Experience: Accu Radio is designed to provide an immersive and engaging listening experience. Whether you're unwinding after a long day or setting the mood for a special occasion, the app's handpicked playlists and channels enhance the ambiance.
Personalized Favorites: Users can create their own customized list of favorite channels, making it easy to access the music and themes they love most with a single tap. This feature adds a layer of convenience to the already impressive Accu Radio experience.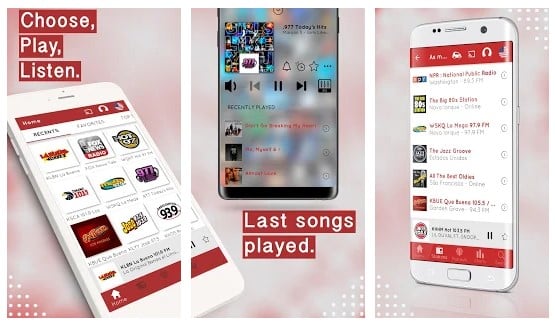 myTuner Radio is your passport to radio stations from all corners of the globe. It features an extensive list of international stations, making it perfect for travelers and those eager to explore the world through music.
A World of Stations at Your Fingertips: myTuner Radio opens the doors to an expansive world of radio stations, transcending geographical boundaries. With an extensive and diverse catalog of international stations, this app transforms your Android device into a global radio receiver. Whether in the heart of a bustling city or a remote corner of the world, myTuner ensures you're always connected to the airwaves.
Perfect for the Traveler in You: MyTuner Radio is an indispensable companion for avid travelers. No matter where your journeys take you, you can count on myTuner to connect you to the familiar voices and tunes from your home country. It's like carrying a piece of home with you on your adventures, ensuring you never feel too far away.
A Musical Odyssey: Explore the world through music with myTuner. Immerse yourself in the rich tapestry of global sounds, from the rhythmic beats of Latin America to the soulful melodies of Europe. Whether you're curious about international music trends or want to broaden your musical horizons, myTuner has you covered.
User-Friendly and Intuitive: Beyond its impressive content, myTuner Radio offers a user-friendly interface that makes navigation a breeze. With a simple search and filter system, you can easily find stations that match your interests. Whether you're a radio novice or a seasoned enthusiast, myTuner's accessibility ensures a seamless and enjoyable listening experience.
Saavn, a musical treasure trove, introduces Android users to the mesmerizing realm of Bollywood music and beyond. With an extensive and diverse collection of tracks, including Hindi, Tamil, Punjabi, and various regional languages, Saavn emerges as the quintessential destination for lovers of Indian music.
Let's delve into the remarkable features that make Saavn an indispensable addition to your music app repertoire:
Multilingual Melodies: Saavn transcends language barriers with its vast array of songs, ensuring that enthusiasts of Hindi, Tamil, Punjabi, and regional music can all find their favorites in one place. It's your gateway to a harmonious journey through India's rich musical tapestry.
Seamless Streaming: Enjoy uninterrupted music streaming with Saavn's smooth and efficient platform. Whether on a commute, at home, or on the go, the app ensures a seamless listening experience.
Personalized Playlists: Saavn's algorithm learns your musical preferences and tailors playlists to your taste. It's like having a personal DJ who curates the perfect playlists for you, making every listening session a delight.
Offline Access: Don't worry about data usage when you're on the move. Saavn allows you to download your favorite tracks and playlists for offline listening, ensuring you can enjoy your music even without an internet connection.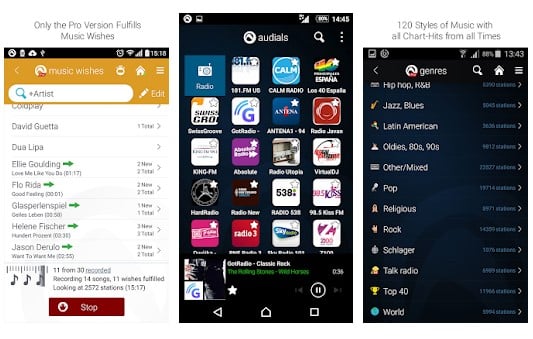 Audials Radio stands out as a formidable powerhouse in radio apps, offering features that elevate your Radio and podcast listening experience to new heights. Here are four key elements that make Audials Radio a must-have for any audio enthusiast:
Recording Live Radio Broadcasts: Audials Radio lets you easily capture live radio broadcasts. Whether it's a chart-topping song, an insightful interview, or your favorite talk show, you can effortlessly record these moments, ensuring you never miss out on the content that matters most to you.
Scheduled Recordings: With Audials, you control your radio and podcast schedule. The app empowers you to set up automated recordings, allowing you to plan and capture your preferred shows and podcasts even when you can't be there in real time. This feature ensures that your entertainment is tailored to your schedule.
Convenient Listening: Audials Radio recognizes the value of flexibility. Once you've recorded your favorite content, you can listen to it at your convenience. Whether on the go or relaxing at home, you can enjoy your curated collection of radio broadcasts and podcasts wherever you are.
A Personalized Experience: Audials Radio goes beyond simple recording. It offers intelligent recommendations and personalized playlists based on your listening history, ensuring you're continually discovering new content that aligns with your interests. This feature transforms your radio and podcast experience into an ever-evolving journey of audio exploration.
As its name aptly suggests, Simple Radio lives up to its reputation by offering a refreshingly uncomplicated and user-friendly radio experience. With a robust array of features that cater to both radio enthusiasts and casual listeners alike, Simple Radio stands out as a top-tier choice in radio apps. Here are four key elements that make Simple Radio a must-have for Android users:
Streamlined Simplicity: Simple Radio's interface is a testament to its commitment to user ease. Navigating through its extensive catalog of radio stations is effortless, ensuring that users of all tech-savviness levels can enjoy a hassle-free experience.
Diverse Radio Stations: With an impressive lineup of radio stations spanning various genres and regions, Simple Radio offers something for everyone. Whether you're into music, news, or talk shows, you will find a station that suits your preferences.
Personalized Favorites: Simple Radio allows you to create a customized library of favorite stations. This feature ensures that your most-loved stations are always just a tap away, making it convenient to access your go-to content.
Seamless Listening: Whether you're on the go or relaxing at home, Simple Radio ensures uninterrupted listening pleasure. Its robust streaming capabilities guarantee smooth playback, even in areas with varying network conditions.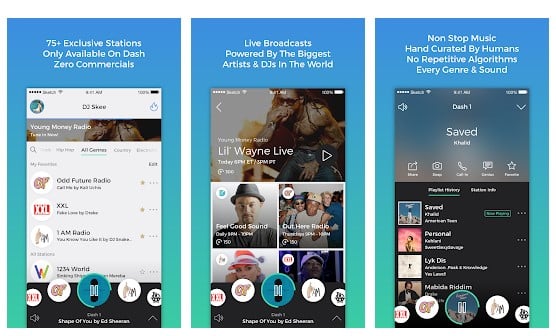 Dash Radio stands out in the realm of radio apps for its remarkable features and offerings that cater to a diverse audience of music enthusiasts. Here are four key elements that make Dash Radio a standout choice:
Curated Music Channels: Dash Radio's claim to fame lies in its meticulously curated music channels. Whether your musical inclination leans toward hip-hop, rock, or pop, Dash Radio has you covered. Each channel is thoughtfully put together, offering a handpicked selection of tracks that align with specific genres and moods.
Ad-Free Listening: Say goodbye to interruptions! Dash Radio prides itself on delivering an ad-free listening experience. You can immerse yourself in your favorite tunes without the annoyance of commercials disrupting your groove.
Artist and DJ-Hosted Channels: Dash Radio takes it up by featuring channels hosted by renowned artists and DJs. This means you get a unique opportunity to dive into the musical world of your favorite personalities. It's like having a personal DJ curate your playlist.
Variety and Choice: With Dash Radio, sort knows no bounds. The app offers an extensive selection of channels, ensuring something for everyone. Whether exploring new sounds or sticking to your all-time favorites, Dash Radio's diverse tracks guarantee you'll find your perfect musical haven.
If you advocate for open-source software and crave an extensive library of internet radio stations, look no further than RadioDroid 2. This exceptional app aligns with the ethos of open-source enthusiasts and offers an array of remarkable features that set it apart.
Extensive Internet Radio Collection: RadioDroid 2 boasts an impressive catalog of thousands of Internet radio stations. Whether your taste leans towards jazz, rock, classical, or any other genre, you'll find a station that perfectly complements your preferences.
Recording Capabilities: One standout feature is the app's ability to record your favorite tracks. This means you can capture those memorable moments when a song resonates deeply with you, ensuring you never miss a beat.
User-Friendly Interface: Despite its wealth of features, RadioDroid 2 maintains a user-friendly interface that ensures effortless navigation. Finding your preferred station or initiating a recording is a hassle-free experience.
Open-Source Community: Being open-source, RadioDroid 2 benefits from a thriving community of developers and users continually enhancing its functionality. This guarantees ongoing improvements and customization options.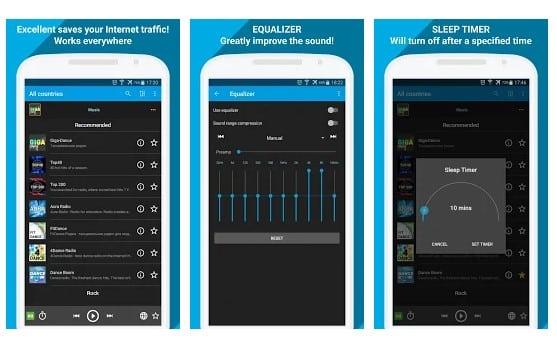 Radio Online is the go-to choice for individuals who value simplicity, reliability, and an uninterrupted listening experience, even in areas with sluggish internet connections. Let's explore the four key features that make Radio Online a top contender among radio apps:
Simplicity at Its Finest: Radio Online prides itself on its user-friendly interface. Navigating through its vast selection of stations is a breeze, making it an ideal choice for those who prefer straightforward and intuitive app experiences.
Robust Station Variety: This app offers a broad spectrum of radio stations, ensuring something for every taste. Whether you're into music, news, or talk shows, Radio Online caters to diverse preferences, making it a one-stop destination for all your audio needs.
Uninterrupted Listening: Radio Online is designed to provide a seamless listening experience even in areas with less-than-ideal internet connectivity. Say goodbye to buffering interruptions and enjoy continuous music and broadcasts, whether on a strong Wi-Fi network or a slower data connection.
Reliable Performance: What sets Radio Online apart is its commitment to reliability. It's engineered to deliver consistent performance, ensuring you can rely on it whenever and wherever you want to tune in to your favorite stations.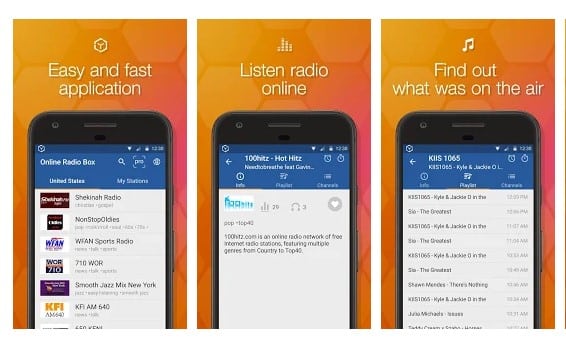 Online Radio Box is a comprehensive hub for avid radio enthusiasts, offering many features that transform your listening experience. Here are four key highlights that set this platform apart:
Diverse Station Discovery: Online Radio Box is your ultimate destination for uncovering many radio stations and genres. Whether you're into classic rock, jazz, contemporary hits, or niche genres, you'll find a station that caters to your musical tastes. The platform's vast database ensures you'll never run out of exciting options.
User-Friendly Interface: Navigating through the Online Radio Box is a breeze, thanks to its intuitively designed and user-friendly interface. You don't need to be a tech guru to explore and enjoy the wide range of content. It's a platform accessible to users of all technical backgrounds.
Effortless Exploration: Finding something new to listen to has never been easier. Online Radio Box's intuitive search and browsing features empower you to effortlessly discover stations and genres you might not have explored otherwise. It's a treasure trove for those seeking fresh musical experiences.
Personalized Listening: Online Radio Box goes the extra mile in personalizing your radio experience. With features like favorites and history, you can quickly revisit stations and tracks you've enjoyed, creating a tailored listening journey that adapts to your preferences.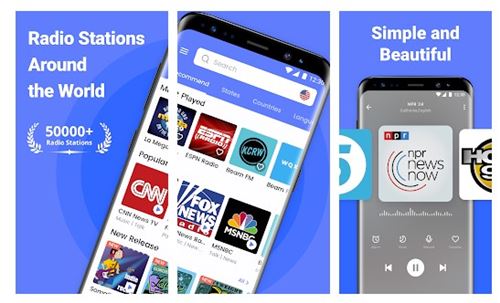 My Radio is a standout choice among radio apps, particularly appealing to music enthusiasts seeking a genuinely personalized and immersive experience. Let's delve into four key features that make My Radio exceptional:
Customized Playlists: My Radio empowers users to curate their very own playlists. Whether you're in the mood for some upbeat tunes, soothing melodies, or a mix of genres, this feature lets you craft playlists that reflect your unique musical tastes. It's like having your DJ at your fingertips, putting you in control of your music journey.
Discover New Tracks: Beyond your existing music library, My Radio opens the doors to a world of discovery. With intelligent algorithms and user-friendly recommendations, it introduces you to new tracks and artists that align with your preferences. Say goodbye to musical monotony and hello to a constant stream of fresh, exciting music.
Tailored Radio Experience: My Radio takes personalization to the next level. It learns from your listening habits and adapts to your evolving tastes. It fine-tunes its recommendations as you explore, ensuring that every song played resonates with your mood and style.
Effortless User Interface: My Radio understands the importance of simplicity. Its intuitive interface ensures that even newcomers can navigate with ease. Finding and adding tracks to your playlists is a breeze, and the app's design keeps distractions at bay, allowing you to focus on what truly matters – the music.
FAQs
Are these radio apps free to use?
All the radio apps offer free versions with optional premium features for a more enhanced experience.
Can I listen to these apps offline?
Most apps require an internet connection to stream live Radio and podcasts. However, some may allow you to download content for offline listening.
Do these apps have ads?
Many free versions of these apps include ads. You can opt for premium versions to enjoy an ad-free experience.
Can I create custom playlists on these apps?
Yes, several of these apps, like My Radio and Replaio, allow you to create personalized playlists.
Do these apps consume a lot of data?
Streaming Radio can use data, so monitoring your data usage while using these apps is advisable, especially when not connected to Wi-Fi.
Are these apps available for iOS devices?
While this guide focuses on Android, many radio apps are available for iOS devices.
Conclusion
In conclusion, these 15+ best radio apps for Android offer a world of music, talk shows, and podcasts right at your fingertips. Whether you're a music lover, a traveler craving a taste of home, or someone looking for diverse content, these apps have something for everyone. Explore, discover, and enhance your audio experience with these fantastic radio apps.