We have saved about system software and application software. So now you too, what is utility software? What are the features and advantages of utility software? Description Detail Information What is utility software?
There are different categories and types of software for working on a computer. One of those types is utility software as well. It is also called. It gives additional functions to your computer system.
Utility software is also known as utility. It is system software. That properly configure, analyze, optimize and maintain your computer.
To replace the utility software will help the computer hardware, operating system, or application to do so. Description Detailed information about the utility software.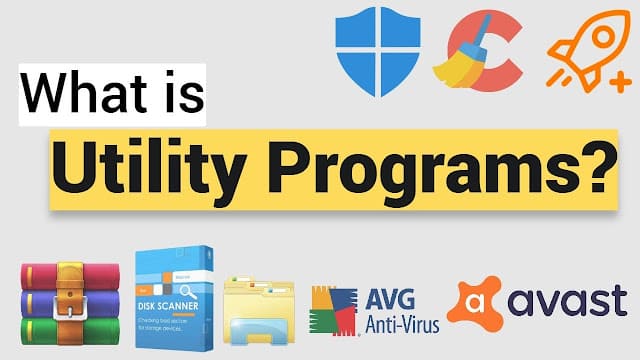 What is Utility Software?
Utility software is one such computer programming system. Those who work to configure, analyze, optimize and maintain the computer. We also call it by the name of "Utility" and "Utilities".
Such software programs provide additional functionality to your computer to perform better, such as antivirus, disk repair, backup, file management, networking programs, etc. There are some examples of utility software.
Utility programs come in different sizes and capacities. It makes the infrastructure capacity of computer resources (hardware, software, operating system, data storage etc.) fast. It also helps them to work smoothly.
Such programs are developed for computer systems and system software to work well with its full capacity so that the common user can benefit from utility programs.
Read Also: Top Best PDF File to JPG Converter: Online/Offline
Advantages of Utility Programs:
Just understand about Utility Programs that "the computer system is incomplete without utilities" because computer hardware and application software operate smoothly from them. Let us know about some more benefits of utility programs.
Special functions and features are added to increase the computer system's efficiency in the utility application.
Utilities help the user customize the desktop or other settings in their computer as per their choice, like a screensaver.
It also protects the laptop from software threats (viruses, spyware, malware, etc.).
To keep your computer system secure, it provides password protection so that your computer is safe from any unknown person.
Along with managing the computer memory, its performance capacity also increases.
Types of Utility Software:
There are many types of utility software, though. But here we will know about only some important software among them.
File Management Programs
Disk Managers and Disk Cleaners
File Compression Programs
Security Programs
Backup & Recovery Tools
File Management Programs
This type of program is used to organize files. Many different types of data are saved in computer memory. Whose management is done by file manager programs?
These programs provide the facility for any user to do some data-related work. Such as saving and deleting the file, editing the data in the file, changing its location, renaming, etc.
Such programs give this facility to the user to access the file hierarchy, due to which users can work very easily by finding specific data. If seen, almost all file managers also provide a "search tool" facility. So that with the help of the search tool, the user can quickly find the files, folders of his work.
Disk Management Programs and Disk Cleaners
While using the computer, such as giving commands to the computer, starting or stopping programs, or installing or removing a new program. So a lot of useless data is created in it. This useless data lying in the computer greatly affects the performance and speed of our system.
Due to everyday activity on our computer, useless files are generated. For cleaning them, "Disk Cleaners" are required. These programs identify the useless and unusable data from our system, remove it from the disk.
The same type of data is present in the Disk Managers program system, which is spread in many places in the system. Gather them and give you information if we talk about examples of some major Disk Cleaners and Disk Management Utilities. So Disk Defragmenters, Disk Partition Editor, Disk Space Analyzer, etc. Their name is.
File Compression Programs
This program is used to reduce the size of the file. With the help of these, users can get more and more storage space in their drives. Winzip, Winrar, 7-Zip These are some of the most popular file compression programs on the Windows operating system, used by every user to compress data.
So the same Mac users use RAR Expander, StuffIt Expander, and MacZip to compress data. It is very easy to use this file compression software.
Security Programs
Malware infects our computers in many ways. Such as viruses, trojans, worms, spyware, etc. Due to this malware, the user has to suffer a lot. Even the data of the computer gets stolen.
To protect the computer system from threats like malware, we need software utilities in such a situation. Security Tools provide us protection from threats coming online. These include names like antivirus, firewall, network, etc.
If we talk about some popular antivirus programs of Windows. So is AVG, Kaspersky, Norton, McAfee, Quick Heal, and Microsoft Security Essentials. So to monitor the same network ports, the firewall is used. Their main job is to protect computer systems from malware and hackers.
Backup and Recovery Tools
If, for any reason, any of your important files or data gets corrupted. So you can understand how much loss you may have to bear. In such a situation, backup and recovery utilities are required to keep your files or data safe. You will find many backup utility software on the internet.
Backup Utilities make a backup of the data saved in your computer in another place. Suppose you talk about saving data on cloud storage. So Microsoft One Drive, Google Drive, Dropbox etc., are some major examples.
Apart from this, you can bring back the deleted data with the help of a recovery tool. Recycle Bin is one such tool in the computer, which keeps the deleted data safe. But if you have also deleted the data from Recycle Bin. So to do data recovery, you can also use other tools.
Names of Some Popular Utility Programs:
Antivirus Programs
File Manager
Backup Software
Registry Cleaners
Screen Saver
DirectX
Compression Utilities
Cryptography Software
Disk Partition Editors
Encryption Tools
Debuggers
Disk Checker
Memory Tester
Network Monitors
Fonts
Icon Tools
System Monitor
Application Launchers
Different Between Application and Utility
This question must be coming to your mind. What is the difference between application software and utility software? So what is the delay? Let's know about the Difference Between Utility Software and Application Software.
Utility programs develop the functionality of the computer system. So their application software has been designed to solve the problems occurring in the common life of the user.
The size and scope of utility software are of small size. That's why it takes very little space. But application software is mostly large and takes up more space.
Most utility software is free and installed along with the operating system. So the same application software is often paid for and has to be installed separately.
Utilities use very little system resources. So the same application software requires more resources.
Utilities are technical programs. At the same time, most of the application software can be used comfortably by a common user.
Antivirus programs, screen savers are very popular utility programs. So the same video player is a great example of application software.
What did you learn today?
You must have come to know about utility software very well. What is utility software? What are the major utility programs? And what is the difference between utility software and application software? Hope this article Utility Software for you? It will prove useful.
If you like our article What is Utility Software? If you liked it. So please do share this article on social media. Apart from this, if you have any suggestions or doubts regarding this article. So do tell us by commenting below. Thank you.