Cosmos Crypto: Digital markets and crypto trading are currently the talking point of investors worldwide. They are investing confidently to convert their hard-earned money into profits manifold and earn profits. However, the story of cryptocurrency began with bitcoin's entry into the market in 2009. No one would have imagined that a risky system like crypto trading would become so much talked about in the world and people would trust it so much.
Since 2009, there have been more than 1000 Cryptocurrencies in the Digital Market to date, and they are also continuously giving profits to investors with their prices. Today in Crypto Trading, all Cryptocurrencies like Bitcoin, Ripple Coin, Tether, and Cosmos (ATOM) have made a different identity and have proved their mettle.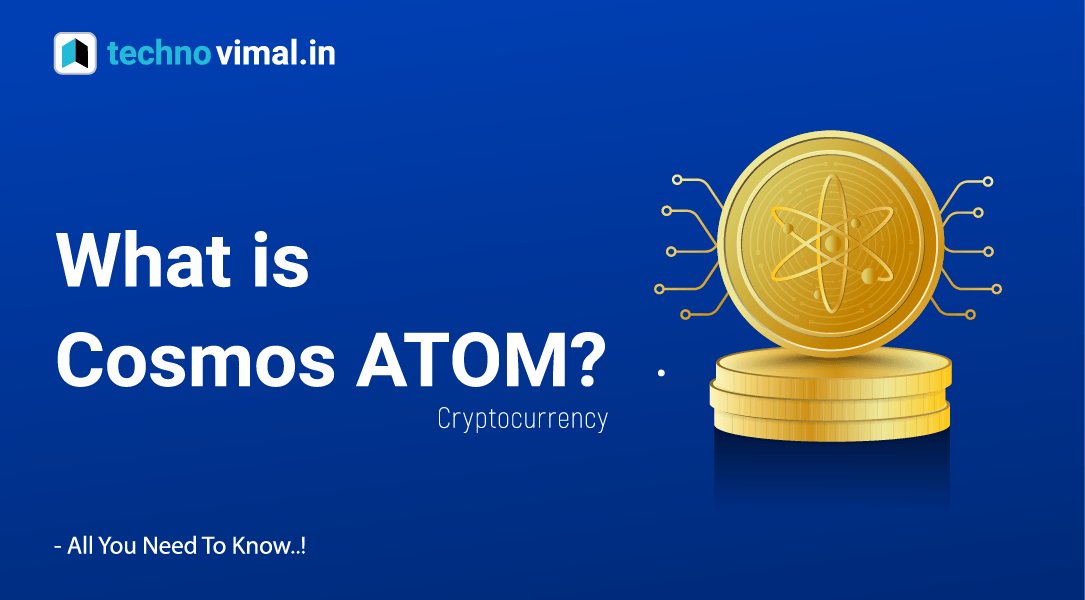 What is Cosmos Crypto?
Simply put, Cosmos (ATOM) is a Combined Network of Blockchain Networks which we can also call a Network of Blockchain Networks. It works to connect Blockchain Networks and establish networks between them. Hence Cosmos (ATOM) is also known as the Internet of Blockchains.
Cosmos (ATOM) helps in Data Sharing, Communication, and Transaction between Blockchains and works to facilitate this process. Cosmos (ATOM) has a long range of certain products and tools for all these tasks. Cosmos (ATOM) has emerged as a management tool that helps solve some of the Blockchain industry's toughest problems.
Who owns the Cosmos ATOM, and when was it created?
The journey of Cosmos started in 2014 when Tendermint, which played an important role in the network, was founded.
Cosmos Crypto (ATOM) was created by three engineers named Jae Kwon, Zarko Milosevic, and Ethan Buchman.
Although Jae Kwon still serves as principal architect, he stepped down as CEO at the end of 2020. He said his goals include increasing the experience of the developer's Team of Cosmos, creating the world's best Team for Cosmos, and building educational institutes. They say that more people need to know what this network is capable of.
After its launch in 2014, a white paper for Cosmos was published in 2016, and a Token Sale was also held in the very next year, i.e. 2017.
Cosmos ATOM tokens are built based on a Highbridge Proof of State algorithm, and they all protect and help keep the Cosmos Hub, the main Blockchain, secure. This ATOM Cryptocurrency also has an important role in Network Rule.
Why is Cosmos different from other Crypto?
The major cause of concern for most people in the business world of Crypto Trading is the Blockchain Network. Cosmos ATOM aims to make communication between two cryptocurrencies possible, which is why it is considered popular.
Cosmos Crypto ATOM is billed as "Blockchain 3.0", and its infrastructure proves to be quite easy to use. The performance level of Cosmos is believed to be based on the Development Growth Kit. It allows easy network building using existing code fragments, making the cosmos completely different from other cryptocurrencies.
Researchers believe Cosmos Crypto ATOM can facilitate much more transactions than old-fashioned blockchains like Bitcoin and Ethereum. If Blockchain ever needs to join Mainsource, in that case, they will have to deal with existing payment companies or websites.
How many Cosmos coins are there?
The total number of TOM coins in the market is 260,906,513. Of these, as of today, about 203,121,910 are in circulation. Notably, these cryptocurrencies cannot be mined, ins; instead, they are created through skating. Cosmos had two private sales in January 2017, followed by another public sale in the same year that raised $16 million, roughly $0.10 per ATOM.
About 80% of the Cosmos token was distributed to investors, while the remaining 20% was divided between two companies (All in Bits and the Inter Chain Foundation).
Cosmos has compared the ATOM token to the ASICs used to mine Bitcoin. A technical page written by the Tendermint Team explained: "It is a piece of virtualized hardware (economic capital) that you need to acquire to participate in the network as a Keeper."
Price of 1 Cosmos (ATOM) Coin
The price of Cosmos cryptocurrency keeps increasing and decreasing because the government of any country or institution does not direct it. Investing in Cosmos can be very beneficial for those who have an economic backup and are considering investing in crypto trading.
When writing this blog, the price of 1 cosmos (ATOM) is $31.37 = ₹2,363.46 Indian Rupee.
Also, cosmos (ATOM) prices are updated 24/7, so its prices fluctuate, and you get regular notifications if you are an investor.
Cosmos price today, ATOM to USD Live, market cap
How do I buy Cosmos ATOM?
To trade or buy Cosmos (ATOM), you can use all the reputed Exchange Websites like Bittrex, Polonium, Kraken, Livecoin, and LiteBit and make huge money by investing in Cosmos cryptocurrency and making your own money in the world. Can create a distinct identity.
ℹ️ Disclaimer
The information provided on this website is for educational and entertainment purposes only. The information provided on this website does not constitute investment advice, financial advice, or trading advice. TechnoVimal does not recommend buying any cryptocurrencies. Crypto markets are highly volatile, and crypto investing is risky. Readers should research cryptocurrencies and consult their financial advisors before investing in Crypto.
You can find here more details about converting Dollars and Euros to cryptocurrencies and how to convert them easily.
Through today's article, we have discussed what the cosmos are. When and by whom was it made? What is the cost of 1 cosmos? Where can we buy the Cosmos? And why is Cosmos different? Like, he did the work of reaching all the questions to you and giving you the right and accurate information.
Stay connected with our website if you want to get more important information related to Digital Market and Crypto Trading like this.
Surely we give you all the necessary information to help make you the best investor. You are requested to share this information with your relatives, friends, and family members so that they can become aware of Digital Market and succeed in making their mark as better investors.