If you also wanted to start a blog but don't know how to? you are not alone the best way to get your foot into the door is to publish your first blog with one of the free services that are a blogger. So, friends in this article I will tell you how to start a free blog at blogger Simple Step.
Read Also: How To Start A Blog on WordPress?
Start a Blog Follow these Simple Steps
Step 1:
Step 2:
Step 3:
Here, click on the blogger official website link.
Step 4:
Click on create your blog if you already have an account then click on sign in.
Step 5:
Choose your account to continue.
Step 6:
Next click on create a new blog and give your title and address then select a theme and click on create a blog.
Step 7:
After fill up you can choose your domain name if you don't want to choose from there you can click on no thanks.
Step 8:
After that click on a new post to create your new post
Step 9:
Here give your post title and post content. In the post, settings give your post labels example Android, windows, in the schedule option-click on a set date and time, in permalink choose custom permalink and in location give your location.
Step 10:
Next, click on pages and click on new pages to create pages like privacy policy, terms and conditions, contact us, these pages are very very important for your blog.
Step 11:
Click on the layout where you can customize your blog theme. Choose your favicon can add gadgets in the sidebar and remove waste things from your template.
Step 12:
In the theme option, you will get advanced customization options. In edit HTML you can paste or edit different codes.
Step 13:
Click on settings where you will get all the settings for your blog. In basic settings give title, your blog description, in blog address you can set up a third-party URL for your blog such as .com, in search preference you will get settings related to Search Engine Optimisation.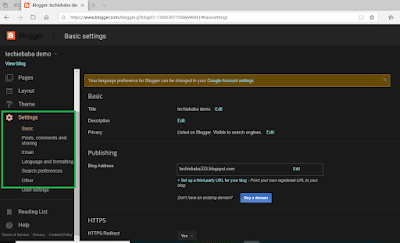 So, friends, you have seen how easy it is to create a blog on blogger.com
Read Also: How To Make Money From Google AdSense
Please Like, Comment, Share THANK YOU!