In today's digital age, writing is essential to any marketing campaign or communication. Various writing tools help writers improve their skills and produce compelling content. One of these is Speedwrite, which has gained popularity due to its features, such as grammar checking and content generation. However, other writing solutions are more capable of meeting the needs of different writers.
The article will examine the top 10 speedwrite alternatives and provide an overview of their limitations, advantages, and features. It will help you choose the best writing solution for your needs, whether you are a student, a professional, or a blogger.
The 10 Best SpeedWrite Alternatives to Use in 2023
Now it's time to guide you through today's best content spinners, AI rewriters, and other Speedwrite alternatives.
1. Jasper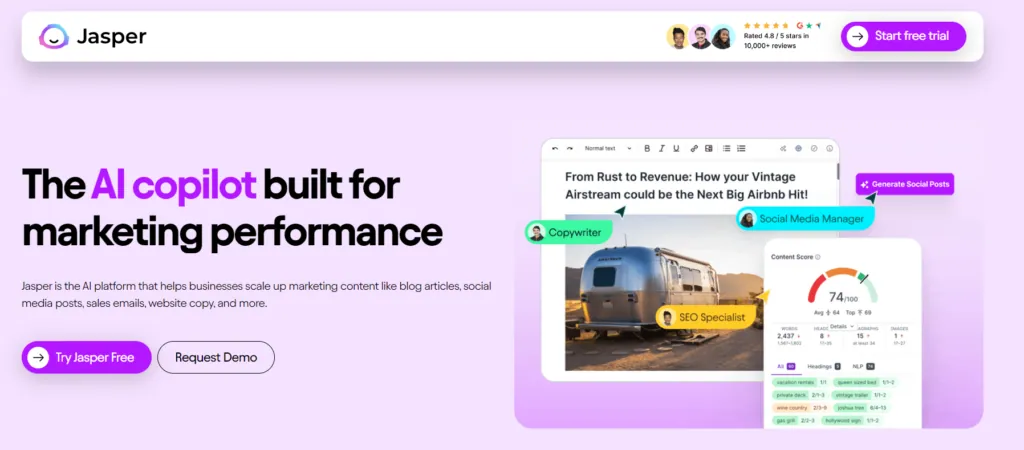 Jasper is a powerful AI-based writing tool designed to enhance your writing productivity. With its natural language processing capabilities, Jasper can generate high-quality content quickly. It offers a user-friendly interface and various writing styles to suit diverse content requirements. Additionally, Jasper provides real-time grammar and plagiarism checks to ensure your content is error-free and original.
2. Quillbot
Quillbot is a popular writing tool that excels in paraphrasing and rephrasing sentences while retaining the original meaning. This tool is a go-to choice for writers looking to avoid plagiarism and create unique content effortlessly. Quillbot offers multiple paraphrasing modes, including standard, fluency, creativity, and more, enabling users to adjust the level of rewriting according to their needs.
3. Growthbar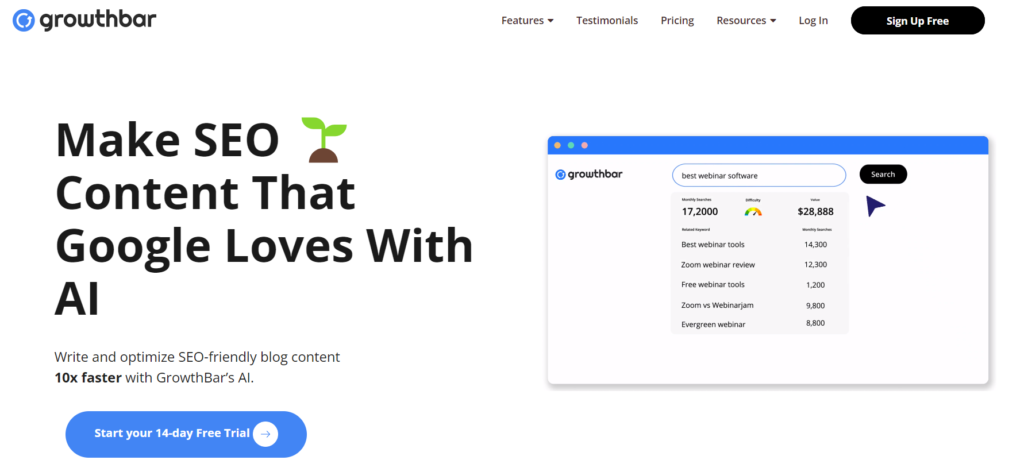 Growthbar is an all-in-one SEO and content marketing tool to boost website traffic and search engine rankings. It provides valuable insights into keyword research, competitor analysis, and backlink data. By leveraging Growthbar, writers can create SEO-optimized content that resonates with their target audience and drives organic traffic.
4. Copy.ai

Copy.ai is an AI-powered writing assistant that helps users generate compelling and engaging content. Copy.ai can produce content tailored to specific marketing goals, from blog posts to social media copy. The tool offers a range of writing styles, such as creative, professional, and casual, making it suitable for various content types and industries.
5. Paraphrase.io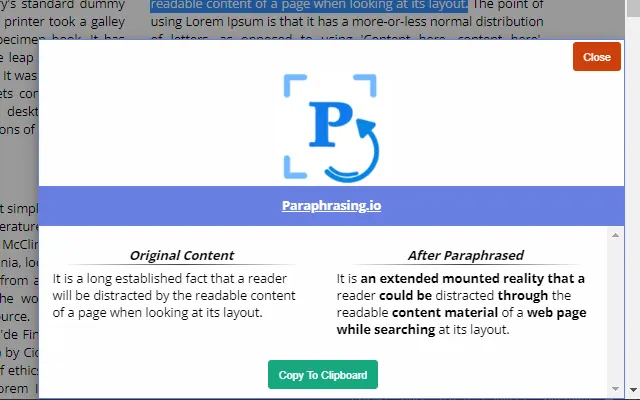 Paraphrase.io is a straightforward and efficient paraphrasing tool that assists writers in creating plagiarism-free content. With its user-friendly interface, writers can quickly rephrase sentences and paragraphs without compromising the original message. Paraphrase.io is a valuable asset for students, educators, and content creators striving for originality in their work.
6. Spinbot
Spinbot is a reliable article rewriter that produces unique content by rephrasing existing articles. It's an ideal tool for content marketers looking to repurpose their content for different platforms without encountering duplicate content issues. Spinbot's advanced algorithm ensures the rewritten content remains coherent and contextually relevant.
7. Outwrite
Outwrite is a versatile writing tool with a grammar checker, paraphraser, and tone adjuster. It helps writers craft error-free, concise, and well-structured content. The paraphrasing feature allows users to rephrase sentences and paragraphs effectively, while the tone adjuster ensures that the writing aligns with the desired tone and style.
8. Simplified
Simplified is a comprehensive writing tool that combines AI-driven content generation, grammar checking, and paraphrasing. It is suitable for writers who seek assistance throughout the writing process. Whether you need help brainstorming ideas or to refine your content, Simplified has covered you with its intuitive features.
9. Copysmith
Copysmith is an AI copywriting tool designed to craft high-converting ad copies, product descriptions, and social media content. Copysmith generates persuasive and personalized content tailored to your marketing campaigns by analyzing your input and understanding your brand. It's a time-saving solution for businesses aiming to improve their online presence.
10. Anyword
Anyword is an AI-powered copywriting tool focused on enhancing ad performance. It offers a range of templates and writing styles to create attention-grabbing ad copies for different platforms. Anyword's data-driven approach ensures that the generated content resonates with your target audience, leading to better ad engagement and conversion rates.
Conclusion
In conclusion, Speedwrite is undoubtedly a popular writing tool, but the market is brimming with exceptional alternatives, each catering to unique writing requirements. These tools can significantly enhance your writing productivity and creativity, from AI-powered content generation to advanced paraphrasing.
This article explored the top 10 alternatives to Speedwrite, including Jasper, Quillbot, Growthbar, Copy.ai, Paraphrase.io, Spinbot, Outwrite, Simplified, Copysmith, and Anyword. Whether you need assistance in paraphrasing, SEO optimization, or generating persuasive ad copies, these writing tools have got you covered.
Remember, the best tool for you depends on your specific needs and preferences. Take the time to explore each option, considering factors such as user-friendliness, pricing, and feature set. By harnessing the power of these writing tools, you can elevate your writing game and achieve outstanding results.
So, why limit yourself to one tool when you have such an impressive array of alternatives? Embrace technology, experiment with these alternatives, and witness a significant boost in your writing efficiency and creativity.
FAQs
What is Speedwrite, and why are alternatives necessary?
Speedwrite is a popular writing tool known for its efficiency in assisting writers. However, alternatives are essential because they cater to diverse writing needs and offer unique features that might better align with specific requirements.
Can Jasper's AI-generated content match human writing quality?
While AI-generated content from Jasper can be impressive and time-saving, reviewing and editing the generated text to ensure it matches human writing quality and aligns with your intended message is essential.
How does Quillbot avoid plagiarism in paraphrased content?
Quillbot utilizes advanced algorithms to rephrase sentences while preserving the original meaning. This ensures that the paraphrased content is original and free from plagiarism.
Is Outwrite only beneficial for grammar checking?
Outwrite offers more than just grammar checking. It provides versatile features, including paraphrasing, tone adjustment, and error detection, making it a valuable all-in-one writing assistant.
Can Copysmith help improve my ad campaign's performance?
Absolutely! Copysmith's AI-powered copywriting can craft persuasive ad copies tailored to your brand and audience, improving ad performance and conversion rates.
How do I choose the best alternative for my writing needs?
To choose the best alternative, consider the tool's functionality and ease of use.