Are you an avid gamer with a burning passion for racing games, particularly the thrill of burning rubber and leaving your opponents in the dust? If so, then Drive World in Roblox is about to become your new obsession. This captivating game invites players to immerse themselves in an expansive open-world environment where the pedal-to-the-metal action never stops. The objective? Accumulate a fortune in cash and acquire a jaw-dropping collection of high-speed, high-octane vehicles that will leave your rivals eating your virtual dust.
However, we all know that amassing wealth and upgrading your car collection from scratch can be a daunting task in the beginning. Fear not, for we've got you covered. We've meticulously curated a comprehensive list of Drive World codes designed to catapult your in-game experience to the next level. These codes not only grant you access to substantial cash rewards but also unlock a treasure trove of exciting in-game bonuses that will enhance your racing adventures. So, without further ado, let's dive headfirst into our meticulously crafted Drive World codes list and set you on the fast track to virtual success.
Working Drive World Codes List Today
Note: These codes are working as of December 1, 2023. We will remove codes as soon as they stop working and add new ones when they become available.
190K: $50,000 cash (NEW!)
BIGMILESTONES: $35,000 cash + 100 Million rims
Contrast: Contrast nitrous effect
Redeem Drive World Codes in Roblox 2023
Before you start your engine and burn the road down, follow the steps below to learn how to redeem codes in the game.
Open Roblox and click Play on the Drive World page.
In the main menu, click the cog icon (settings button) on the top left corner.
Now, click the "Open" button beside the Promo Codes option.
After you click the open button, it will pop-up a redeem code menu.
Copy Drive World codes from our list above and paste them into the "Enter code here" space.
Finally, click the blue "Redeem" button, and you will receive the rewards in the game.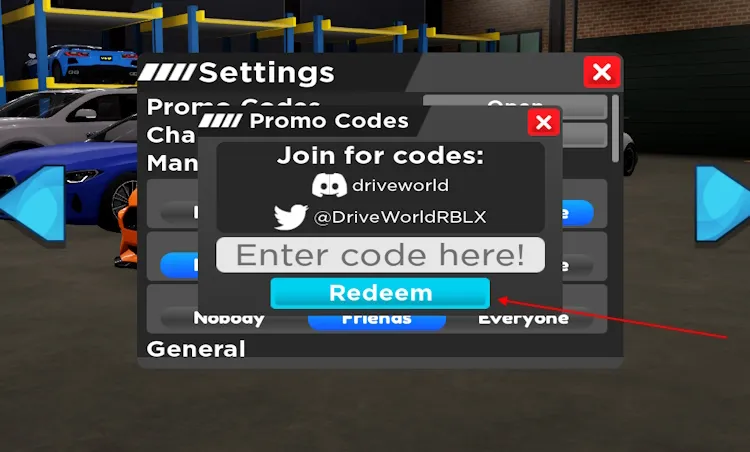 Expired Drive World Codes (2023)
Expired Codes Disclaimer: Codes expire fast in Roblox games. These codes are released during in-game events and special occasions. That's why use the codes before they expire.
HOORAY
WRAPPED155K
MISSION150K
100KTHX
SLIMEPAINT
DONTSEEME
CHECKED110K
STRUCKGOLD
JP90K
80KLIKES
7DEEKLIKES
CACTIPAL
thebunnycalls
DOUBLEFIVES
TENGRAND
LIKESOVERLOAD
FAV4MONEY
CODEZ
FOURTYFIVE
FOURDEE
Now that you have started your racing journey on Drive World, if you know any such code then don't forget to comment below. Also, if you love racing games, EA Sports WRC might be something that will make you delete Roblox and play racing games outside of the game platform.