PDF to Word Converter does this: It converts a PDF file that cannot be edited with many software to Microsoft Word formats such as DOCX or DOC.
It is not possible to rename PDF in Word format like DOC. You will have to use a program or software to convert PDF to Word.
Below we will tell you about the 5 best services by which you can easily convert PDF to Word.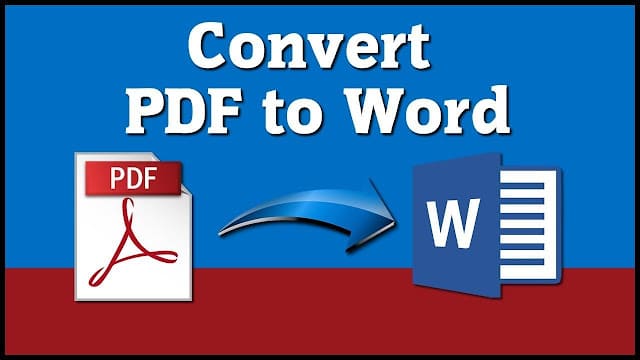 What is PDF?
The full name of the PDF is Portable Document File. It is a file format: any Text File, Word File, or Doc. Creates a read file, which you can easily share anywhere. You can only read PDF files. You cannot edit them.
Read Also: Top Best PDF File to JPG Converter
You can easily open the PDF file on Mobile, Laptop, etc. The size of the PDF file is also tiny. Pdf has only one disadvantage that you cannot edit it. It has to be converted to Word first. To convert Pdf file to Word, you have to take the help of a third party.
List of 5 Best PDF to Word Converter Tool.
We can convert Pdf to Word with the help of both Apps and Websites. First, we talk about the website to convert Pdf to Word. Although there are many websites, you can convert PDF to Word with the service. We will tell you about that website. Most people use the district.
UniPDF is a free PDF to Word converter, and we think it is the best. It is swift, and it is also straightforward to use.
Another advantage of this PDF converter is that its user interface is quite simple, and you will not have any problem with its settings.
With UniPDF, you can convert PDF files to many image formats like JPG, PNG, TIF, etc. And also, you can convert it to text format like RTF.
If you buy the Paid Version of this program, you can also convert Batch PDF to Word, and with this, you can also convert more than 3 PDFs in a day.
UniPDF can be installed from Windows 10 to Windows XP.
Advantage of UniPDF
Its User Interface is quite simple.
Multi-page documents are easily converted.
Converts PDF with a lot of graphics in an accurate way.
Disadvantage of UniPDF:
Cannot convert PDF to DOCX.
In this, PDF can be converted only 3 times a day.
The complex text formatting is removed while converting.
PDFMate PDF Converter Free is also an excellent tool that converts PDF to DOCX, a new Microsoft Word file format.
PDFMate PDF Converter Free works excellent when converting a PDF to Word because its complete formatting and color will be the same as before.
It also supports converting Batch PDF to Word and PDF to PDF conversions, which helps a lot in changing PDF security settings.
PDFMate PDF Converter Free can also convert PDF to EPUB, HTML, JPG, SWF, and TXT.
This PDF to Word converter- supports Windows 10, 8, 7, Vista, and XP.
Advantage of PDFMate PDF Converter Free
Multiple PDFs can be converted at the same time.
OCR has been given to convert Scanned PDF into Editable Files.
Disadvantage of PDFMate PDF Converter Free
After the PDF is converted, you will be prompted to buy the full version.
OCR Conversion is limited to only 3 Pages.
FreeFileConvert is a free online PDF to Word converter that can upload up to 5 files and supports sizes up to 300 MB. You can load a local PDF from a URL, or you can also load a PDF stored in your Google Drive or Dropbox account.
FreeFileConvert with DOCX can convert PDF to EPUB, HTML, MOBI, TXT, and other file formats like images. Overall, there is support for several thousand conversion combinations in this service.
This PDF to DOC converter runs in your web browser, working in all operating systems.
Advantage of FreeFileConvert
Its conversion process is quite simple.
File up to 300 MB can be uploaded.
There is no need to download any software for this online converter.
Disadvantage of FreeFileConvert
Only 5 files can be uploaded at a time.
You have to download the converted files within 24 hours.
Cannot download multiple files at once.
Ashampoo PDF Pro 2 is a PDF software where PDF documents can be edited and managed. This software is supported in Windows 10, 8, and 7. Here you can create Documents of Perfect Size, after which they can be read on any device.
Here you can easily convert PDF to Word. With the help of its new toolbar, menu structure, and toolbar icons, you can use this software easily.
Features:
With the help of Ashampoo PDF Pro 2, we can convert PDFs to Word.
Here, we can also compare any 2 PDFs.
Snapshot function has been given in this to take perfect screenshots of PDF.
Price:
Ashampoo® PDF Pro 2 costs $29.99 (One-time payment). It can be used in 3 systems for home use, but for commercial use. 1 license is required for 1 install. You can download this tool and get its free trial.
A straightforward but advanced tool has been given in Smallpdf to convert PDF files to Doc. With its simple Drag and Drop feature, you can correct any PDF. When your documents are processed here, the quality is not reduced in the slightest, and users get top-quality results quickly. A unique feature of Smallpdf is that it can also do cloud conversions.
Features:
Its conversion is relatively easy and relatively fast.
The features of Drag and Drop have been given in this.
Cloud conversion has been given in this.
It works well on all Platforms.
Price:
Initially, there is a 7-day free trial, and after that, $ 12 per month has to be paid.
Frequently Asked Questions
Q1. Is PDF to Word conversion safe?
Answer: PDF to word conversion is entirely safe online if you are using reliable software for your conversion. To keep yourself safe, always check the Privacy Page of PDF to Word Converter once.
Q2. Is PDF to Word Converter Free?
Answer: Yes, most of the online tools of PDF to Word Converter are free and do not charge even a single rupee from the users. However, we would advise you to stay away from Free Tools because you will get to see many ads in it.
Q3. Can we convert PDF files to other formats using these converters?
It depends on which software you are using, but this feature is provided in most tools.