WhatsApp started the digital payment facility by introducing WhatsApp Pay with UPI. But for a long time, no significant changes or updates were made in this payment feature. Finally, a new WhatsApp Payments feature has been released by the developers of the Facebook-owned messaging app to improve the money transfer experience on their platform. In this article, we will tell you how to pay with WhatsApp Pay and other features of WhatsApp Pay.
» Pubg New State Download link
WhatsApp Pay was launched in February 2018 as part of a trial run in India. As a result, payment through WhatsApp was found for one million users in partnership with ICICI Bank. On February 7, 2020, the messaging app received NPCI's approval to launch its digital payment service quickly. In the first phase, WhatsApp will provide payment services to 10 million users in the country.
They have introduced a new option to add background while making payment on WhatsApp UPI. The tech community has picked it up, and they are eager to know more about it. Here is all the information about the WhatsApp Payment facility on the internet. Now, let's see how you can pay with WhatsApp Pay in India.
How to enable WhatsApp Pay?
To use WhatsApp Pay, the user has to make a payment to a contact. Once the request is received, the user can set up his UPI account on WhatsApp.
How to use WhatsApp Pay?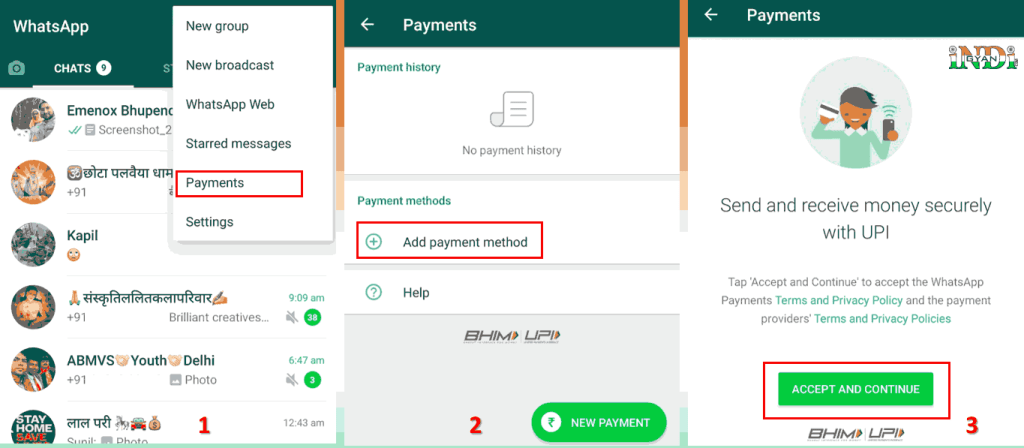 Users can send money directly through chat by tapping on the share file icon and selecting 'Payment'. The "Payment" section is available on the shortcut menu. Users can check their transaction history and account details in that section. The payment system works on the Unified Payments Interface (UPI) method, where money transfers can be initiated without providing the recipients' bank account number and IFSC code.
Step 1: Users need to activate the WhatsApp Pay feature.
Step 2: Open any chat on WhatsApp and click on the 'Attachment' icon.
Step 3: Select the 'Payment' option and choose the amount you want to send to that person. A recent update allows users to add a background to this payment.
Step 4: Finish the payment process on WhatsApp by entering your UPI PIN.
Step 5: Wait until a confirmation message is received.
Thus, if you follow all the steps carefully and correctly, you will use the WhatsApp Payments feature in India and make payments with WhatsApp Pay.
» 5 Best Free Video Editing App
WhatsApp Pay Latest Features
WhatsApp has added a total of seven theme-based backgrounds as part of the recent update. The company has added this feature to give its users an expression element while exchanging money on the platform. The update is now available for Android and iPhone users and can be downloaded directly from their respective app stores. WhatsApp Payments Director Manesh Mahatme said that sending and receiving money is much more than just a transaction. You can download the WhatsApp Pay APK file by clicking on the download button given below.
So it looks like this new WhatsApp feature is a great addition to attract more users. Here's also a video from Youtube that visually shows off this new WhatsApp Pay feature. Apart from this, users have also been asking questions about how to use WhatsApp Payment in India. So here is a step-by-step guide to accessing this payment feature on the Facebook-owned company's platform.
Conclusion Payment with WhatsApp Pay
WhatsApp Pay is an in-chat payment facility that allows users to transact in their contact list through WhatsApp. We learned how you could pay with WhatsApp Pay. It is a UPI-based payment service that allows you to both send and receive money. It was developed by the National Payment Corporation of India (NPCI). WhatsApp Pay will enable users to send money only to their contacts, after which it enables UPI ID. WhatsApp Pay users can send money by entering the UPI ID. Through QR codes, WhatsApp users can also send money to people not on their contact list.