In the world of audio technology, the choice between average-quality wireless earbuds and the pinnacle of modern earbud excellence is now firmly within your grasp. In this era, the market is brimming with exceptional wireless earbuds that offer a tempting array of features and innovations. If you're contemplating investing in a pair of earbuds, it's essential to understand that top-tier earbuds today are designed with user expectations at the forefront.
Year after year, leading brands strive to push the boundaries of what's possible in earbuds, introducing groundbreaking enhancements. The question arises: "Why should I consider purchasing wireless earbuds?" We're here to provide insights if you haven't pondered this question yet.
Wireless earbuds are nothing short of extraordinary. They offer convenience and a transformative auditory experience, especially with features like noise cancellation. Ask any avid streamer, and they will tell you the sheer joy of immersing oneself in content with high-quality, noise-canceling earbuds.
Staying informed is paramount in this dynamic landscape of evolving technology and innovation. Transitioning from wired headphones to wireless earbuds is a step towards a more effortless and enjoyable life.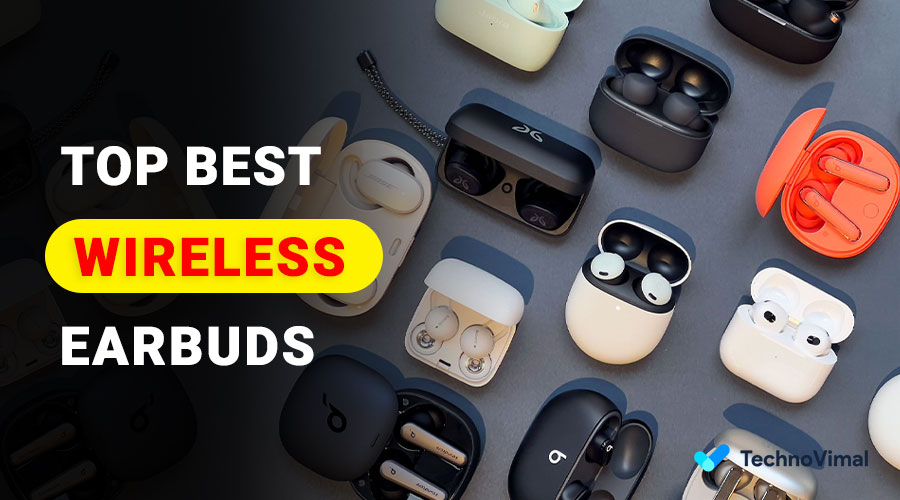 Navigating the plethora of earbud options from various brands can indeed be overwhelming. To simplify your journey, we've curated a list of some of the finest earbuds available. Continue reading to discover these exceptional audio companions that can elevate your listening experience.
The Best Wireless Earbuds December 2023
1. JBL Reflect Mini Wireless Earbud
Key Specifications
Colour: Black
Bluetooth: 5.0 advanced technology
Cable Features: Not available
Waterproof: Yes
Driver Size: 5.8mm
Battery Life: 10 hours (using charging case up to 30 hours)
Noise cancellation: No
Pros
Lightweight
Powerful Bass
Extended Hours of Battery Life
Premium build design
Cons
Not Strong Dynamic performance
The carrying case is a little bit large
JBL brand products are very prevalent in the sports industry. This earbud is quite a famous product that is a complete value pack. JBL earbuds are great, especially when looking for a pair with a heavy audio quality that can be your partner while exercising. You can keep this JBL earbud for over-ear and on-ear headphones.
These JBL earbuds can provide 10 hours of battery. Within 10 minutes of charging in the earbud case, it can give you a battery backup of 20 hours. These earbuds are waterproof to get through the workout, sweat, and harsh weather conditions. Furthermore, the JBL earbud has one of the best features, an ambient mode. This mode allows you to lower your volume with the help of your left earbud. You can even hold the conversation while calling without removing your earbuds to pick up or put the calls on hold.
2. TOZO Hybrid Active Noise Cancelling Wireless Earbuds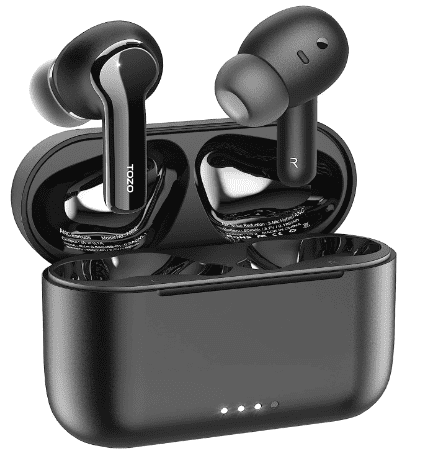 Key Specifications
Color: Black, White, Blue
Bluetooth: 5.2 technology
Charging Types: USB C type
Waterproof: Yes, this is available
Battery Life: Up to 10 hours of playtime after a single charge,
Noise cancellation: Active Noise Cancellation
Pros
Solid look
Accurate Bass weight
Noise cancellation
Classy build
Finished look
Lightweight
Cons
Midrange Upperside of Harsh area
The design of these earbuds is ergonomic and lightweight. These earbuds are designed considering the user's comfort, so they effortlessly fit into your ears. They have IPX6 waterproof ratings, which means the design has good resistance to outside weather or physical activity. It allows active noise cancellation, has 10 mm earbuds, and has three powerful microphones.
Although considering its specifications, it has an incredible call quality, worth under $50. The earbud charges faster and provides 10-hour playtime. Tapping the earbud twice to switch between the noise reduction mode would be best. It provides you with 100% voice clarity and noise reduction.
3. Bose SoundSport Wireless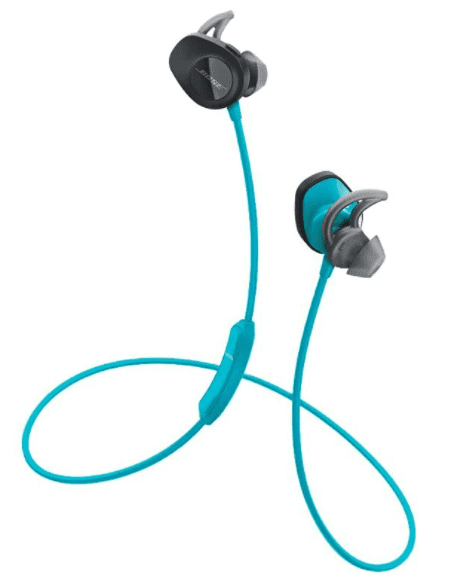 Key Specifications
Color: Aqua, Black, Citron
Bluetooth: 5.0 advanced technology
Waterproof: Yes
Battery Life: Up to 6 hours of battery life (15 minutes of charging gives you 1 hour of backup)
Noise cancellation: Not Available
Pros
Fully Comfortable
Strong bass
Lightweight
Water-resistant
Cons
Lower than stellar battery backup
Are you wondering about the best comfortable or Splashproof, even sweatproof, wireless earbuds? If yes, these wireless earbuds are best for you. We are thankful for the Wings tips of the earbuds to keep them in the user's ear comfortably. Because of this fantastic feature, you can work out, run, jog, or do any activity without fearing them falling anywhere. While listening to sounds via these earbuds, You can experience enhanced and superb sound performance. The earbud's connectivity range is good, up to a few meters. These earphones can live up to 6 hours after charging. These wireless headphones are engineered to cater to you with on-demand performance. There is an app known as Bose Connect App, and with this, you can efficiently perform and power up your exercises and workouts.
Click on Product Details and Price
4. Sony WF-1000XM4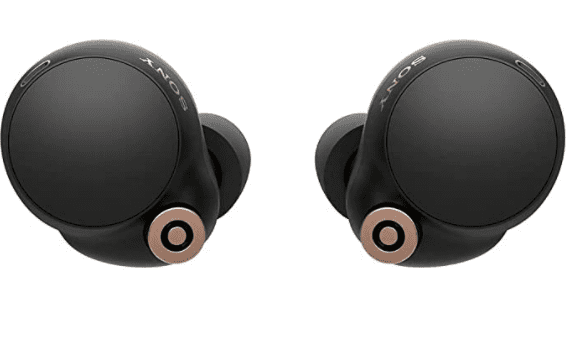 Key Specifications
Color: Black, Silver
Bluetooth: 5.0 advanced technology
Charging Types: USB Type-C
Waterproof: Water-resistant
Battery Life: Up to 8 hours of battery life using a charging case (Single Charge 9 hours )
Noise cancellation: Yes, Noise Cancellation is available
Pros
Clear, crisp sound quality
Detail Bass Performance
Comfortable
Long Classic battery life
Cons
Multipoint features not available
Lack of ear tip choices
Not HD AptX
Do you know this Sony brand earbud has been getting massive success for the last few years? This wireless earbud pair takes everything up to the notch. The Sony model earbud is dynamic and detailed with a balanced performance package. While using this earbud, you will experience an improved texture and quality. These earbuds have built-in Alexa and 100% noise cancellation. Sony earbuds are nowadays leading the industry as these have integrated V1 processors into the earbuds. These newly designed Sony earbuds have noise-sensing microphones, so you will constantly get enhanced noise-canceled audio output. With IPX4 water resistance in it, you can enjoy listening to music every day and everywhere.
Whether you are working out, resting, or doing any chores, these will not move out from your ears. It can give you around 8 hours of average battery backup. The Bluetooth connection of the earbuds is more stable and robust. These earbuds have a wireless charging case and a robust, durable fit design. In addition, this Sony brand earbud connects applications with smart Android and iOS devices easily. For example, on-calling sessions and the instant attention feature allow you to have great conversations that will help you enjoy communication without removing and putting on the earbuds.
5. Panasonic RZ-S500W
Key Specifications
Color: Black, Light Grey
Bluetooth: 5.0 advanced technology
Charging Types: USB Type-C
Waterproof: IPX4 Water-resistant
Battery Life: Up to 6.5 hours of playback battery life using a charging case (15 minutes of quick charge and 70 minutes of playback)
Noise cancellation: Yes, Noise Cancellation is available
Pros
Excellent Noise cancellation
Great touch controls
The premium build quality of the case
Water-Resistant
Cons
The fit could be an issue for some
These Panasonic earbuds are ergonomically designed and engineered precisely to offer the users impactful sounds and a seamless experience. The Panasonic earbuds are based on the leading feedforward and feed-backward noise-canceling technology. These earbuds contain easy touch and sensitive controls.
If you are looking for the best wireless earbuds, Panasonic's RZ-S500W is the best. With an intelligent design and long battery life, it offers a 2-hour charge and 19.5 hours of playback. Now, control the volume of music tracks and receive and end calls with the intelligent and easy touch sensors on the earbuds.
It has rapid charging functions provide just 15 minutes of charging and 70 minutes of playback time. These tech-savvy earbuds are designed for every type of smartphone with better Bluetooth connectivity. It comprises an 8mm driver unit, a voice assistant, and a built-in mic that provides your desired sound quality. However, it has intuitive touch controls.
6. Sennheiser Momentum True Wireless 2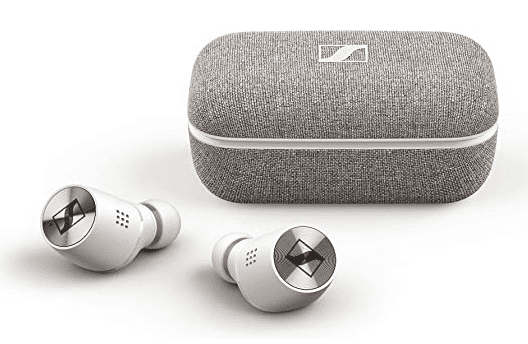 Key Specifications
Color: Black, White
Bluetooth: 5.0 advanced technology
Charging Types: USB Type-C
Waterproof: IPX4 Water-resistant
Battery Life: Up to 6.5 hours of playback battery life using a charging case (15 minutes of quick charge and 70 minutes of playback)
Noise cancellation: Yes, Noise Cancellation is available
Pros
Mature Sound
Lightweight
Comfortable
Easy to use
Cons
Price
Time latency
aptX supports but not HD quality
Have a look here! Here is the Sennheiser momentum earbud, which gives you the best refined audio performance. This earbud has the best noise-cancellation feature, and its performance is pretty good. It has a nice sensitive touchpad on each bud to control music and customize your playback. These truly wireless earbuds are for you to help you focus on the right sounds. By diving deep into the impactful music sounds, you can enjoy every type of audio, like deep and natural or classical or contemporary. This earbud has 7 hours of battery backup, only a one-time charge, and while using the charging case, it will give you an extra 3 hours of battery backup.
7. Sony WF-SP800N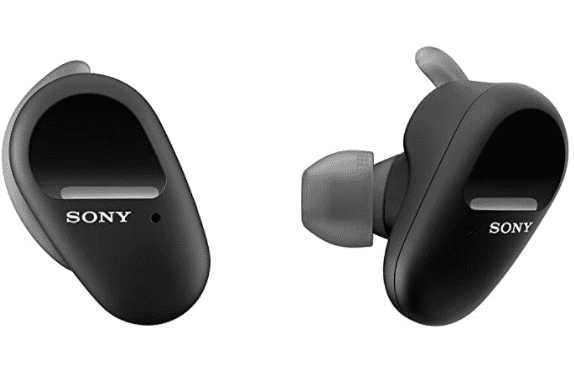 Key Specifications
Color: Black, Blue, Orange
Bluetooth: 5.0 advanced technology
Waterproof: IPX4 Splashproof
Battery Life: Up to 18 hours of battery life using a charging case (13 hours of 26 total hours)
Noise cancellation: Yes, Noise Cancellation is available
Pros
Vibrant
Great Audio Quality
Active Noise Cancellation
Cons
Average Battery life backup
This Sony brand earbud (WF-SP800N) can please you with its specifications. This earbud consists of an IP5 waterproof design and active voice assistants. Quickly get into the workout zone without worrying because it provides long-lasting battery life. It has a durable charging case and allows noise cancellation to provide impeccable sound quality. It has an average battery life of 18 hours and gives you an extra BASS sound…
8. Beats Studio Buds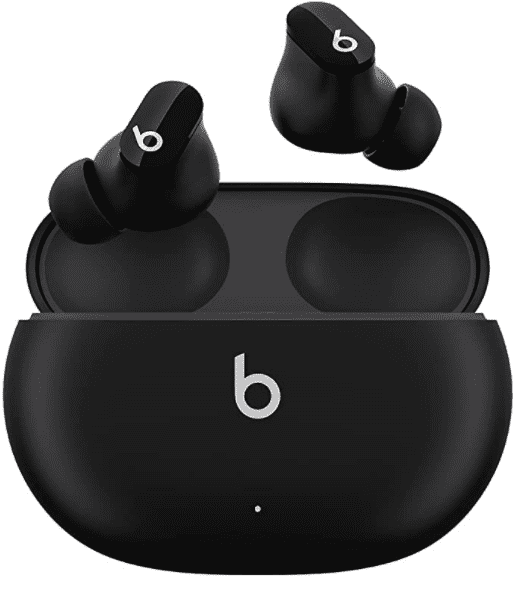 Key Specifications
Brand name: Beats
Connectivity: Wireless
Color Availability: Black, Red, White
Model: Studio buds
Pros
Premium sound quality
You can listen for up to 24 hours.
You will get three soft silicone ear tips.
Easy to carry in pockets
Sweat and water-resistant
Cons
Less support for Android
Model: Studio buds
These wireless earbuds have astounding noise cancellation and deliver powerful and balanced sound. It allows both noise cancellation and transparency modes. These are the third-generation AirPods, and yes, if you don't know, Beats is Apple's conciliatory company. Beats Fit Pro is not AirPods but is somehow built with the same technology as Apple's AirPods because they include an H1 chip. You will see most of the features resembling Apple Airpods. You'll get a quick start guide, a USB-C to USB-C charging cable, a 'b' logo sticker, and a warranty card in the box. Being sweat and water-resistant, these are the best for you.
9. Beats Studio Buds +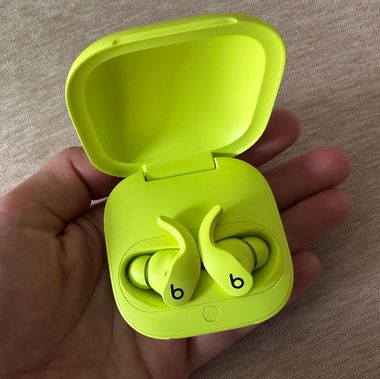 PROS
Excellent audio quality
Spatial audio is immersive.
Comfy fit and convenient controls
CONS
Spatial audio is an Apple-only feature.
The Beats Fit Pro earphones are the brand's best true wireless offering and, hands down, the best option for Apple users. Thanks to the tech giant's H1 chip, they can deliver spatial audio sound with dynamic head tracking. The experience is incredibly lifelike with enhanced content, though you should know it's only available on Apple hardware.
A custom audio driver powers the Beats Fit Pro earphones and delivers a balanced sonic experience. Apple's H1 chip mentioned above also allows the buds to respond to hands-free Siri voice commands and to seamlessly switch between all devices that use the same iCloud account.
Compared to the cheaper Studio Buds from the same maker, the Beats Fit Pro has a more secure fit with integrated wingtips. The setup makes the earbuds an excellent option for exercising. You can order the product in many colors, including finishes created in collaboration with Kim Kardashian.
10. Jabra Elite 4 Active Wireless Earbuds
PROS
Lightweight and rugged
Stellar audio performance
CONS
Controls have a learning curve.
Jabra's Elite 4 Active true wireless earbuds are a solid alternative to our top pick, with a more understated design, a more challenging build with a higher rating for water resistance, customizable sound via an app, and a lower MSRP, all while being just as lightweight and comfortable. The earbuds' excellent fit also impressed me by blocking noise exceptionally well — I didn't need to use noise cancellation often while testing the product.
Still, the noise cancellation is stellar, as is call quality. Acoustically, the Jabra Elite 4 earbuds perform superbly for their price range. However, the Studio Buds supports more immersive Dolby Atmos spatial audio, self-adjustable noise cancellation, and seamless Apple connectivity. And they are on sale right now on Amazon.
Consider the more affordable Jabra Elite 3 wireless earbuds if noise cancellation is unnecessary. The sub-$100 pair has a similar design and sound quality but a slightly lower rating for water resistance. The two-year warranty against damage from water and sweat somewhat makes up for that.
Conclusion
At last, a user expects better sound quality, noise cancellation, and a long-lasting battery from earbuds. Along with this, to keep them stable for years, you must take care of them. Earpods or Earbuds need to be cleaned; you should wipe the Earbuds to experience better sounds. You can use an isopropyl alcohol wipe to clean your earbuds or use toothpicks to clean them.