Best Windows 10 Themes: Windows 10 has become very popular now. Every new laptop has Windows 10 installed. But do you know that most of the users do not even change the background of their PC desktop?
If you're not sure, just take a look at some people's laptops the next time you're at a coffee shop or airport.
When there are so many themes available for Windows 10, why not make your PC more interesting with one total theme? So today we are giving a list of the 10 Best Windows 10 Themes for your desktop.
Best Windows 10 Themes provide a quick way to customize your PC, including desktop backgrounds, pictures, menu colors, and sometimes even unique system sounds.
» Windows 11 Download Direct Link
List of 10 Best Windows 10 Themes/Skins Packs in 2021
Make your Windows 10 PC look like Mac OS X with this cool theme that will give you the best Mac desktop-like experience that you can use in your Windows. Its app drawer and much more are similar to Mac OS X.
Admittedly, there is not much difference between a dark theme and a black theme. However, Hover Dark Aero Theme uses more black and less gray than other themes.
Before using this theme, you will need to have UXThemePatcher for Windows 10 installed. Get the DeviantArt theme once you have it installed on your PC.
Once downloaded, move the contents of this theme folder to %windir%/Resources/Themes. You can apply this theme in your system from the Settings app.
This Cool Theme Completely Gives Your Windows UI Look And Gives You The Experience Of Using Ubuntu Operating System On Your Windows 10. One of the best themes for Windows 10, most of the features of this software can be customized, like color themes, keyboard shortcuts. Ubuntu Skin Pack refreshes your Windows interface with some great appearances.
Another beautiful, clear, and simple theme with clouds and a blue sky in the background. It provides a total interface that looks similar to that of any cloud service. This theme is borderless as there is no border defining the sides and edges of the line drawn by the ruler. It changes the overall look and feel of your operating system.
Ades Dark Theme is one of the most osm Windows 10 dark themes. It is not completely dark but a mixture of gray and some light black or soft colors. But still, it is good to get rid of eye strain and is pleasant to the eyes. The theme has a mix of soft blue, green, and gray color combinations in different parts of the screen
Our next best Windows 10 theme is StartIsBack. If you are missing the look of Windows 7, then this theme is the best for you. StartIsBack is the theme that can give you a chance to enjoy the look of Windows 7 in Windows 10. This is a great theme. You must try it once.
It is one of the top and best themes that has a minimalist look but will look great when used on your Windows 10 computer. There are sixteen versions of this theme, including 8 versions of the Fantastic Light theme and 8 versions of the Fantastic Dark theme.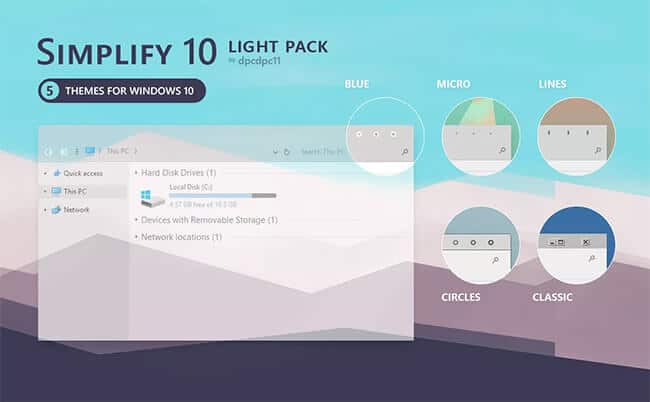 Simplify 10 Light is a pack of Windows 10 themes. It flattens the Windows interface as much as possible, relying on subtle variations in gray and white to separate the different parts of the UI. It also customizes the window control buttons, which may or may not be to your liking.
It is a perfect combination of light and dark colors, so this theme is not completely dark. This is perfect for those who like dark themes.
Although its name is Void this theme is the perfect dark theme for Windows 10. This is the perfect dark look with coral red, gray, and black color combinations. All windows look very beautiful and clean.
How do I find Windows 10 themes?
There are a lot of themes available on the internet for Windows 10. We have collected top-rated themes from various websites.
How to Install Windows 10 Theme?
We have shared the direct links of Windows 10 themes in this article. The download page will tell you how to install the theme.
Are these themes safe to use?
In short, the answer is – yes!. Thousands of users were using these themes at this time. Still, to be on the safe side, be sure to use a reliable security suite.
So above are the Best Windows 10 Themes in 2021. Get the theme and make your PC more fashionable than your expectations. I hope you like these cool themes.
Please share them with your friends, and also leave a comment about your favorite.
Try An Other: