In the age of smartphones and digital clutter, finding and removing duplicate files has become a necessity. The proliferation of photos, documents, and other files often leads to cluttered storage, causing our devices to slow down. Thankfully, the Android app market offers a variety of duplicate file finder apps designed to tackle this issue effectively.
If you're seeking the best solutions to organize and optimize your Android device, look no further. In this comprehensive guide, we'll explore the top 10 duplicate file finder apps for Android in 2023, each offering unique features and functionalities to help you declutter your device and regain valuable storage space.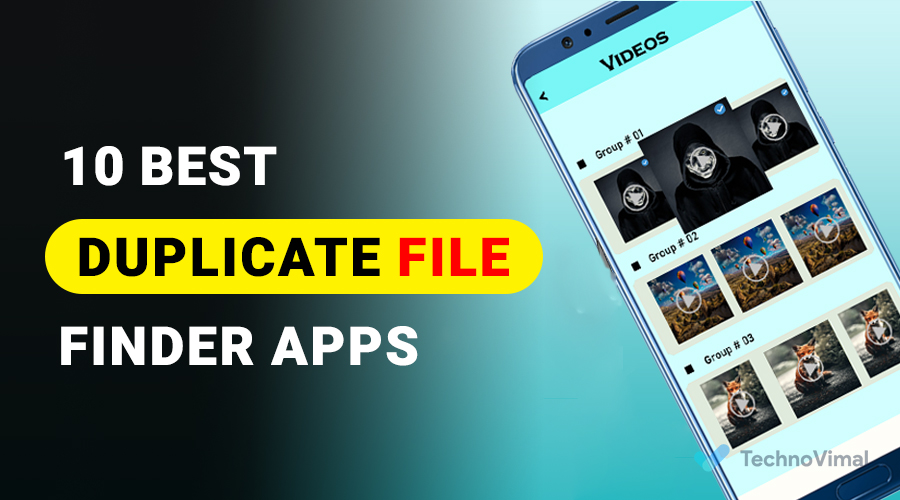 If you're an Android user looking to effectively manage duplicate photos on your smartphone, we've compiled a list of top-notch Android apps that can assist you in locating and erasing duplicate images. Let's explore these optimal apps for decluttering duplicate photos from your smartphone.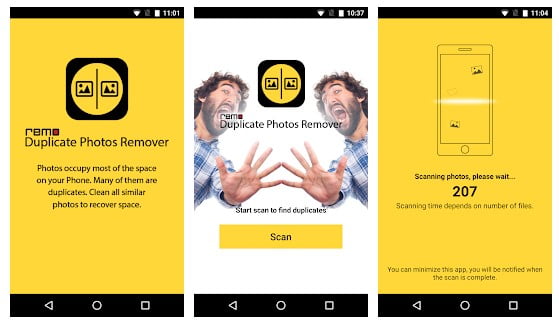 Remo Duplicate Photos Remover is a user-friendly app that specializes in identifying and removing duplicate photos from your Android device. Its intelligent scanning algorithm efficiently detects duplicate images even if they have different resolutions or file formats. With its intuitive interface and accurate results, Remo Duplicate Photos Remover ensures you can effortlessly reclaim storage space while retaining your cherished memories.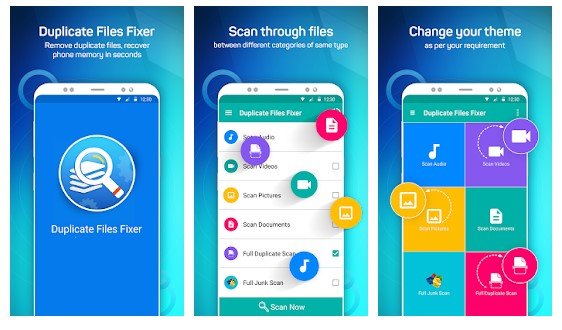 Duplicate Files Fixer is a versatile duplicate file finder app that goes beyond photos. It scans your Android device comprehensively to identify duplicate files across various formats, including documents, audio files, and videos. Its powerful scanning engine, combined with an easy-to-navigate interface, makes it a reliable choice for effectively decluttering your device.
Duplicate Cleaner takes a proactive approach to duplicate file management. In addition to finding and removing duplicates, it offers features to prevent future duplication by helping you organize your files systematically. Its file categorization and organization capabilities ensure you maintain a clutter-free Android experience.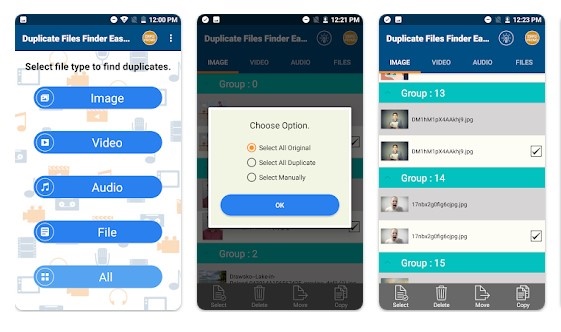 As the name suggests, Delete Duplicate Files is designed with one goal in mind: to free up space on your Android device. This app excels in finding and eliminating redundant files, be it photos, videos, or other document types. Its straightforward functionality and efficient scanning process make it a valuable addition to your device management toolkit.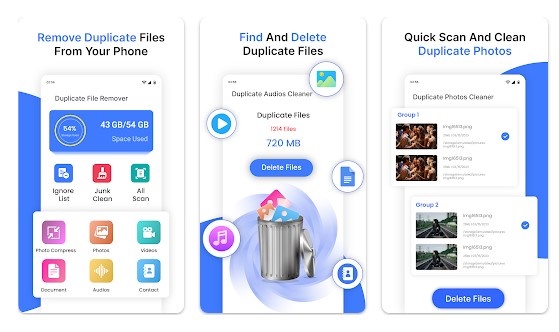 The Photo Duplicate Cleaner App is a specialized tool for dealing with duplicate images. It employs advanced algorithms to detect even the slightest variations between images and helps you keep your photo gallery in order. With this app, you can ensure that every photo on your device is unique and meaningful.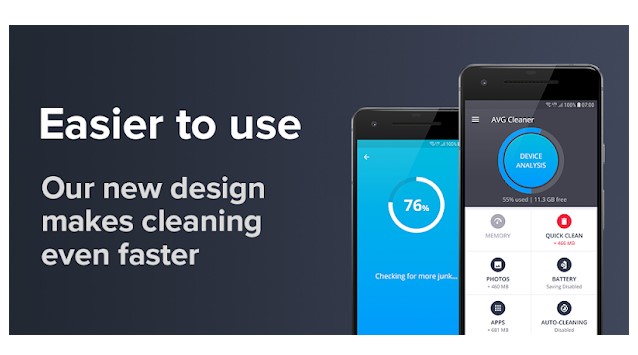 AVG Cleaner is a well-rounded app that not only identifies duplicate files but also optimizes your device's overall performance. It offers features such as cache cleaning, memory boosting, and battery optimization. By combining duplicate file removal with system optimization, AVG Cleaner offers a comprehensive solution to enhance your Android experience.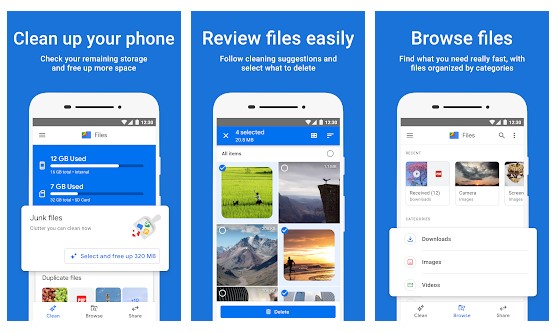 Files by Google is a popular file management app that includes a robust duplicate file finder feature. With its simple interface and efficient scanning process, it helps you locate and remove duplicate files while providing insights into your storage usage. Additionally, the app offers file-sharing capabilities and offline file transfer, adding to its utility.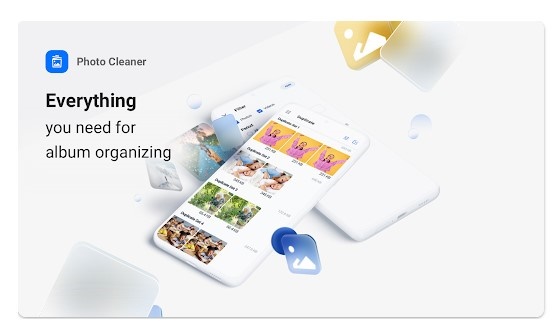 Photo Cleaner – Album Organizer focuses on decluttering your photo collection while organizing it into albums. It efficiently detects and removes duplicate photos, ensuring that your gallery remains visually appealing and easy to navigate. Its album organization feature adds a layer of convenience for users looking to maintain an organized photo library.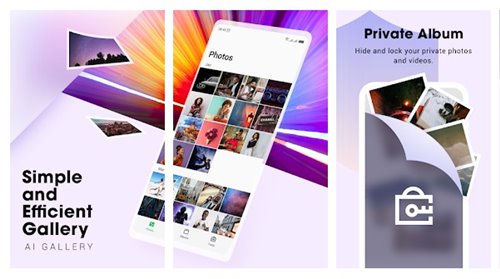 AI Gallery leverages artificial intelligence to enhance your duplicate file-finding experience. The app employs AI-powered algorithms to identify and group similar files for efficient removal. Its smart features ensure that you not only save space but also enjoy a seamless browsing experience through your files.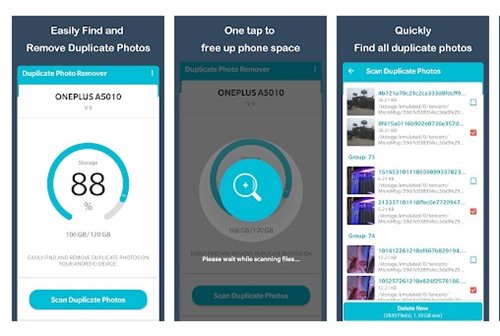 Duplicate Photo Remover rounds up our list with its straightforward yet effective approach to duplicate file management. It scans your device for duplicate photos and offers a user-friendly interface to review and delete them. Its simplicity makes it a suitable choice for users who prefer a hassle-free solution.
FAQs
What is the importance of using a duplicate file finder app?
Duplicate file finder apps are essential for optimizing storage space on your Android device. They help identify and remove redundant files, ensuring that your device performs optimally and remains clutter-free.
How do these apps identify duplicate files?
These apps employ sophisticated algorithms that compare file attributes, such as file name, size, and content. Some apps even use artificial intelligence to identify similarities between files.
Are these apps safe to use?
Yes, the apps listed in this article are reputable and safe to use. However, it's always recommended to download apps from trusted sources like the Google Play Store.
Can I recover accidentally deleted files?
Most apps provide a review process before deletion, allowing you to verify files before removal. However, it's advisable to regularly back up your important files to prevent accidental loss.
Do these apps only find duplicate photos?
While some apps specialize in photos, many of the listed apps can identify duplicates across various file formats, including documents, videos, and music.
Can these apps help improve my device's performance?
Yes, by removing duplicate files and freeing up storage space, these apps can contribute to improved device performance, faster speeds, and smoother operation.
Conclusion
As our reliance on smartphones and digital content continues to grow, managing duplicate files becomes paramount. The 10 best duplicate file finder apps for Android in 2023 offer a range of features, from specialized photo management to comprehensive file scanning. By utilizing these apps, you can enjoy an organized and clutter-free device, optimized for better performance and efficiency.