In [the] rapidly evolving digital landscape, integrating Artificial Intelligence (AI) and chatbots has significantly revolutionized how businesses interact with their customers on WhatsApp. AI-powered chatbots have become indispensable tools for providing quick responses, improving customer service, and enhancing user experiences.
This comprehensive guide presents the ten best AI WhatsApp chatbot tools for [years], designed to help you make an informed choice when incorporating these intelligent solutions into your business operations. These tools not only streamline communication but also increase productivity and customer satisfaction. So, let's dive into the AI WhatsApp chatbot world and find the top contenders.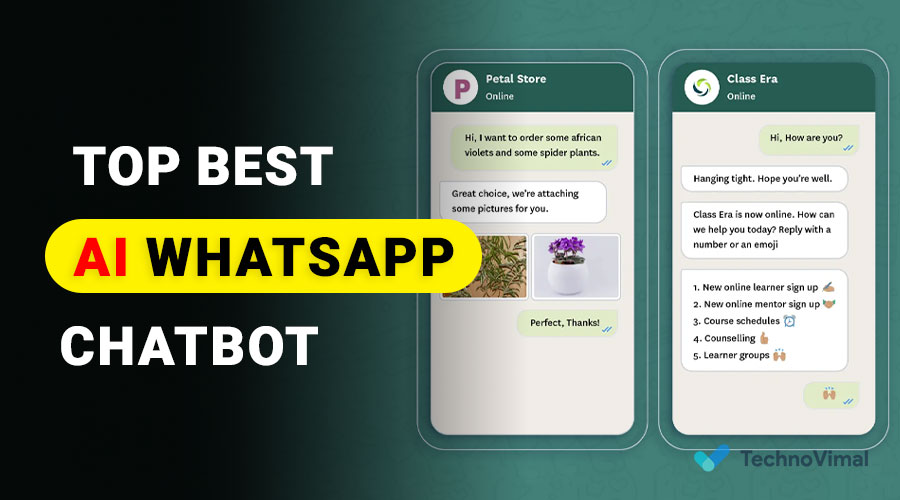 Top 10 AI WhatsApp Chatbot Tools for (December 2023)
To help you stay ahead, we've compiled a list of the top WhatsApp chatbot tools for 2023. These tools are selected based on their features, user-friendliness, and effectiveness.
Read Also: 10+ Best AI Code Generators (December 2023)
Here, we present some of the top AI WhatsApp tools that are changing communication.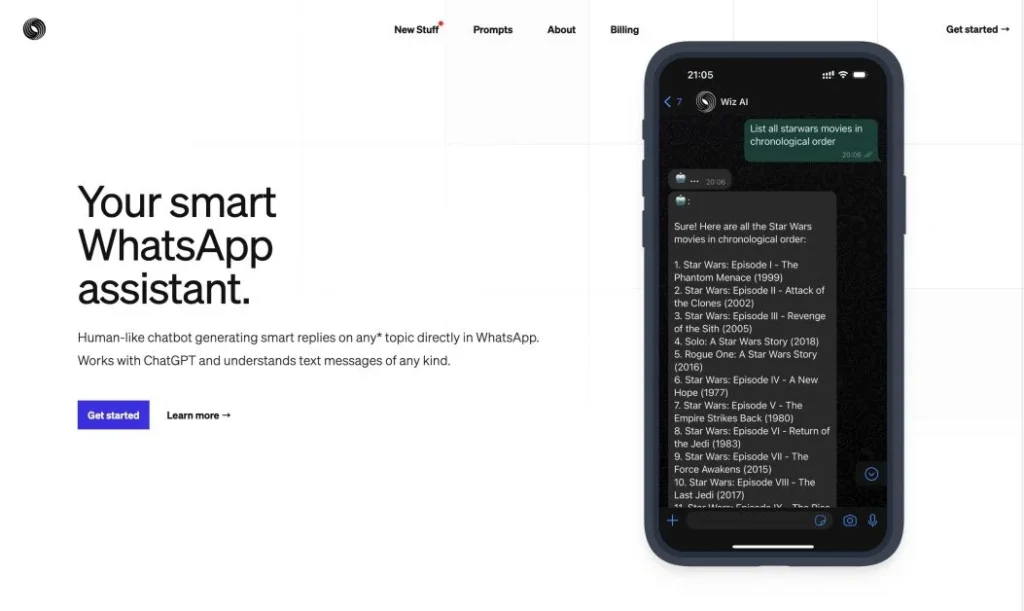 Wiz AI, the ultimate WhatsApp companion, is a remarkable AI tool designed to enhance your WhatsApp interactions. This intelligent assistant works as a human-like chatbot, capable of crafting witty and relevant responses on various topics, seamlessly integrated into your WhatsApp conversations.
Powered by ChatGPT, Wiz AI excels at understanding natural language, boasting an extensive knowledge base. It is excellent at conducting dynamic, interactive dialogues. With its intuitive ability to understand and respond to text messages, Wiz AI brings a touch of genius to your WhatsApp exchanges, making them more engaging and entertaining. Experience the future of messaging with Wiz AI.
Some of the main features of Wiz AI include:
Based on ChatGPT
Human-like chatbot
Back-and-forth dialogue
MessengerPeople is a powerful AI tool tailored for medium and large enterprises. Noteworthy for its intuitive interface, it empowers users to effortlessly construct conversation flows, elevating customer interactions to a professional and user-friendly level.
Distinguishing itself from the rest, MessengerPeople excels in capturing valuable user insights. Throughout chatbot interactions, it diligently records user characteristics. This invaluable data empowers businesses to understand their customers better, enabling them to personalize responses and deliver a superior customer experience. This unique feature transforms customer engagement, fostering a more meaningful and satisfying connection between businesses and their clientele.
Some of the top features of MessengerPeople include:
User-friendly interface
Ability to build intuitive conversation flows
Gathers and saves user characteristics for more meaningful engagements
Clean, user-friendly backend interface
Ticket assignment functionality
WATI is the ultimate WhatsApp Business API platform, revolutionizing how businesses worldwide connect with their customers. Trusted by brands in 78+ countries, it's your global solution for automated marketing, sales, support, and service. With WATI, you gain access to a shared team inbox, empowering seamless collaboration.
Harness the power of broadcast and bulk messaging, personalize with custom notifications, and effortlessly build no-code chatbots to supercharge customer engagement. This comprehensive tool simplifies and enhances WhatsApp communication, enabling businesses to forge deeper connections and streamline operations. WATI is your go-to partner for elevating customer experiences and boosting productivity.
Some of the top features of WATI include:
Shared team inbox
Broadcast and bulk messages
Custom notifications
No-code chatbot
AskRobot is a multifaceted AI utility offering an extensive array of functions for users. This cutting-edge technology empowers you to inquire about various topics and promptly obtain precise responses effortlessly. Additionally, AskRobot boasts image generation capabilities, facilitating visual content creation.
It isn't limited to inquiries. Users can peruse an extensive database of questions and answers. The tool also boasts practical features such as a robust search engine, category-based question filtering, and a curated list of the most frequently asked and popular queries, ensuring an informative and efficient user experience.
Some of the top features of AskRobot include:
Ask questions and receive answers right away.
Generate images
Browse questions from other people
Filer questions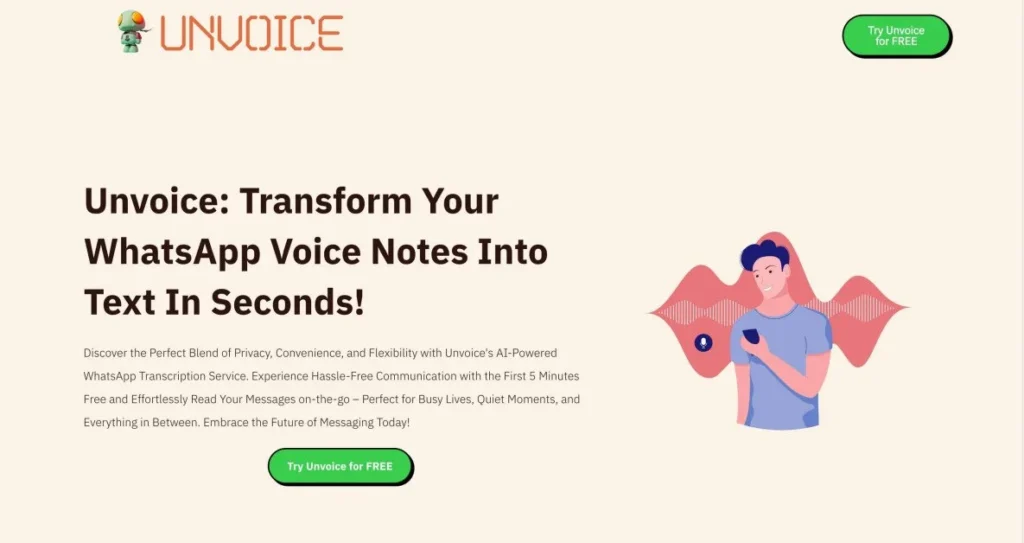 Unvoice is an innovative AI solution that seamlessly transforms voice messages into text. It caters to individuals who prefer written communication or find themselves in situations where listening to voice messages isn't feasible. It operates effortlessly in three simple steps.
Begin by forwarding your voice note to the bot, and in no time, receive the transcribed message directly in your chat. From there, you can read, share, or archive these transcriptions. Unvoice streamlines and simplifies converting voice messages into text, ensuring effective communication and accessibility for all.
Some of the top features of Unvoice include:
Converts voice messages into text
Useful for users who prefer reading messages
This is ideal for situations where listening to voice messages is not possible.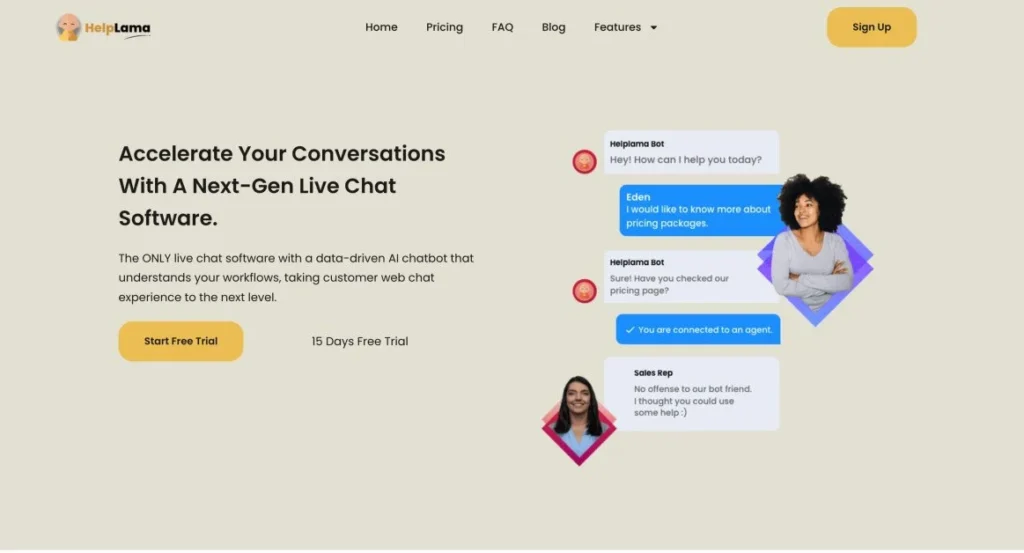 HelpLama is a robust chatbot solution tailor-made for WhatsApp, streamlining customer service by automating routine tasks. From answering inquiries to furnishing information and resolving issues, it empowers your team to concentrate on intricate challenges.
Its exceptional capacity to effortlessly manage various inquiries concurrently makes it an indispensable asset for businesses, especially during peak demand. Elevate your customer support efficiency with HelpLama, your go-to WhatsApp chatbot, ensuring swift and accurate responses ultimately enhancing customer satisfaction and operational effectiveness.
Some of the top features of Helplama include:
Automates customer service
Handles inquiries and resolves issues
Frees up a team to focus on complex tasks
TranscribeMe stands out as an innovative AI solution, adept at transforming WhatsApp and Telegram voice messages into easily readable text. Ideal for individuals who prefer text-based communication, it further enhances its utility by providing real-time translation and language selection options, making it a versatile asset for cross-lingual conversations.
This invaluable tool extends its advantages to businesses with a global presence, offering them a seamless means to ensure crystal-clear and efficient communication across many languages. TranscribeMe simplifies and enriches how we communicate in an increasingly interconnected world, whether for personal use or business expansion.
Some of the top features of TranscribeMe include:
Converts voice messages into text
Offers translation and language selection in real-time
Does not save or store your audio
WhatGPT is an innovative AI companion tailored for WhatsApp, enhancing user interactions by offering seamless real-time assistance. With WhatGPT, users benefit from quick response suggestions, minimizing the need for extensive typing and making conversations more efficient.
This AI-powered tool also empowers businesses to provide swift and accurate information to their customers, elevating the overall quality of customer interactions. WhatGPT optimizes the WhatsApp experience by integrating advanced conversational capabilities, ensuring individuals and businesses benefit from its practical and time-saving features.
Some of the top features of WhatGPT include:
Delivers rapid reply suggestions
Amplifies the WhatsApp user experience with AI-enhanced functionalities
Produces web links for in-depth research within WhatsApp
WhatAuto is a powerful AI automation tool meticulously crafted to streamline your messaging interactions effortlessly. Tailored for businesses grappling with a high influx of messages, it offers seamless customization for automated responses triggered by message content. Unlike conventional chatbots, WhatAuto distinguishes itself by seamless integration with Google Cloud, Amazon Web Service, or your cloud server, seamlessly connecting messaging apps to your programming logic.
This ingenious bridge ensures rapid, personalized responses at any hour, revolutionizing customer service and enhancing operational efficiency. Embrace WhatAuto for a transformative messaging experience that empowers your business to excel, regardless of the time.
Some of the top features of WhatAuto include:
Auto-reply feature
Customizable responses
Ideal for high-volume messaging
Integration with Google Cloud, Amazon Web Service, or your cloud server
Wablas is your go-to WhatsApp API gateway service, designed to supercharge your messaging capabilities. With a wide array of features such as auto-responder, WhatsApp rotator, multi-agents, unlimited labels, live chats, working hours management, and auto-reply, it's the ultimate tool to meet your business's diverse needs. Whether you're sending messages, notifications, scheduling, setting reminders, or tracking interactions, Wablas has you covered.
Seamlessly connect with your audience, manage conversations, and automate responses, making it the perfect solution to enhance your communication strategy and streamline your WhatsApp interactions—Wablas – where versatility meets efficiency for all your messaging requirements.
Some of the top features of Wablas include:
Auto-responder
WhatsApp rotator
Multi-agents
Unlimited labels
Frequently Asked Questions (FAQs)
1. What is an AI WhatsApp chatbot?
A WhatsApp chatbot is an AI-powered program that can interact with users on the WhatsApp messaging platform, providing automated responses and assistance.
2. How can WhatsApp chatbots benefit my business?
WhatsApp chatbots can improve customer service, streamline operations, and enhance user engagement, ultimately increasing customer satisfaction and revenue.
3. What criteria should I consider when selecting a WhatsApp chatbot tool?
When choosing a chatbot tool, consider factors like ease of use, integration options, pricing, and customization capabilities to ensure it aligns with your business goals.
4. Are chatbots challenging to integrate into an existing business system?
Chatbot integration can be straightforward with the right tools and support. Many chatbot platforms offer resources to guide you through the process.
5. What does the future hold for WhatsApp chatbots?
The future of WhatsApp chatbots is bright, with advancements in AI and natural language processing. Expect even more personalized and efficient customer interactions in the coming years.
Conclusion
WhatsApp chatbots are poised to be a game-changer in 2023, providing businesses with an efficient and personalized way to connect with their audience. As technology advances, leveraging chatbots in your communication strategy will be essential for staying competitive and delivering exceptional customer experiences.
Incorporating chatbots, such as those provided by BotPenguin, Twilio, Chatfuel, Botsify, and Gupshup, into your business operations can significantly enhance your ability to connect with customers, automate marketing efforts, and provide top-notch customer support. Stay ahead of the curve in 2023 by embracing the power of WhatsApp chatbots.