After all, Google has officially launched the new version of Android Android 12. It is named Android S. Some of Google's Pixel phones and Redmi K20 Pro got the official update of Android 12 on the day of its launch. However, later other companies also released the official update of Android 12 for their respective devices. And so far many devices have got the update. But today we are going to talk about the features of Android 12, not the update. So let's know about the top 10 features.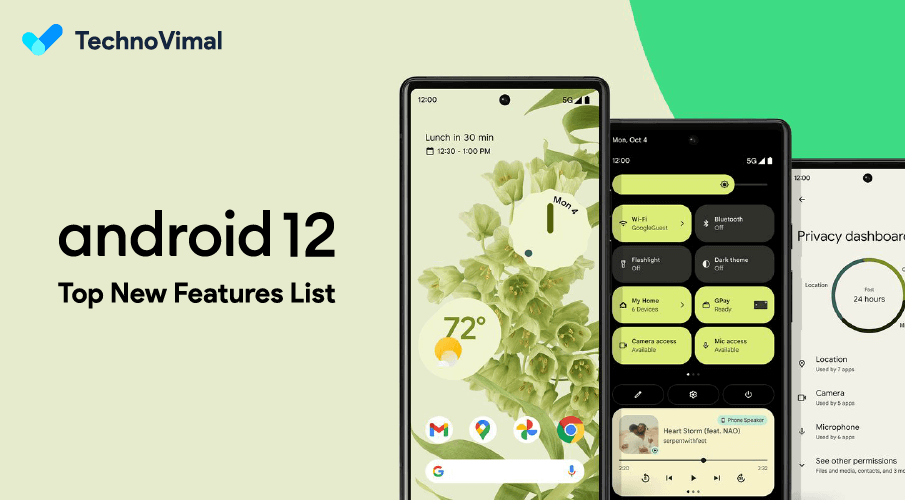 What's special in Android 12?
Android 12 is special in many ways. In this, users will get more productivity than Android 11. Keeping in mind the possibilities of foldable phones in the future, Android 12 has been optimized for foldable phones. Android 12 is the first mobile operating system that is fully compatible with foldable phones. Also, for the first time, the feature of Live Caption will be seen in it. Not only this, special attention has been paid to location, privacy, and security in Android 12. Also, many new features have been added.
Developer
Google
OS family
Android
Name
Android S
General
Availability
October 4, 2021
Latest Release
October 19, 2021 | 12.0.0_r3
Kernel Type
Monolithic Kernel (Linux Kernel)
Official website
www.android.com/android-12/
Preceded By
Android 11
A version of the Android operating system
A version of the Android operating system
Android 12: Release date
The stable Android 12 was announced officially on Oct 19, 2021. Currently, Android 12 is rolling out to all eligible Pixel phones along with select Xiaomi, Oppo, OnePlus, and Realme phones.
Android 12: October 19, 2021
Android 11: September 8, 2020
Android 10: September 3, 2019
Android 9: August 6, 2018
Android 8.0: August 21, 2017
Android 12: Features
Android is Google's most popular mobile operating system. The company releases its new version every year and there is something special in every version. Android Q is the latest version of Android and many new features have been included in it too. Come, know about the top-15 features of Android S (Android 12).
» Best Video Editing Software Free For Computer
1. Foldable Phone Support
The time to come is of Foldable Phones and it has already started. Major Smartphone companies like Samsung, LG, and Huawei have launched their Foldable Smartphones. And shortly, other companies are also going to launch Foldable Phones. Keeping this in mind, Google has given separate support for Foldable Phones in Android S. Also announced that the company will also support developers making apps for foldable phones.
2. Privacy Protection
This is the most important feature of Android S. You must have noticed that when you download an app from Google Play Store, it asks for many permissions from you. One of these permissions is also to track your location. And once you permit an app to track your location, then that app keeps tracking your location all the time. Whether you use it or not.
But now that won't happen. Because in Android 12, the most focus has been on the privacy of the user. Till now you could only control the location permissions of an app. But in Android S, you will have complete control over the apps. When you use an app, only then it will be able to track your location. But when you turn it off and don't use it. Then she will not be able to track your location. Apart from this, now you will not have to permit each app to access the location separately.
» Best Free Apps to Compress Videos
3. Portrait Effect
Nowadays this feature has become very common. That's why Google has especially included this feature in Android 12. In Android 12, apps can request dynamic depth images and get Specialist Blur and Bokeh Effects. Along with this, Google has also said that this data can also be used in 3D Imaging and AR Photography in the future.
4. Sound Amplifier
If you are fond of music then this special feature of Android 12 is for you. Sound Amplifier makes your music listening experience so much more exciting. It not only boosts the sound of the phone but also filters out background noise. Due to which you get to hear a crystal clear sound. This feature helps you a lot while talking on the phone or listening to music. It is very useful for you in crowded places and especially in a noisy environment.
5. Area magnification
A new window magnifier lets you zoom in on a part of your screen without having to lose context on the rest of the screen content.
6. Extra dim
Make your display extra dim for night-time scrolling or situations when even the lowest brightness setting is too bright.
7. Bold text
See text more clearly with the ability to switch the font to bold across the whole phone.
8. Grayscale
Adjust how colors display on your device to grayscale.
9. Sharing Shortcuts
Transferring data from the old phone to the new phone while changing the phone is a very challenging task. But in Android 10 S, data sharing has been made a lot easier. In the new version, you can easily transfer data from your existing device to any other device through sharing shortcuts. Apart from this, in the new version, you also get services like ShortcutInfo API and Neural Network API.
10. Screen Recorder Tool
Till now you must have been using some third-party app for screen recording. But now you will not need any third-party app. Because the system-wide Screen Recording Tool has been given in Android 12S. With the help of this feature, you can easily record your phone screen. In addition, there is also the option of Voice Recording. Not only this, after screen recording, you can also share it directly.
» Top Best Free Antivirus Software
11. WiFi And Conectivity
High-performance WiFi mode has been given in Android 12. Also, the latency has reduced, due to which the gaming and calling performance has become much better than before. Apart from this, new WiFi standard support, WP3, and OWE support have been given in the latest Android version. This will give you even better security for 'home' and 'work' networks.
12. Android 12 Themes
If you are fond of trying different themes, then you will love this version of Android. Because themes settings have been given in the "Developer Options" of Android S, with the help of which you can choose different colors for the theme you want. You can also choose headlines and body fonts. Not only this, but you can also change the shape of the icons of the apps.
13. Security Updates
Till now you had to wait for months and months for security updates. But now you will get every update on time. Because every important update in Android 12 will be sent directly to your phone from Google Play via Google Play System Update. This will make updating the phone much easier. Also, every update will be available on time. That means you will not have to wait for updates.
14. Emergency Shortcut
The less time you can get help in case of emergency, the better. Keeping this in mind, Android 12 has a new emergency button, which can be accessed from the power menu. With the help of this feature, you can press the power button and select the 'emergency call' option from the power menu and make an emergency call immediately.
Android 12 All Features
Mute notifications during recording
Improved touch sensitivity
Native screen recording
Scrolling screenshots
Back gesture tweaking
Improved support for curved displays
AirPlane mode won't turn off Bluetooth
Share menu App pinning
Improved notification shade conversations
Chat bubbles
Dark mode scheduling
One time permissions
Scoped storage
Better handling of older notifications
Project mainline enhancements
Reverse charging
Motion controls for certain phones
A lot of new features have been given in the new version of Android (Android 12 S). But here we have talked about only 14 features. Because it is not possible to talk about all the features in one article. That's why we will talk about the rest of the features sometime. If you want to know about all the features of Android 12 S, then you will tell in the comment box below. So that in the coming articles, we can also include the rest of the features of Android 12. Also, how did you like this article? Do give your suggestion. We will wait for your suggestions.
If you liked this article then like and share it. And subscribe to 'techsavvy.com' for more informative articles. So that whenever a new article is published, you get its notification.