Free web hosting sounds good for blogs. Let's see some ideas about this. It is provided or offered by a web hosting company or a hosting service provider. It helps us to make the presence of our blog on the website.
Gone are the days when the Internet was only used to send emails. Currently, many tasks are carried out on the web, such as exchanging images, videos, and documents.
These tasks require a platform, and a hosting provider provides this platform. A web host helps us keep the blog active day after day. In addition to sharing documents, many hosting providers also offer SSL security.
Well, hosting providers charge a fee for providing their services. But there are some websites present that offer free web hosting features.
Read Also: How To Make Money From Google AdSense
We can host our domain on those sites and use those free services to grow your blog efficiently.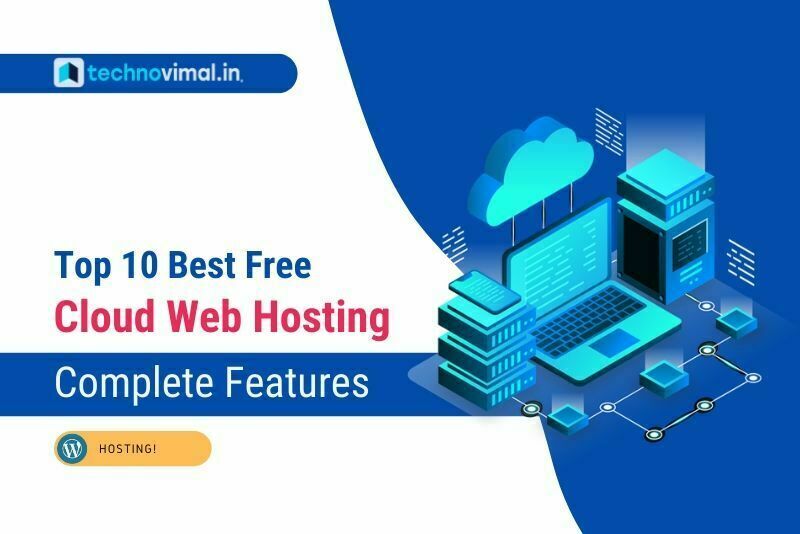 Best Free Web Hosting Sites
Blogger is one of the oldest platforms for blogging and is also free. When the Internet has existed since then, BlogSpot is one of the old blogging platforms.
Speaking of the best free web hosting sites with all the features, then Blogger is ready to get started. It is very easy to use this platform.
One has to register in Blogspot and enter the title of your site along with the default domain. Then after choosing any random topic, you are ready to write your thoughts.
Blogger has some features to customize the blog, such as lots of themes, some widgets installed and some gadgets to use.
Although it does not include any advanced features existing features are great if you think about blogging for free.
As each platform has some advantages and disadvantages. Some of them are mentioned below:
Pros
It is completely free and consists of the subdomain "blogspot.com". Provide a free SSL certificate. It provides many resources, and the cost of updating is none.
It has an easy to use and very simple to use interface. Blogspot has a smooth design with many themes and widgets to work efficiently.
As this platform is hosted on Google, security is never a problem here. It is handled by leading Google officials and, therefore, can add a lot of data without the risk of data loss.
Cons
Although Google has forums, it does not have any customer support. This can also have problems but solving them depends only on Google searches or forums without customer service.
Another major problem here is an SEO disadvantage. With limited features and no add-ons available, advanced SEO techniques cannot be performed here.
WordPress is one of the powerful and popular hosting platforms today. We can write our thoughts for free here simply by registering on WordPress.org.
Although after that, the blog configuration must be done by us. It is one of the best free web hosting sites with all the features.
Although a paid version is necessary to access its full function, the free version is also great if one does not want to waste a penny.
The pros and cons of these sites are:
Pro
WordPress gives SEO a boost. With many additional features like add tags meta descriptions. WordPress makes things easy to use with the personalization of blog posts, target keywords etc.
In addition to many themes, it is compatible with mobile devices, which is easily charged on any mobile device or tablet. As mobile users are in abundance, it only increases their popularity.
As it is self-hosted, you are the full owner of this blog. Any changes to be made can easily be made here according to your desire.
This platform is built in PHP. It is very light and can load very fast compared to many others.
With many good customer service forums, one can easily find a solution to their problems at any time which is a point in favour.
Cons
As this platform is hosted by yourself, the main problem that arises here is security. Malware can reach our system by installing various add-ons and themes that can damage our site and lead to hackers.
Unlike BlogSpot, WordPress often keeps updating. Sometimes it turns around since the new updated version is not as comfortable as the previous one.
Wix surely has a place to do in the best free web hosting sites with all the features. It has many designs and themes to choose from.
Another positive point of this platform is that the main officials of the platform manage the back-end here, so only we should deal with the front-end.
The drag and drop option to design our blogs is simply amazing. We have to register to launch the Wix blog, or the WixAi can also be used to create the blog by answering some simple questions automatically.
There are several templates and themes to choose from here. Like all platforms, here are some pros and cons of Wix.
Pros
It has a simple interface that makes it easy to use. Elements and designs can be easily dragged and dropped anywhere we want.
As professionals deal with these platforms, the speed and security of these blogs are excellent. The themes are too optimized to load faster.
The customer service here is excellent as they provide good assistance to their customers in resolving their queries and with many frequently asked questions available.
Cons
Although the design is simple by simply dragging and dropping, it may not give the expected results. There are parameters the rules present when they help us adjust the design, but still, coding can have an advantage here.
There is no option to export data from this platform. To do this, we have to copy the publication or move it manually, but we can export, which turns out to be one of its disadvantages.
Weebly is another platform to blog and host our custom domain. Whether templates or buttons, one can easily drag and drop according to your desire. This platform consists of sidebars forms advertising spaces, social media icons etc., like most other platforms.
It is one of the best free web hosting sites with all the features.
Well, here are some pros and cons to this platform:
Pros
Security is responsible for protection against hackers and spammers. In addition, it helps to load the site faster due to its well-optimized hosting.
In case of any difficulty setting up the blog, you have customer service for convenience. In addition, it has telephone support that facilitates the work.
Cons
As one has no total control over the site, advanced tools cannot be added here. We cannot change much of the configuration as one does not have root access here.
In addition, the content management system is a bit restricted here, so we cannot add a lot of pages.
Medium is another best free web hosting site with all the features. It is one of the best sites because it has a large audience base. Almost 60 million people visit this platform, and the numbers are increasing.
It's simple to use the platform, and if blogging is your passion and you want to show your talent to the world, this can be great.
Pros
Writing publications on these hosting websites can expose our blog to 60 million audiences. This could be excellent for new bloggers.
These platforms give SEO momentum as Medium continues to create many backlinks regularly.
It has a clean CMS with a simple interface. We can easily customize it and add pages according to our desire.
Cons
If you prefer things to be done, you could face a problem since it does not provide complete control.
The Medium has no built-in characteristics for lead generation. Then another disadvantage of this.
Bravenet is also one of the best free web hosting sites with all the features. This platform provides a good package number with a free subdomain. One can add their custom domain here its eases. Drag and drop help you easily navigate templates and widgets.
Taking tools Bravenet also has an email marketing tool that makes it easy to build a contact list and design messages through templates.
Pros
Its email marketing tool helps us send an unlimited amount of emails. Therefore it can help increase the audience at the initial level.
The platform provides many features that help optimize the blog well.
Cons
Customer service here is not up to par, and customers cannot speak in case of problems.
In addition, free web hosting with cPanel is not provided here, so customers have no total control over it.
X10Hosting is also among the best free web hosting sites with all the features. This is a good platform to host our domain and write our thoughts through blogs.
Also, with the use of the latest versions of PHP, MySQL provides a stable and good performance environment.
This platform also provides e-commerce tools such as Magento. With the 3 free email accounts provided and more than 150 templates, your performance increases.
Pros
The platform is easy to use, and therefore this platform can be used without much difficulty.
With the use of the latest versions of PHP, MySQL provides good and stable performance.
Cons
This platform has nothing in the name of customer service. Therefore people should search Google for any questions.
Joomla is the best free web hosting site with all the features somewhat similar to WordPress, but it has limited features in comparison. We can easily add our custom domain, ready to begin.
It is a flexible interface that facilitates its use, and blogs of any kind can be configured.
Joomla has many features to optimize the blog, and we can use the different formats that consist of running different blog niches.
It also has a classic editor that looks like Microsoft Word and helps set the font color size emoticons tables or background.
Pros
Joomla is a good platform for e-commerce stores and supports e-commerce tools.
It provides several extensions and the Joomla plugin that provides flexibility.
Its great community base provides exposure to our work to the world.
Cons
It is a bit complex in terms of design, so hiring a developer for the initial setup is always recommended.
Jimbo has many basic features that allow us to host our domain and start blogging easily. It is another best free web hosting site with all the features.
AI powers it, and the blog setup takes less than 3 minutes. This platform helps to edit web pages, logos, footers, etc. in the front end.
Also, with the help of the left sidebar, you can edit or add the date title, category status, etc. of the publication. Therefore it is a versatile platform.
Pros
Since it provides a drag-and-drop option that makes it simple to install and easy to use.
In addition to blogging facilities, it also provides an electronic commerce tool to perform electronic commerce with ease.
Cons
Although it has a simple interface, it has a limited set of designs that reduces perfection.
Freehostia is another best free web hosting site with all the features to host our domains and start blogging.
Therefore this platform offers a fast server that makes our hosted web page load a little faster. It also provides an eCommerce tool to carry out our eCommerce stores. Therefore if you are looking for free blogs, it is a good platform.
Pros
This platform thus claims to provide a good uptime such that your site remains active for the maximum time.
It provides an affordable price for their plans.
Cons
Customer service is compromised here, and not having a good email service.
Conclusion
After looking at all the features and comparisons, you must have understood why Webhost is the best free hosting among free hosting providers?
Although there are many free hosting services, WebHost is very popular and the best free web hosting. If you are looking for free WordPress or Joomla hosting for a website, hardly you will find more secure and better hosting than WebHost. You use it once and share your experience in the comments.