Are you searching for the ultimate video quality enhancement software to elevate your video editing prowess as of December 2023? Whether you are a seasoned videographer, a creative content producer, or a home video enthusiast looking to amplify your footage's brilliance, the right tools can make all the difference. This comprehensive guide delves into the crème de la crème of video quality enhancer software, presenting you with the top 10 options that promise to metamorphose your video content into visually striking, high-quality masterpieces.
Video editing software has evolved dramatically in recent years, offering many features and enhancements to cater to all levels of expertise. Within this carefully curated list, you'll discover software that combines intuitive user interfaces with cutting-edge algorithms to provide an array of tools for improving resolution, reducing noise, enhancing colour grading, and refining the overall visual appeal of your videos.
We've covered you, from industry-standard software professionals use to user-friendly options perfect for beginners. Whether striving for that cinematic effect, aiming for crystal-clear 4K quality, or seeking to restore old family videos to their former glory, our selection ensures something for everyone.
Explore this guide, choose the software that aligns with your specific needs, and embark on your journey to video editing excellence in December 2023. Elevate your video quality, captivate your audience, and unleash your creative potential.
What are AI Video Enhancer Tools?
AI video enhancer tools are software applications that leverage artificial intelligence's power to improve video quality. They use advanced algorithms and machine learning to enhance various aspects of a video, including resolution, colour accuracy, and stability. In simpler terms, these tools make your videos look better, often with minimal effort.
Read Also: 10 Best Audio Quality Enhancer Software
Top 10 Video Quality Enhancer Software in 2023
Now that you understand the importance of AI Video enhancers, it's time to explore the top players in the field. These tools have gained popularity for their impressive performance. Here are the best AI Video enhancer tools you should consider: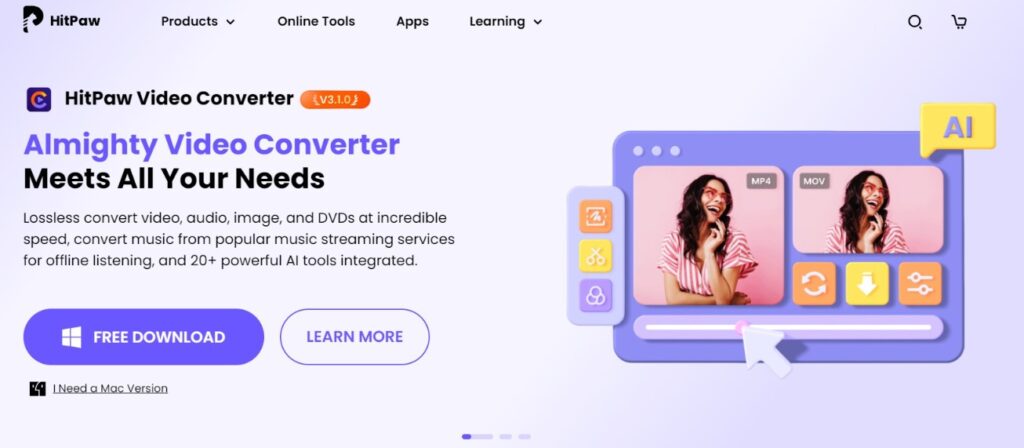 HitPaw Video Enhancer AI offers a comprehensive video enhancement solution driven by cutting-edge AI technology. Its suite of three distinct models, the Denoise Model, Animation Model, and Face Model, collaboratively transforms video content in various ways.
Key Features:
AI-Powered Upscaling: HitPaw harnesses the power of AI to swiftly upscale videos, significantly enhancing their visual quality and sharpness. This ensures that your videos look their best, even if they started with lower resolutions.
Noise Reduction: The Denoise Model is designed to effectively brighten low-light and subpar video footage, eliminating noise and ensuring the resulting visuals are clear and vibrant. This feature enables you to salvage and enhance videos captured in challenging conditions.
Anime and Face Enhancement: HitPaw's Animation Model excels at revitalizing classic anime clips, bringing them to life with improved sharpness and natural color rendering. Meanwhile, the Face Model works its magic by adjusting portraits within video frames, fine-tuning brightness, color saturation, and contrast for a polished, professional finish.
8K Video Resolution: With HitPaw, you can elevate your video content to a remarkable 8K resolution, unlocking stunning levels of clarity and detail that cater to the demands of modern high-quality screens and displays.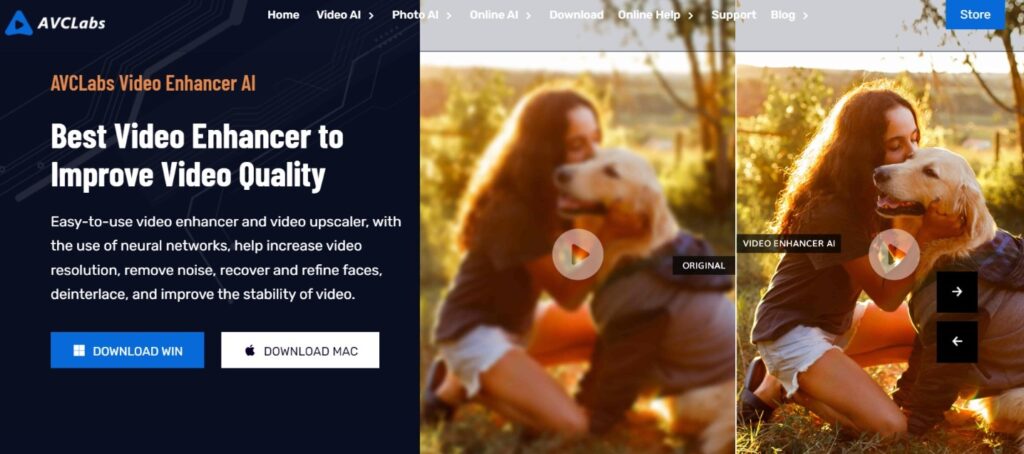 AVCLabs Video Enhancer AI offers an effortless solution for enhancing TikTok videos to glorious 4K quality with the magic of neural networks. This user-friendly tool employs cutting-edge super-resolution upscaling and multi-frame enhancement technologies, ensuring your videos shine with exceptional clarity. Here are four key features that make AVCLabs Video Enhancer AI stand out:
Key Features:
Neural Network-Powered Enhancement: This tool leverages the power of neural networks to upscale videos seamlessly. It excels in transforming SD to HD, HD to 4K, and even 4K to 8K videos, preserving details and vividness.
Quality Improvement: Say goodbye to noise, artifacts, and blurring in your videos. AVCLabs Video Enhancer AI optimizes brightness, contrast, and saturation levels, striking the perfect balance for a visually stunning result.
Versatile Application: Whether you're restoring vintage films, TV shows, or animes, this tool's AI models and algorithms ensure that your content looks exceptional on modern HD or UHD displays. It can employ single or multi-frame enhancement techniques, depending on your specific needs.
Super-Resolution Upscaling: Traditional upscaling often leads to pixelation and loss of detail. AVCLabs takes a creative approach by intelligently analyzing information from multiple frames. This innovative technique generates expansive, highly detailed images, maintaining quality throughout the upscaling process.

Movavi provides a robust suite of video enhancement tools designed to empower users in elevating their video content. With an array of features, it caters to both amateur and professional videographers.
Key Features:
Effortless Noise Reduction and Background Swapping: Movavi's user-friendly audio denoiser swiftly eliminates unwanted noises such as traffic or wind, while offering the ability to instantly change backgrounds in camera footage, opening the door to new experiences.
Streamlined Video Editing: Users can efficiently trim, reverse, resize, merge, flip, and crop videos, making the editing process a breeze. The choice to maintain original canvas black bars or crop is also at your disposal.
Enhanced Visual Effects: Elevate your content with trendy LUTs, colorful overlays, captivating titles, and seamless transitions. Over 180 filters, including Glitch, Blur, and VHS effects, provide a creative edge to your videos. Moreover, the software offers robust color correction and highlight effects.
Versatile Video Resizing and High-Speed Export: Tailor your video's aspect ratio and dimensions with ease, producing either square or rectangular videos. The software allows for rapid exports, ensuring your content is ready to garner those well-deserved likes. Movavi is an all-in-one solution for enhancing and editing your video projects.
VEED's advanced AI software is your go-to solution for effortlessly enhancing audio quality in your home office recordings. It intelligently identifies and eliminates unwanted noise, such as wind, rain, traffic, ticking clocks, static, and air conditioning hum, ensuring your sound is crystal clear.
Key Features:
Noise Removal: VEED's AI technology automatically detects and removes unwanted background noise from your audio, guaranteeing a professional and distraction-free result.
Video Editing: With VEED's user-friendly video editor, you can create high-quality videos with ease. Adjust frame rate, resolution, lighting, and audio quality, while also adding background music, voice commentary, and auto-generated subtitles.
Professional Touch: Elevate your video's quality by utilizing VEED's range of editing tools, including filters and camera effects. Make your content visually stunning and engaging.
Accessibility: Expand your audience by making your videos more accessible. VEED's Auto Subtitle tool allows you to effortlessly add subtitles throughout your video, improving comprehension and engagement. Additionally, VEED offers a green screen editor and screen recording capabilities for a comprehensive video editing experience.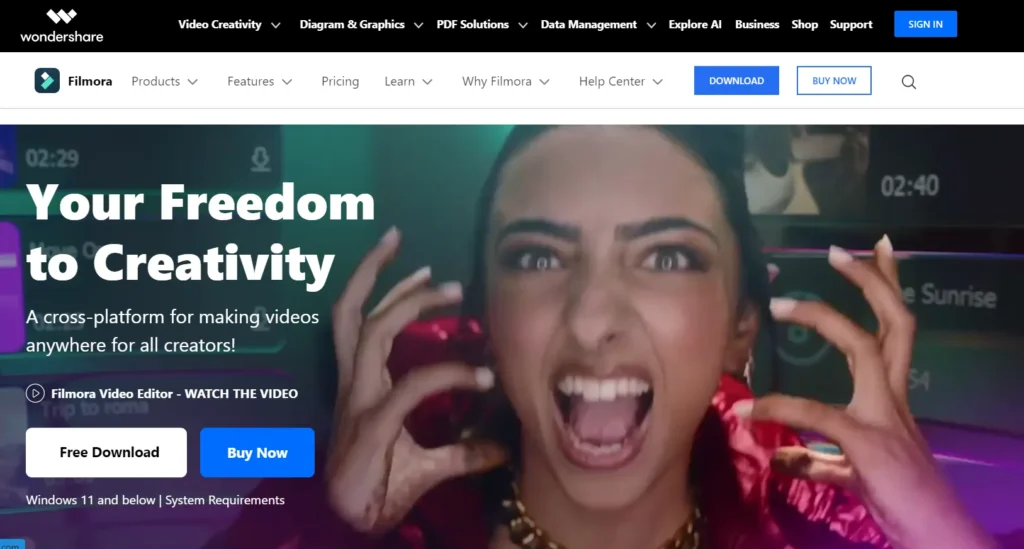 Wondershare Filmora is a remarkable video enhancement application compatible with both Windows and Mac operating systems. It boasts an extensive range of audio and video effects and supports over 50 international formats, including 4K editing capabilities.
This versatile tool is tailored for a wide user base, including small businesses, studios, and educational institutions, owing to its access to advanced video editing features and a treasure trove of Filmstock effects.
One of its standout attributes is the AI portrait feature, which swiftly identifies human subjects in videos, dramatically streamlining the editing process. Wondershare Filmora is the perfect choice for those seeking to create top-notch videos with minimal effort.
Key Features:
Keyframing: The application offers advanced keyframing capabilities, allowing users to precisely control animation and motion within their videos.
Audio and Video Effects: Filmora provides a plethora of customizable audio and video effects, enabling users to add creative touches and enhance the visual and auditory aspects of their content.
Various Presets and Effects: Users can benefit from a wide array of presets and effects, simplifying the process of adding professional-grade elements to their videos.
Color Adjustments: Wondershare Filmora empowers users to fine-tune the color and tone of their videos, ensuring a polished and visually appealing final product.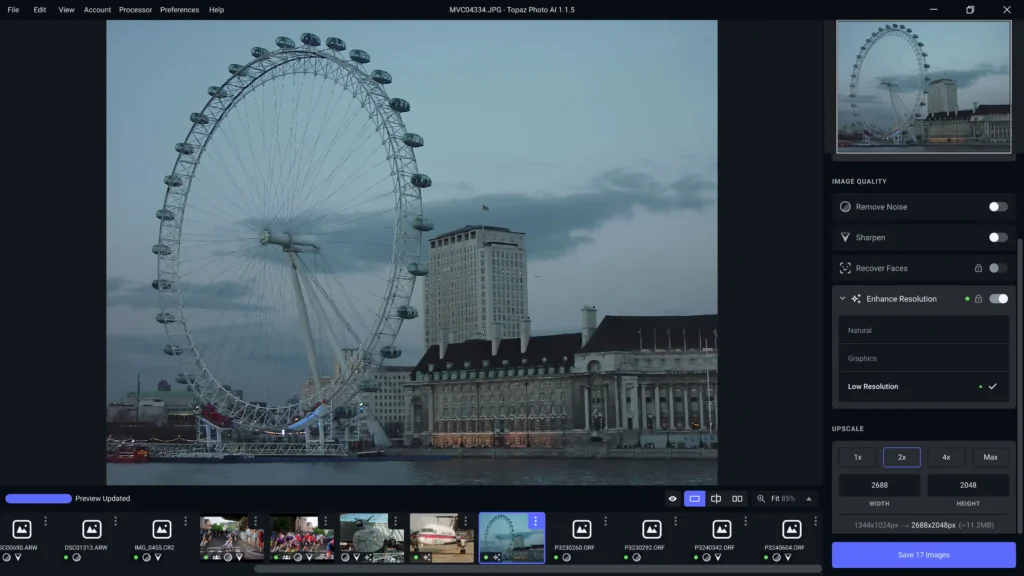 Topaz Video Enhance AI, a powerful creation by Topaz Labs, leverages cutting-edge machine learning technology to intelligently boost video resolution up to 8K. This versatile application not only excels at upscaling videos but also offers a spectrum of editing capabilities, including trimming, slow-motion effects, denoising, deinterlacing, and restoration.
The tool grants users unprecedented control over video quality enhancement with remarkable precision and accuracy. Notable features of Topaz Video Enhance AI encompass:
Key Features:
Machine Learning Mastery: The software harnesses the prowess of machine learning, ensuring a deep understanding of video enhancement requirements.
Crisp 8K Upscaling: Transform your content to ultra-high 8K resolution, delivering unmatched visual clarity.
Comprehensive Editing Suite: Beyond upscaling, Topaz empowers users to trim, apply slow-motion effects, eliminate noise, deinterlace, and restore videos effortlessly.
Proven AI Video Repair: With its extensive training on myriad video sources, Topaz Video Enhance AI offers precise and efficient video repairs. It adeptly addresses issues like color correction, flicker reduction, and the sharpening of blurry areas, guaranteeing exceptional results.
Lightworks stands as a versatile video editing solution accessible to users of all skill levels. Packed with an array of features, including 10-bit export capability, advanced titling, and motion graphics, it serves as a valuable addition to any editor's toolkit. Notably, the software boasts compatibility with plugins from NewBlue and TotalFX, empowering users to infuse their projects with a distinct creative touch, particularly well-suited for intricate undertakings.
Should the standard version prove insufficient, Lightworks offers a professional upgrade, furnishing the technical prowess essential for demanding projects. This application equips streamers, filmmakers, and content creators with the robust yet user-friendly editing tools required to bring their creative visions to life.
Key Features:
Accessibility for All Skill Levels: Lightworks caters to both novice and experienced editors, ensuring a smooth experience for users of any proficiency level.
Plugin Support: The software accommodates NewBlue and TotalFX plugins, enabling users to enhance their projects with a range of creative options and effects.
Pro Version Upgrade: For professionals tackling complex projects, Lightworks offers a pro version with advanced technical features, ensuring a comprehensive editing experience.
Advanced Titling and Motion Graphics: Lightworks provides advanced tools for titling and motion graphics, allowing users to create visually compelling content with ease.
Clipchamp is a remarkable video editing suite that excels in simplifying complex video editing tasks through the efficient use of cloud technology. It facilitates the integration of audio files, images, and videos into a cohesive whole, streamlining the creative process.
Key Features:
Comprehensive Toolset: Clipchamp offers a comprehensive array of video editing tools, ensuring that users have all they need at their fingertips. From trimming and cutting to transitions and color grading, it caters to both basic and advanced editing requirements.
Cloud-Powered Editing: Leveraging the cloud's power, Clipchamp provides a seamless online editing experience. This not only saves users from the hassle of downloading and installing software but also ensures that they can access their projects from anywhere with an internet connection.
Enhancements and Text: Users can enhance their videos by easily adding effects and text. This feature allows for creative customization, enabling the production of captivating and professional-looking content.
Offline Editing: Clipchamp understands the need for flexibility. It allows users to save their edited projects locally on their computers. This offline editing capability empowers users to revisit and refine their work at their convenience.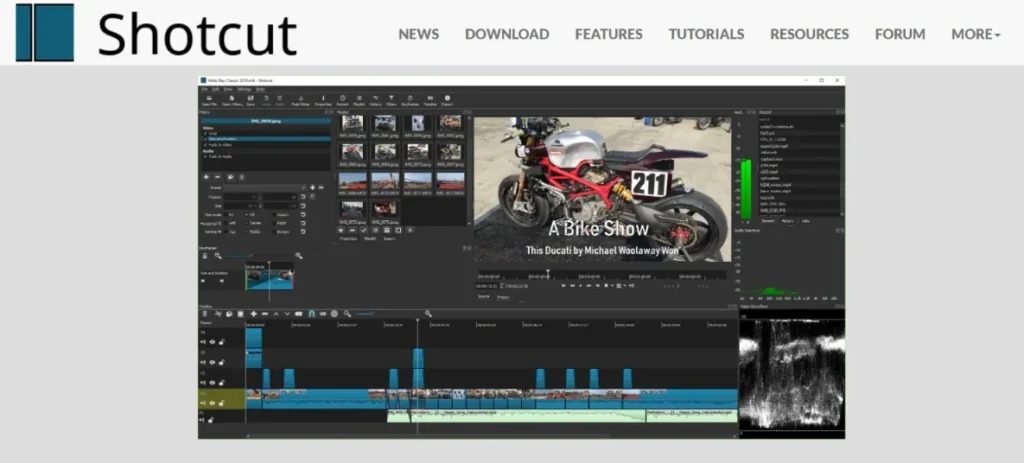 Shotcut is a superb choice for video editing enthusiasts seeking to create top-notch videos without straining their budget. This powerful, open-source, and free video editing software offers advanced features typically found in more expensive programs, allowing users to achieve outstanding results with ease.
Key Features:
High-Quality Videos on a Budget: Shotcut empowers users to create high-quality videos without incurring hefty expenses. It's an excellent solution for individuals and small-scale video projects seeking professional-grade results.
Wide Range of Advanced Features: Shotcut boasts a diverse array of advanced features that cater to the needs of both beginners and experienced video editors. These features include multi-track editing, custom transitions, color correction, and more, making it a versatile tool for various editing tasks.
Open-Source and Free: One of Shotcut's standout advantages is that it's open-source and completely free to use. This not only reduces costs but also fosters a supportive community of users and developers who continually enhance the software.
Special Effects Like Blur: Shotcut enables users to apply a variety of special effects, including blur and fish-eye correction, which can add a unique and professional touch to their projects. These effects are easily accessible within the software's intuitive interface.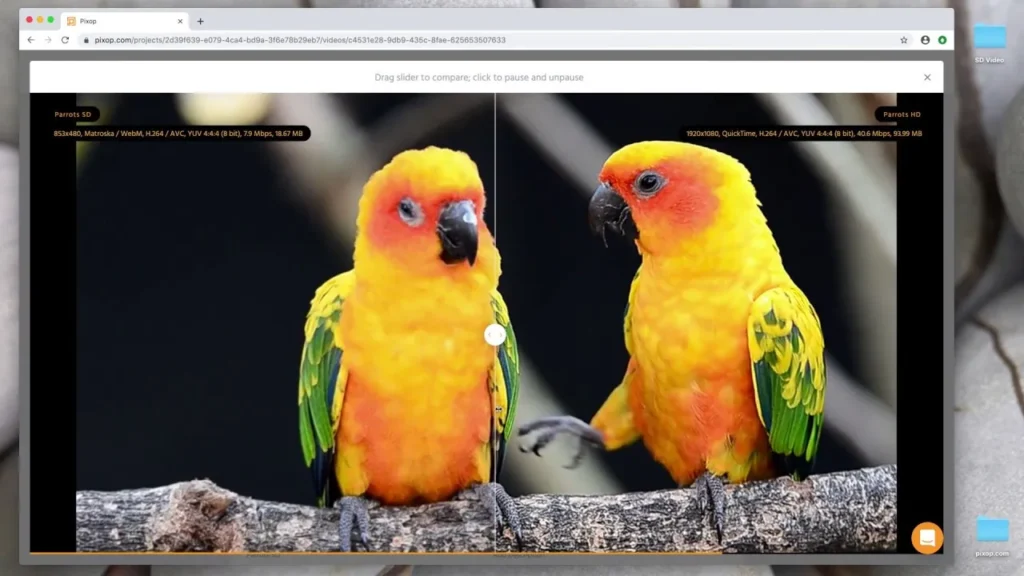 For those seeking to elevate the quality of their videos through the power of AI upscaling, Pixop emerges as a formidable choice. This software leverages state-of-the-art neural network technology to deliver some of the most intricately detailed and astonishingly realistic results available in the market. What truly sets Pixop apart is its effortless, automated approach. Users need only select the video file they wish to enhance, and Pixop takes care of the rest, making the process a breeze.
Pixop doesn't rest on its laurels. it's committed to constant improvement. Regular updates roll out to introduce new features and enhancements, ensuring that users always benefit from the cutting edge of technology. This dedication to innovation guarantees that Pixop consistently provides the highest quality results in the realm of video upscaling.
Key Features:
Neural Network Technology: Pixop employs cutting-edge neural networks to bring out the finest details and realism in your videos.
Automated Process: Pixop's user-friendly interface streamlines the upscaling process, requiring minimal user input.
Regular Feature Updates: Stay at the forefront of video enhancement with Pixop's frequent updates, introducing new capabilities and improvements.
In-Depth Video Upscaling: Pixop's advanced technology ensures a deep and comprehensive enhancement of your video content, resulting in stunning visual quality.
FAQs About AI Video Enhancer Tools
1. What is the difference between AI and traditional video enhancement methods?
AI video enhancement uses advanced algorithms and machine learning to detect and correct imperfections automatically, while traditional methods require manual adjustments.
2. Do I need powerful hardware to run AI video enhancer tools?
Most AI video enhancers are designed to run on standard hardware. However, having a more robust system can lead to faster processing times.
3. Are there any free AI video enhancer tools available?
Yes, free AI video enhancer tools are available, but they may have features and output quality limitations.
4. Can AI video enhancers improve old, low-resolution footage?
Yes, AI video enhancers can significantly improve the quality of old, low-resolution footage by upscaling the resolution and reducing noise.
5. Is there a learning curve when using AI video enhancer tools?
The learning curve varies depending on the software. Some AI video enhancers are designed for beginners and offer user-friendly interfaces, while others may require more expertise.
Conclusion
Tools and apps have revolutionized how we enhance our videos. With the power of AI, anyone can transform their ordinary videos into extraordinary works of art. Whether you're a professional filmmaker or a casual content creator, these tools can take your videos to the next level. Explore the options mentioned above, and choose the one that best suits your needs to unlock the full potential of your video content.