Are you looking for the best audio quality enhancing software to enhance your audio editing skills in December 2023? Whether you're an experienced audio engineer, an aspiring podcaster, or just looking to refine the sound of your recordings, it's paramount that you have the right equipment. In this article, we will embark on a journey to explore the top 10 audio quality enhancement software options available to you. These tools are carefully designed to help you transform your audio files into pristine, high-fidelity masterpieces.
In today's audio landscape, the demand for exceptional audio quality continues to grow, and these software options are designed to meet and exceed those expectations. As we dive deeper into each offering, we'll assess their unique features, user-friendliness, and compatibility, providing you with all the essential information you need to make an informed choice based on your specific needs.
Whether your projects involve music production, podcasting, or audio restoration, this guide will serve as your compass, leading you to the software that best matches your creative vision and expertise. So, please stick with us as we embark on this journey to uncover tools that will supercharge your audio editing efforts, delivering remarkable, crystal-clear results.
What Are AI Audio Enhancer Tools?
Let's start with the basics. AI audio enhancer tools are software applications or programs that utilize artificial intelligence algorithms to enhance audio quality. These tools are designed to analyze and improve various aspects of audio, such as clarity, volume, and noise reduction. They work their magic by automatically adjusting audio settings, making your listening experience more enjoyable.
Read Also: 10 Best Video Quality Enhancer Software
Top 10 Audio Quality Enhancer Software in 2023
Now that you understand the importance of AI audio enhancers, it's time to explore the top players in the field. These tools have gained popularity for their impressive performance. Here are the best AI audio enhancer tools you should consider:
VEED, the AI audio enhancer, offers a seamless solution for eliminating background interference in just a single click. This powerful tool renders sound-blocking microphones and manual noise editing obsolete. The process is straightforward: upload your video to VEED, select the "Clean Audio" option, and let AI do the rest. The result is a pristine MP4 video, ready for effortless sharing on social media platforms.
User-Friendly Interface: VEED's intuitive user interface simplifies the audio enhancement process, making it accessible for all users, regardless of their technical expertise.
Advanced Audio Capabilities: With VEED, you benefit from cutting-edge AI technology that removes background noise while preserving the clarity of your primary audio. This ensures professional-grade results.
Streamlined Workflow: VEED's step-by-step process is designed for efficiency. It eliminates the complexity of manual noise reduction and provides a quick, hassle-free solution for content creators.
Social Media Ready: VEED optimizes your video for social media sharing, ensuring that your content looks great and sounds crystal clear, essential for engaging and retaining your audience.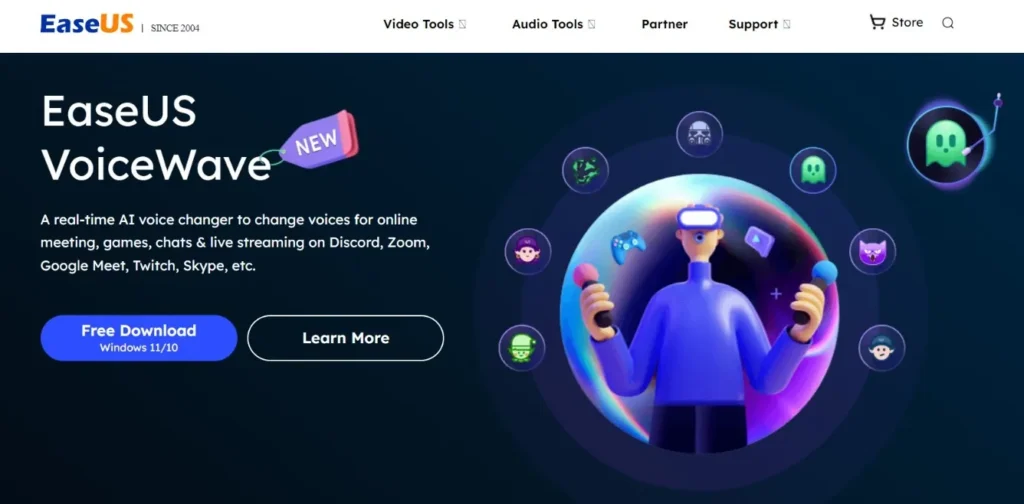 EaseUS Video Toolkit is a comprehensive solution for all your multimedia needs, combining four essential tools in a single, user-friendly workspace. This versatile software empowers content creators with top-tier features:
Video Conversion & Compression: Seamlessly convert and compress video and audio files easily. It supports various formats, including MP3, MP4, M4A, M4R, WAV, and WMA. You can effortlessly extract audio from video and perform edits on audio files.
Video Editing: Experience professional-grade video editing capabilities to enhance your content. Edit, trim, add effects, and transform your videos into polished productions.
GIF Maker: Craft captivating GIFs from your video content, allowing for creative expression and stunning visuals.
AI Enhancements: Leverage AI-powered text-to-speech generation and noise reduction tools for enhanced audio quality. These advanced features ensure your audio is crisp and clear.
LALAL.AI is an exceptional AI-driven solution renowned for its effortless elimination of unwanted background noise and music, consistently delivering pristine audio quality. Its distinct algorithm eradicates undesirable sounds, accentuating crystal-clear voices for many applications.
Streamers: Safeguard your video streams by effortlessly erasing background music averting copyright issues while preserving the legal integrity of your content.
Journalists: Enhance audio recordings, ensuring impeccable interview clarity for swift transcription and speech comprehension, expediting news reporting.
Transcribers: Seamlessly extract monologues and dialogues from various media, facilitating seamless speech-to-text conversion and multilingual translation.
Musicians: Elevate recording quality by reducing microphone-captured ambient noise and extraneous sounds, resulting in professional-grade vocal recordings.
Experience the future of noise reduction with LALAL.AI, where audio perfection meets user simplicity.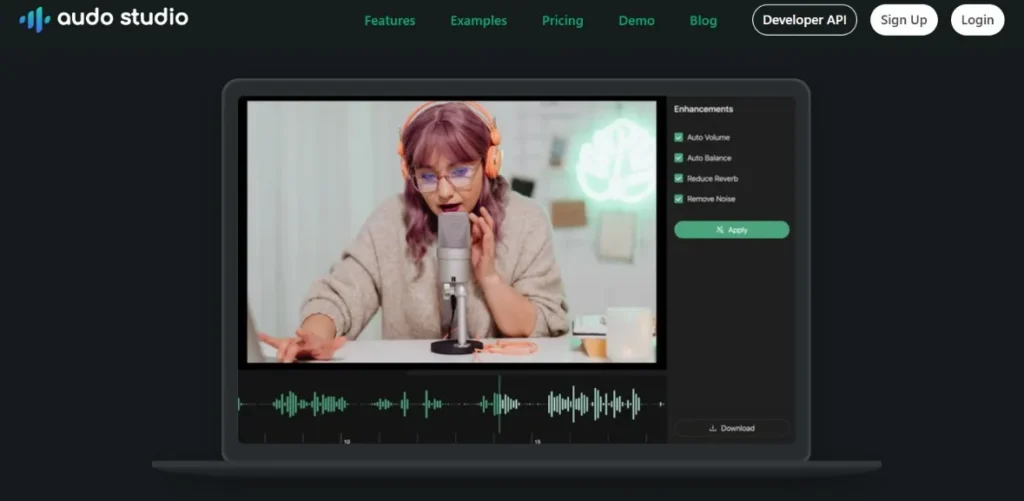 Audio is the premier AI audio enhancement solution, catering to creators of all skill levels in pursuing professional, top-tier audio projects. Its user-friendly interface streamlines uploading and editing sound files or recording directly within the application. With state-of-the-art AI technology and audio engineering underpinning its capabilities, Audio guarantees accessible yet powerful audio editing. Its active development team continually innovates, promising many current features and future enhancements for an ever-improving user experience.
Key features:
Streamlined, user-friendly interface
Seamlessly upload and edit sound files
In-app recording for ultimate convenience
A dedicated and dynamic development team committed to ongoing improvements.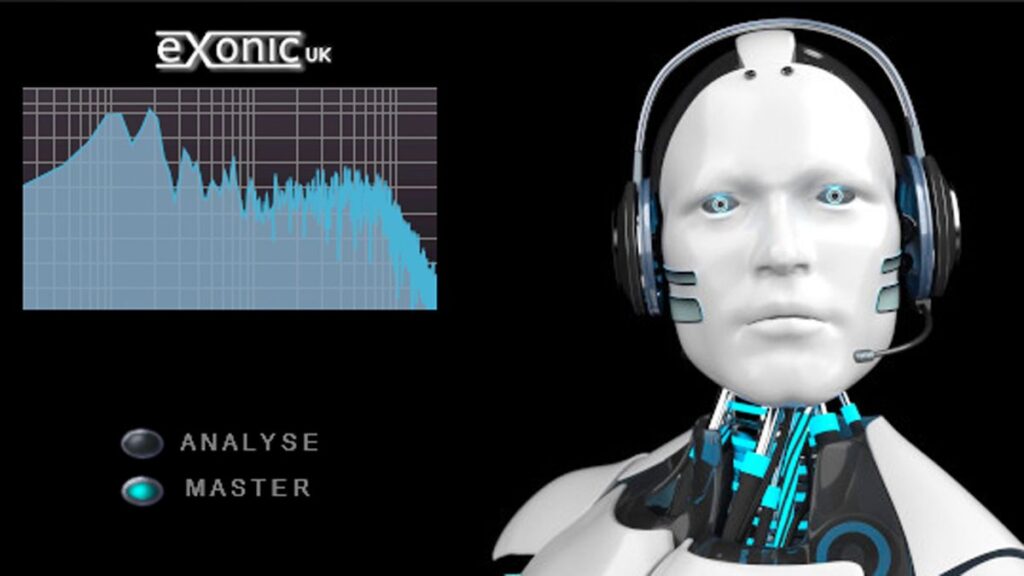 AI Mastering prioritizes user experience by offering multiple convenient signup options, such as GitHub, Google, or Twitter integration. This tool boasts cutting-edge AI technology, ensuring effortless automatic audio conversions. With a rapidly expanding user base each month, AI Mastering is swiftly becoming the preferred choice for many.
Key features include:
Streamlined Account Creation: Effortlessly sign up via GitHub, Google, or Twitter.
AI-Powered Audio Conversion: Automatic and seamless audio transformation with advanced AI.
Expanding User Community: A swiftly growing audience attests to its popularity.
User-Friendly Interface: A straightforward and intuitive design for easy navigation.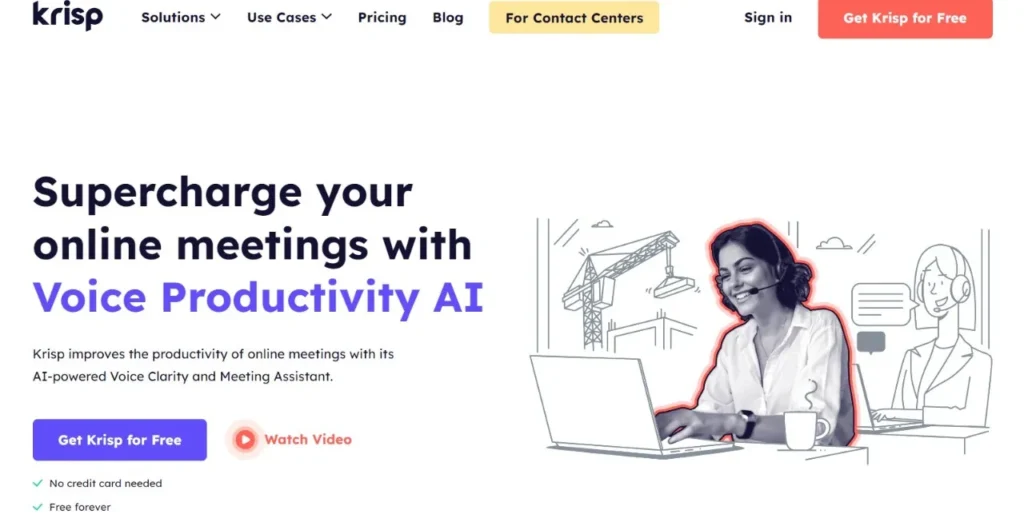 Krisp, an AI-powered audio enhancer, seamlessly integrates with PC and Mac's open device architecture, serving as both an input and output audio filter. It eliminates disruptive background noises, such as sirens and barking dogs, ensuring crystal-clear video-call conversations without introducing noticeable latency. Krisp significantly elevates speech quality, making it an ideal solution for maintaining clear communication in tranquil environments. Users can choose between flexible options like the monthly Personal Pro membership or team plans, which offer unlimited usage without a 120-minute limit.
Krisp excels with its key features:
Noise filtration for disturbance-free calls
Enhanced speech quality in video conferencing
Clear communication in serene surroundings
Versatile plan choices for diverse needs
Auphonic, an AI-powered audio enhancement tool, has revolutionized the broadcasting industry, delivering professional-grade audio quality across various media formats, from radio to films. With its AI algorithms, users can effortlessly achieve outstanding results without needing in-depth knowledge of audio processing intricacies like compressors and loudness standards.
Auphonic offers impressive features, including automatic encoding optimization, seamless chapter markings, and robust metadata management. Its speech recognition and editing capabilities support over 80 languages, facilitating global audience reach.
Critical features of Auphonic:
Elevates audio quality to professional standards
Empowers users with a versatile toolkit
Streamlines encoding for optimal results
Multilingual speech recognition and editing for global accessibility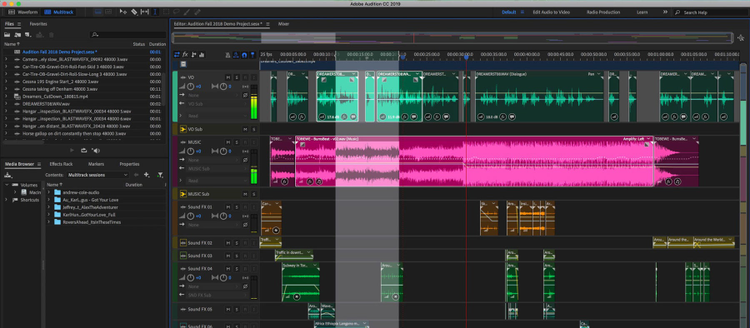 Adobe Audition, a robust AI-powered audio enhancement tool, streamlines the quest for audio perfection. With an array of advanced features, it offers a professional touch to your audio by effortlessly reducing background noise. Its user-friendly interface enables swift and intuitive editing, permitting real-time track monitoring and saving valuable time. Moreover, Adobe's seamless cross-platform integration ensures you transition between applications without losing progress. Key features encompass:
Comprehensive editing capabilities for precision
Cutting-edge noise cancellation for pristine sound
Effortless and swift operation
Live track monitoring during editing, enhancing the creative process.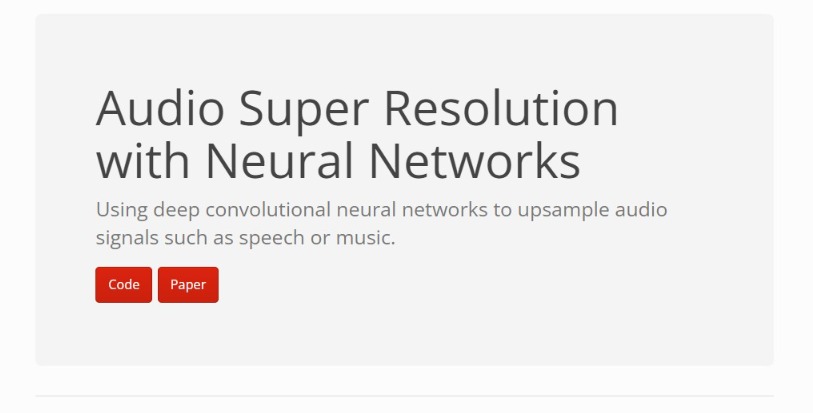 Audio Super Resolution leverages cutting-edge AI techniques to intelligently augment audio signals by generating additional time-domain samples, akin to enhancing image resolution. Its algorithm employs convolution, dropout, and non-linearity in each processing block, ensuring high-quality results. Moreover, it optimizes resource utilization by reusing low-resolution information during upsampling through residual connections. This innovative solution offers a superior listening experience by:
Employing advanced AI algorithms for precision
Providing free access to users
Seamlessly adding extra time-domain samples to audio
Utilizing efficient up-sampling techniques for enhanced audio quality.
AudioDenoise is a user-friendly AI audio enhancement tool that simplifies refining audio files. With the option to upload files from cloud storage or your local device, it offers many sound settings and customization choices, encompassing Noise Model Type, noise reduction intensity, temporal smoothing, and more. This versatile tool is not only easy to use but also completely free. Its standout feature is the convenience of enhancing audio with a single click, resulting in a significantly improved audio file. Key highlights include:
Intuitive User Interface: Simplifies the audio enhancement process.
Cost-Free Solution: No charges for access to its powerful capabilities.
Extensive Sound Customization: Offers a wide array of settings for tailored improvements.
Effortless Operation: A one-click operation transforms audio quality effortlessly.
FAQs About AI Audio Enhancer Tools
1. What is the difference between AI audio enhancers and traditional equalizers?
AI audio enhancers use advanced algorithms to automatically enhance the audio in real-time, while traditional equalizers require manual adjustments. AI enhancers are more user-friendly and accessible.
2. Can I use AI audio enhancers on my mobile device?
Many AI audio enhancer tools offer mobile apps for on-the-go audio enhancement, making them accessible on your smartphone or tablet.
3. Are AI audio enhancers compatible with famous media players?
Absolutely! Most AI audio enhancers are compatible with widely used media players, including VLC Windows Media Player.
4. How do AI audio enhancers handle background noise?
AI audio enhancers typically have advanced noise reduction features, effectively eliminating background noise and delivering a clear listening experience.
5. What can we expect from the future of AI audio enhancement?
The future holds even more advanced algorithms, seamless device integration, and increased customization options, promising an even better audio experience.
Conclusion
In conclusion, AI audio enhancer tools and apps have revolutionized how we experience audio. They make it easier than ever to enjoy crystal-clear, immersive sound without the hassle of manual adjustments. Whether you're a music enthusiast, a movie buff, a gamer, or simply someone who appreciates good audio, these tools are a must-try. Say goodbye to muffled and distorted audio, and embrace the future of audio enhancement with AI technology!