In today's fast-paced world, unexpected financial emergencies can arise at any moment, leaving you in urgent need of cash. Traditional loan processes can be time-consuming and come with stringent eligibility criteria, making it difficult for many individuals to access quick funds. Fortunately, there are several apps available that can provide cash advances instantly, helping you bridge the gap between paychecks.
This comprehensive guide will introduce you to the 12+ best apps similar to Dave, offering cash advances in 2023. We will delve into their features, benefits, and why they stand out among the competition. Whether you need to cover an unexpected bill or require funds to tide you over until your next paycheck, these apps have got you covered.
Best Cash Advance Apps Like Dave 2023
If you are looking for alternatives to Dave, here are 12+ top-notch cash advance apps to consider:
1. Chime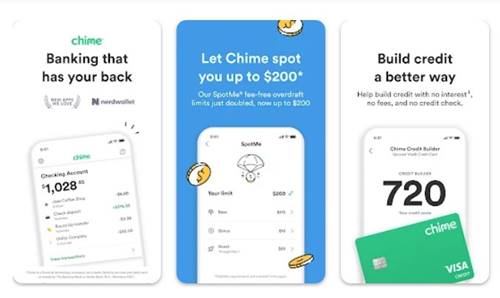 Chime is a leading mobile banking app that offers cash advances to its users. With no hidden fees and a user-friendly interface, Chime makes managing your finances a breeze. It offers an optional SpotMe feature that allows eligible members to overdraft up to $200 with no fees. Moreover, Chime provides early direct deposit, enabling you to access your paycheck up to two days earlier.
2. Varo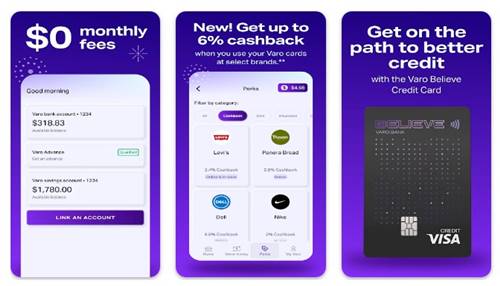 Varo is another excellent option for those seeking cash advances. This all-in-one mobile banking solution comes with a range of features, including no monthly fees, early direct deposit, and optional overdraft protection. With Varo, you can get your cash advances in a hassle-free manner, making it a popular choice for many individuals.
3. Brigit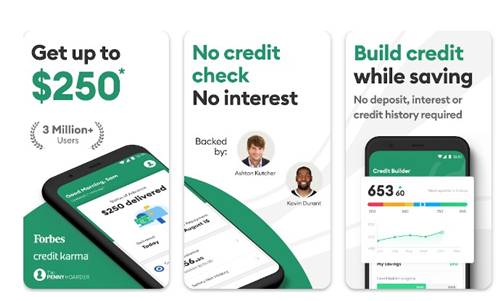 If you're looking for a financial safety net, Brigit is the app for you. Brigit analyzes your spending patterns and offers you cash advances of up to $250 when your balance is low, helping you avoid overdraft fees. With its easy-to-use app and quick approvals, Brigit ensures you stay on top of your finances.
4. Earnin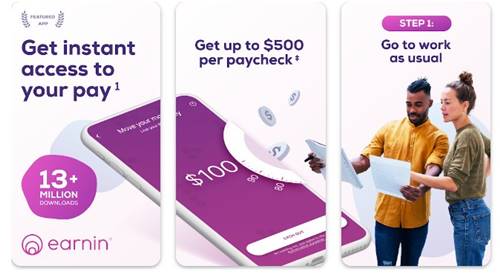 Earnin is an innovative app that allows you to access your paycheck before your actual payday. It offers a unique "Pay-As-You-Go" model, where you can tip what you think is fair for the service. With no hidden fees or interest rates, Earnin empowers you to take control of your finances.
5. MoneyLion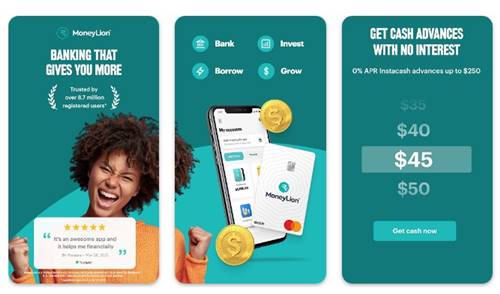 MoneyLion is a comprehensive financial platform that offers cash advances, personal loans, and other financial products. Its Instacash feature enables you to get up to $250 instantly without any credit checks or interest rates. Additionally, MoneyLion offers various tools to improve your financial health, such as credit monitoring and personalized financial advice.
6. Branch – Personal Finance Loans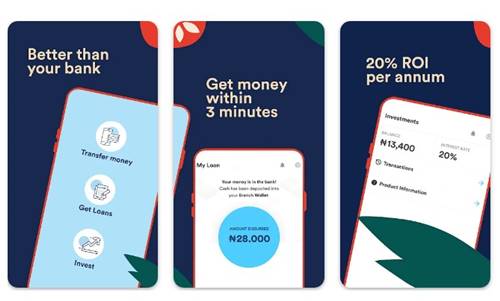 Branch offers more than just cash advances; it provides personal finance loans with flexible repayment terms. It considers factors beyond your credit score, making it accessible to a broader range of users. Branch also provides financial insights and tips to help you make better financial decisions.
7. Even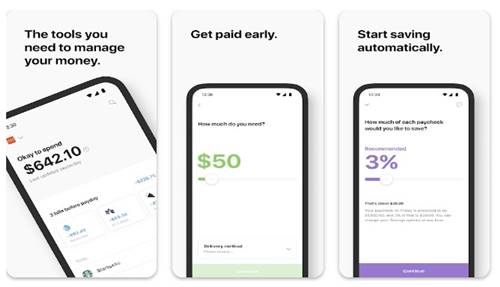 Even is an app that helps users manage their money effectively and avoid overdrafts. It provides cash advances of up to $100, and with its "Instapay" feature, you can get paid early for the hours you've already worked. Even's financial planning tools assist you in budgeting and saving wisely.
8. Empower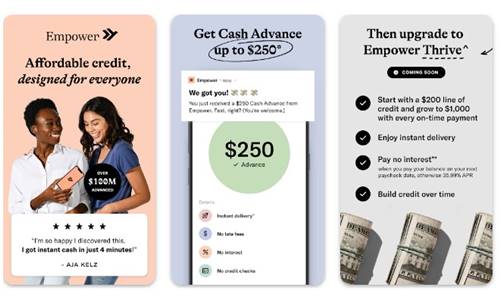 Empower is a comprehensive financial app that combines budgeting, saving, and cash advances in one platform. It offers a unique "AutoSave" feature that sets aside money automatically based on your spending habits. Empower's cash advances feature ensures you never run out of funds when you need them the most.
9. SoFi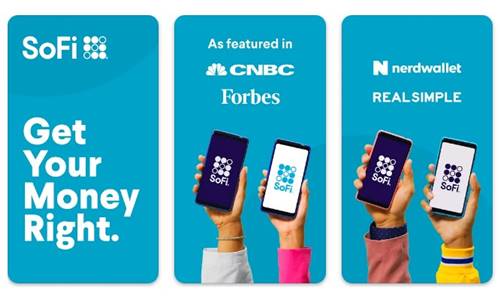 SoFi is a popular financial platform that offers personal loans, investing options, and cash advances. Its user-friendly app and low-interest rates make it an attractive choice for individuals looking to access quick cash. SoFi's various financial products cater to different financial needs, ensuring you find the right solution for your situation.
10. Axos Bank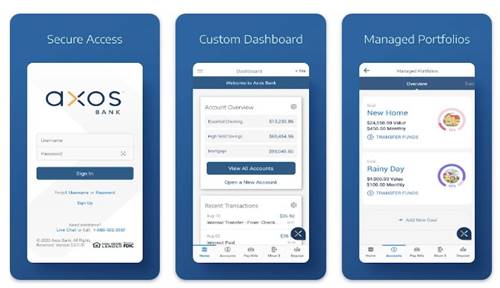 Axos Bank is an online bank that provides personal banking solutions, including cash advances. With Axos Bank, you can access your funds conveniently through its app, making it a convenient option for those who prefer digital banking.
11. mPokket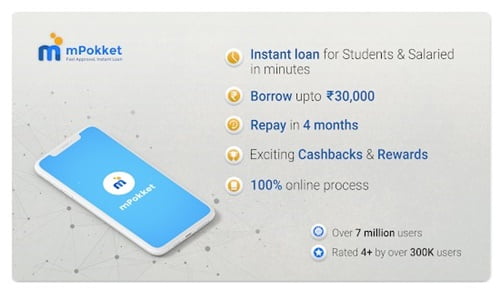 Geared towards college students and young professionals, mPokket offers instant cash advances to meet urgent financial needs. It requires minimal documentation and offers quick approvals, making it an ideal choice for students who need funds for educational expenses or emergencies.
Download: Android
12. Klover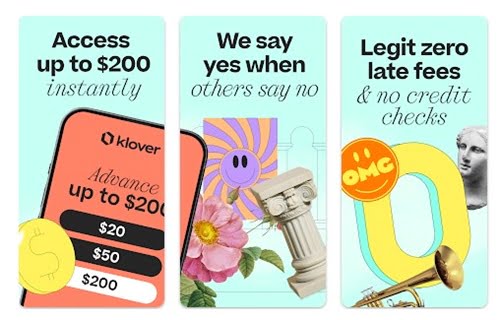 Klover is an all-in-one financial app that combines banking, savings, and cash advances. It analyzes your financial behavior and offers cash advances when you need them the most. Klover's "Smart Goals" feature helps you save for specific purposes, promoting better financial habits.
13. Beem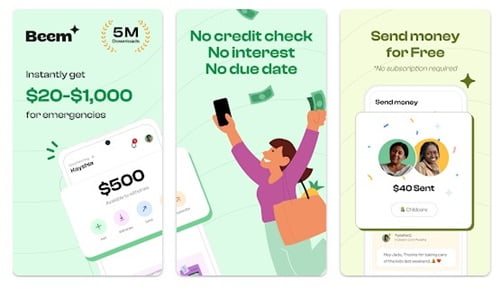 Beem is a user-friendly app that provides instant cash advances to help you manage your finances better. With Beem, you can access your paycheck early and avoid unnecessary overdraft fees. Its transparent fee structure ensures you know exactly what you're getting into.
FAQs
Can I get cash advances with bad credit?
Yes, several apps offer cash advances without considering your credit score, making them accessible to individuals with less-than-perfect credit histories. Apps like Earnin, Brigit, and Even focus on factors beyond credit scores to determine your eligibility.
How quickly can I receive the cash advance?
The speed of cash advance disbursement varies among apps. Some apps, like Earnin and Brigit, offer instant cash advances, while others may take a few business days to process your request.
Are these apps safe to use?
Yes, the apps mentioned in this article prioritize user safety and data protection. They employ robust security measures to ensure your personal and financial information remains secure.
Is there a limit to the number of cash advances I can take?
Yes, each app has its own policies and limitations regarding cash advances. Some may have a daily or monthly cap on the amount you can borrow, while others consider your repayment history to determine your eligibility.
Are there any hidden fees with these apps?
Most of the apps listed here are transparent about their fees and charges. However, it's essential to review the terms and conditions of each app to understand any associated costs fully.
Do I need to link my bank account to these apps?
Yes, linking your bank account is a standard requirement for most cash advance apps. It allows the apps to verify your income and transaction history to determine your eligibility for cash advances.
Conclusion
When unexpected financial situations arise, having access to cash advances can be a lifesaver. The 12+ apps mentioned in this article, like Chime, Varo, Brigit, Earnin, MoneyLion, Branch, Even, Empower, SoFi, Axos Bank, mPokket, Klover, and Beem, offer convenient and fast ways to get cash advances when you need them the most.
Remember to carefully review the terms, features, and eligibility criteria of each app to find the best fit for your financial needs. With these apps by your side, you can gain greater control over your finances and face any financial challenge with confidence.