Artificial Intelligence has seen an extraordinary surge, with its impact reaching remarkable heights. This transformative journey commenced when OpenAI introduced its chatbot, ChatGPT. While ChatGPT may not have claimed the title of the first AI chatbot, it has unquestionably emerged as the crowd favorite, reigning over the AI chatbot landscape.
Following AI chatbots' awe-inspiring potential, developers have ventured into the realm of AI video generators. These cutting-edge tools operate similarly: You input the desired text, and the generators craft an immersive video accordingly.
AI video generators have evolved to a point where they can create videos featuring AI-generated virtual humans who can articulate thoughts and ideas. Furthermore, these generators showcase the ingenuity to conceptualize their video concepts by meticulously analyzing the provided text prompts.
Read Also: How To Create AI Art 2023
The efficacy of AI video generators is intricately tied to the quality and clarity of the text prompts. The more precise and expressive your prompts are, the more relevant and engaging the resulting video will be. As AI video generators continue to advance and refine their capabilities, they hold immense promise in revolutionizing the landscape of video content creation. The possibilities are infinite, offering a captivating medium for storytelling and communication. Embrace this powerful technology and unleash your creativity like never before.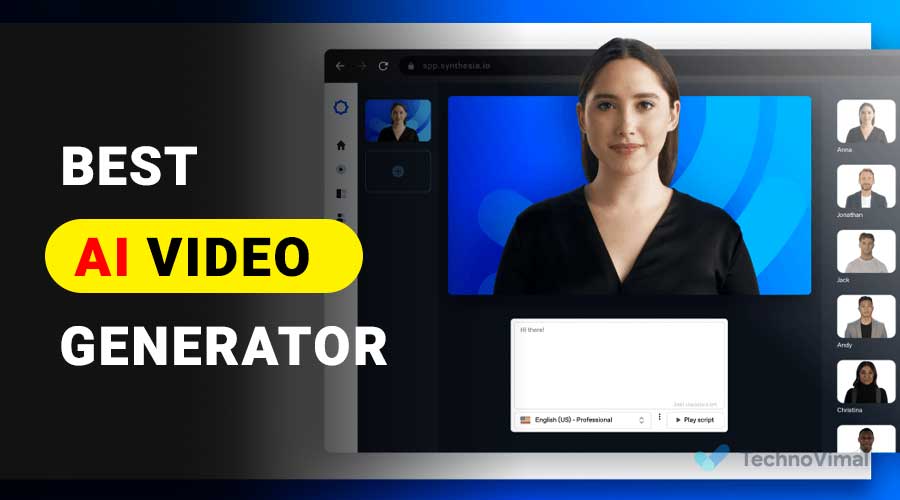 10 Best AI Video Generator Sites (September 2023)
If you're interested in creating AI videos, this article is just for you. We've compiled a list of the top AI video creators worth exploring. While many of these platforms offer free access, remember that certain features may require a premium subscription or account creation. However, don't worry; some platforms also provide trial versions to give you a taste of their capabilities. So, let's dive in and discover the exciting world of AI-powered video creation!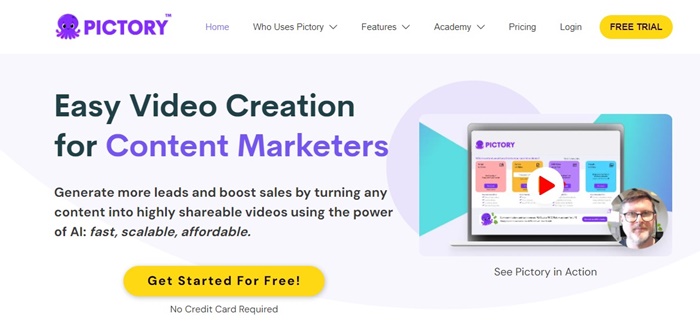 Pictory is an exceptional video generation tool that effortlessly transforms scripts into captivating videos within minutes. Although it is a premium service, you can explore its features with a free trial.
With Pictory, you can quickly produce professional-grade videos that boast realistic AI voices, perfectly synchronized footage, and complementary music. Its advanced AI-based technology eliminates the need for an expensive videographer, offering you all the tools necessary to create visually stunning videos.
Not limited to script conversion, Pictory also provides the option to transform your blog posts into engaging videos. As a blogger, this feature allows you to enhance your content by embedding videos on your website, effectively enriching the experience for your readers.
Thanks to the intuitive AI Assistant in Pictory, the video creation process becomes effortless, requiring no technical expertise. Let Pictory's intelligent algorithms handle the heavy lifting while you focus on bringing your creative vision to life.
Synthesys is an extraordinary AI content suite that empowers creators to craft captivating videos, stunning images, and voiceovers through a seamless and comprehensive interface. With its innovative features, this ultimate AI studio offers a range of possibilities for content creation.
Choose from a vast library of over 400 ultra-realistic human-sounding voices to produce truly mesmerizing videos. Synthesys goes beyond conventional voiceover tools by offering AI humans to bring your text to life in your videos dynamically.
At the heart of Synthesis lies its remarkable AI avatars. With access to 70+ avatars in the top-tier package, you can effortlessly create visually striking videos. Synthesys sets itself apart as a premium AI studio that delivers awe-inspiring results.
While Synthesys primarily caters to premium users, it offers a free account option. Although the free account has limited editing time, it provides an excellent opportunity for users to experience the platform and create a single video, giving them a glimpse of its remarkable features and capabilities.
If you need a free tool to generate AI-powered videos based on a script, DeepBrain AI is an excellent choice. It stands out as the most widely acclaimed AI video creator in the market, offering a range of exceptional features.
Among its impressive capabilities, DeepBrain AI enables you to effortlessly convert text into engaging videos, complete with photo-realistic AI avatars. You can even personalize your creations by designing custom avatars. Additionally, the platform provides a convenient online video editor, simplifying the editing process.
To streamline your video production journey, DeepBrain AI offers a diverse selection of presets. These presets cater to various video types, such as presentations, sales pitches, and explainer videos. They serve as an excellent starting point for your projects.
Read Also: 10 Best AI Apps for Android and iOS (Free & Paid)
However, it's important to note that some users find DeepBrain AI's pricing structure less appealing. The starter plan, priced at $30 per month, limits you to creating 10 minutes of videos each month, spanning six scenes. On the other hand, the pro plan, priced at $225 per month, grants you a more generous allowance of 90 minutes per month. This makes DeepBrain AI more expensive than Synthesis, another AI video creation tool.
It is introducing Synthesia, one of the top AI video generators available today. With its impressive capabilities, Synthesia can transform your text into captivating videos in just minutes. One of its standout features is its extensive collection of AI voices, which sound natural and are available in over 120 languages.
But that's not all – Synthesia offers many options to enhance your videos. With over 140 AI avatars and various video presets, you can customize and personalize your content to create engaging and unique visuals.
Perhaps the most exciting aspect of Synthesia is its video editing capabilities. It allows you to easily re-edit your videos, keeping your video library up-to-date with reshoots or necessary revisions effortlessly.
Regarding pricing, Synthesia offers two plans to suit different needs. For personal use, you can choose the base plan, which provides 10 video credits per month. Each credit corresponds to one minute of video content. If you're seeking an AI video generator for your company or business, you can opt for the Enterprise plan. To get detailed pricing information for the Enterprise edition, contact Synthesia's friendly support team.
Experience the power and convenience of Synthesia and unlock a whole new level of creativity in your video production.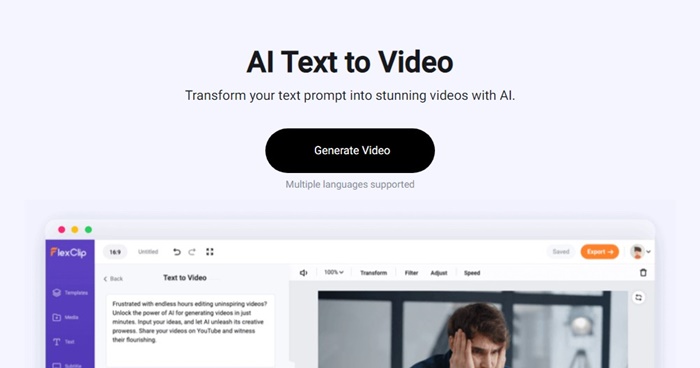 FlexClip is a versatile web-based video editing suite that empowers users to create and customize videos for various purposes. From enhancing brand visibility to boosting marketing campaigns, driving social media engagement, or simply capturing precious family moments, FlexClip offers a seamless video editing experience.
One of the highlights of FlexClip is its integration of AI-powered tools designed to streamline the video creation process. Regardless of your specific needs, whether it's crafting compelling videos to promote your brand, devising captivating marketing content, or enhancing your social networking presence, FlexClip equips you with powerful tools for every occasion.
Among the features, three main tools shine bright: the AI text-to-video tool, the AI video Script, and the AI Image generator. However, the AI text-to-video tool truly steals the show with its remarkable ability to transform plain text prompts into visually stunning videos.
Furthermore, FlexClip offers access to an extensive library of millions of stock resources, enabling users to enhance their video creations with professional-grade assets. User-friendly and intuitive, FlexClip stands as the ultimate AI Video Generator, catering to both personal and professional video editing needs.
When it comes to effortless and effective video creation, FlexClip is undoubtedly the go-to choice. Unleash your creativity and bring your ideas to life with the powerful features of FlexClip.
You are introducing Steve AI, your ultimate companion for creating impressive videos in just minutes! With its advanced intelligence, Steve AI understands your script and selects the perfect media assets to bring your vision to life.
Trusted by renowned companies, Steve.AI has simplified the video creation process like never before. Gone are the days of complex editing software and lengthy timelines. With Steve AI, generating stunning videos is as easy as a few simple clicks. Just upload your script and watch as this remarkable tool crafts a unique video tailored to your needs.
What sets Steve AI apart is its vast library of AI avatars. These lifelike characters can be used to create captivating animated videos, complete with realistic lip-syncing. Whether you want to engage your audience or create viral content, Steve AI empowers you to produce videos that genuinely resonate.
Don't miss out on the incredible opportunities Steve AI can unlock for your video creation. Embrace this cutting-edge tool and let your ideas take center stage in the most dynamic and visually stunning way possible.
Lumen5 has gained significant popularity due to its unique capability to transform ordinary blog posts into captivating videos. With the recent addition of an advanced AI video generator, Lumen5 automatically condenses your written content and seamlessly pairs it with relevant stock footage.
Capitalizing on the power of artificial intelligence, Lumen5 offers a suite of AI-powered tools to create impactful talking head videos that have the potential to reach viral status on various social networking platforms. Moreover, the videos produced by Lumen5 are accompanied by AI-generated captions, ensuring accessibility and enhancing the viewing experience.
Lumen5 provides an intuitive AI-assisted video editor to enhance the video creation process further. This feature enables users to effortlessly adjust the aspect ratio, add watermarks, and make any necessary final edits to their videos. However, it is worth noting that some users may find the user interface of Lumen5 slightly confusing, which remains an area for improvement.
GliaCloud is an impressive AI creator who generates videos for various purposes, such as news content, live sports events, social posts, and statistical data. With its premium plan, users gain access to a comprehensive suite of resources, enabling them to create captivating videos.
GliaCloud's web tool provides an extensive range of assets, empowering users to craft engaging and visually appealing videos. Beyond the ability to create videos, GliaCloud also offers additional beneficial features like incorporating voiceovers and URLs into the content. Moreover, the platform provides basic video editing functionalities, including trimming and cropping, offering users flexibility in refining their videos.
As for pricing, GliaCloud adopts a quotation-based approach for all its plans. This ensures that potential users can explore different options and select the most suitable plan tailored to their needs.
Elai is a powerful tool that specializes in bulk video generation. While a free plan is available, it only allows you to generate videos up to one minute in duration. Elai offers monthly plans starting at $23 if you're looking for more flexibility. The basic program includes 15 video minutes per month, while the advanced program, priced at around $100 per month, provides 50 video minutes.
One of the standout features of Elai is its extensive library of over 80 video avatars. These avatars are created using video footage of real actors, which is then processed using Elai's advanced AI technology. This unique approach adds a touch of authenticity and realism to your videos.
In addition to bulk video generation, Elai offers other valuable features. You can easily convert your blog posts into AI-generated videos by providing a link. Furthermore, Elai allows you to transform PowerPoint presentations into engaging videos, opening up new possibilities for content creators.
Read Also: How to Make Money with ChatGPT (10 Easy Ways)
Whether you're looking to enhance your marketing efforts, uniquely engage with your audience, or bring your creative ideas to life, Elai offers a range of tools and features to help you achieve your goals.
10) In video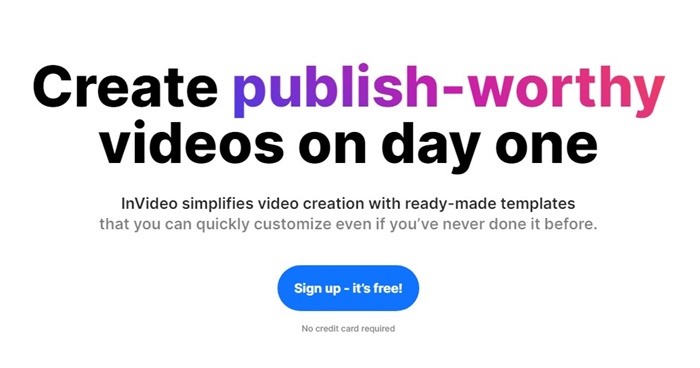 Invideo is an exceptional choice for those seeking AI tools to craft captivating YouTube videos. As a comprehensive video editing suite, Invideo harnesses the power of AI to enhance your creative process.
Within The video, you can access four distinct AI tools: the YouTube Video Editor, Slideshow Maker, AI Talking Avatar, and AI Script Generator. Each device offers unique features designed to elevate your video production.
The AI Script Generator is particularly noteworthy as it can generate awe-inspiring video scripts. At the same time, the AI Talking Avatar enables you to create lifelike videos featuring a human presenter without requiring extensive video production.
Moreover, Invideo boasts an impressive library of over 50 AI video templates, filters, audio options, and more. With its comprehensive AI-powered tools and resources, Invideo is a premier choice for those seeking an exceptional AI video generator.
Here are some of the top AI Video Generators available today. It is essential to mention that these tools typically require a paid subscription. We recommend reviewing the pricing details of each service to ensure you choose the most cost-effective option for your needs. We would love to hear about your favorite AI video creator from this list, so feel free to share your thoughts and experiences with us.