In our fast-paced digital landscape, efficiency has become essential rather than just a trendy term. With businesses expanding and processes becoming more complex, manual operations can be burdensome and time-consuming. That's where workflow automation tools come in. By streamlining repetitive tasks, these tools save time and minimize the risk of human error, ensuring consistent quality and productivity.
In modern business operations, workflow automation tools play a crucial role. They are vital connectors between software, platforms, and tasks, facilitating seamless integration and fluidity. These versatile powerhouses can handle various functions, such as automating email campaigns, managing project tasks, invoicing, and streamlining client onboarding processes.
However, with the multitude of options available, selecting the right tool for your business needs can pose a challenge. Whether you are a solo entrepreneur, a growing startup, or an established enterprise, we understand the importance of finding the perfect workflow automation solution. To assist you in optimizing your processes and propelling your business forward, we have meticulously curated a list of some of the top workflow automation tools in the market. With the right tool, you can enhance your operational efficiency and achieve your business goals more quickly.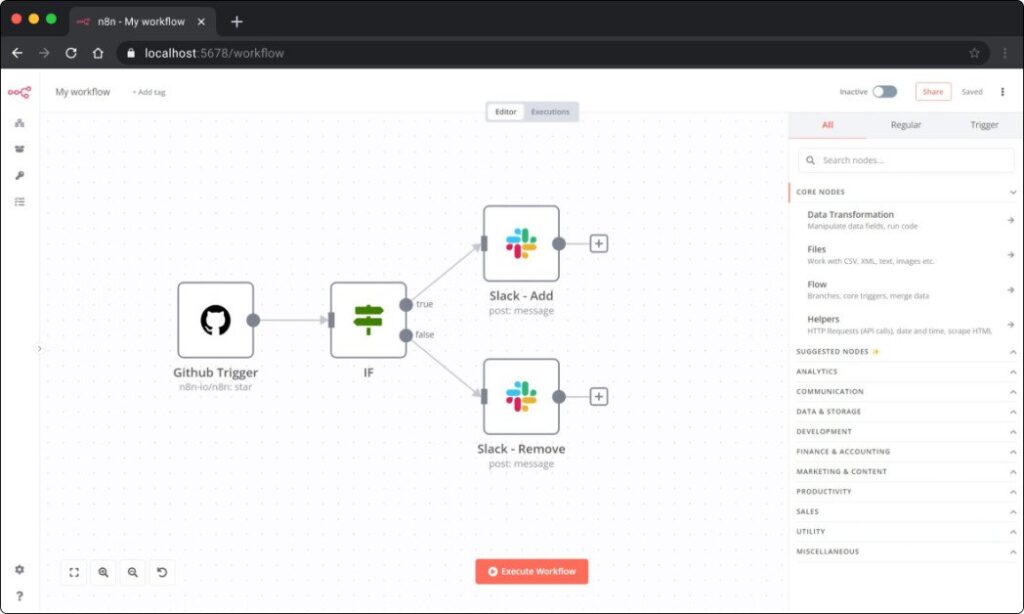 n8n, an open-source workflow automation tool, is revolutionizing the field with its commitment to open-source and self-hosting. It offers users unparalleled control, flexibility, and transparency at an affordable price.
By seamlessly integrating various applications, n8n simplifies complex processes and transforms them into automated workflows. Whether you need to connect a new Mailchimp subscriber to Slack or convert Airtable records into Freshdesk tickets, n8n has you covered. With native support for over 170 apps and the ability to integrate with limitless possibilities through APIs, its capabilities are awe-inspiring.
What sets N8n apart is its user-centric framework, ensuring users have an intuitive and seamless experience throughout their workflow automation journey.
Nodes: Essential junctions where data enters, gets processed, and exits.
Connections: The pathways link nodes, facilitating the flow of data.
Trigger Nodes: The starters of any automation process act based on specific events.
Workflows: The heart of n8n's design, a canvas where users draft and visualize their automation processes.
n8n, the powerful workflow automation tool, offers users the best of both worlds. While it is primarily designed for self-hosting, a new cloud version has been introduced to provide a hassle-free experience. With this cloud version, users can enjoy the convenience of automatic updates and a managed infrastructure, all while retaining the platform's signature flexibility.
One of the most remarkable aspects of n8n is its extensive range of capabilities. Whether you need to create stunning designs, build interactive bots for platforms like Telegram, or streamline your workflows on GitHub, n8n has got you covered. Its vast potential allows you to automate various tasks and simplify complex processes, empowering you to achieve more with less effort. So why wait? Explore the endless possibilities of n8n and unlock the full potential of automation.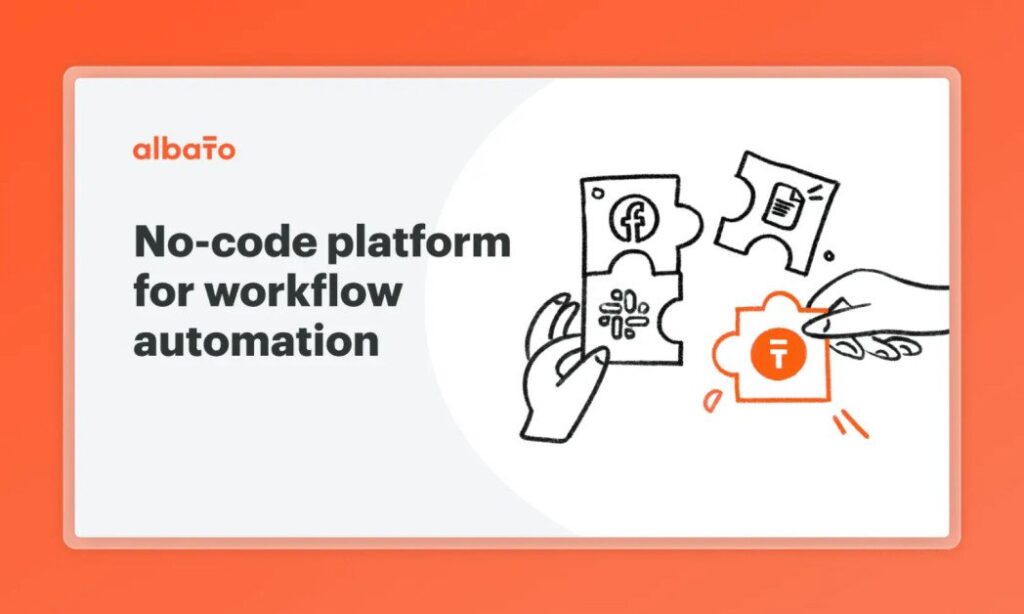 Albato is revolutionizing workflow automation by offering businesses a seamless and intuitive no-code solution. Gone are the days when automation was just a futuristic concept. With Albato, it has become a present-day reality.
One of Albato's greatest strengths is its ability to simplify the automation process. Regardless of their technical expertise, users can effortlessly design customized workflows. By setting up specific rules or task sequences, these workflows can be programmed to execute automatically, eliminating the need for manual intervention and streamlining operations.
Data transfers can often be cumbersome, but Albato alleviates these difficulties. It allows users to establish connections seamlessly across a wide range of apps, including cloud-based applications, APIs, and various SaaS platforms. This versatility ensures data flow seamlessly between different systems, reducing bottlenecks and enhancing efficiency.
However, Albato is not solely focused on automation. It goes beyond that by empowering users to optimize their digital tools. By harnessing the capabilities of Albato, businesses can make the most out of their existing digital infrastructure, unlocking new levels of productivity and success.
Pros of Albato:
Extensive Integration: Native support for over 400 apps ensures Albato can adapt to nearly any business requirement, bridging gaps between diverse platforms.
User-Centric Design: An intuitive interface means creating complex workflows is a breeze, catering to tech-savvy users and those less familiar with automation tools.
Value for Money: Standing out from the crowd, Albato offers generous limits and competitive pricing, making it a favorite among businesses keen on maximizing ROI.
Stellar Customer Support: It's about the tool and the people behind it. Albato's responsive and efficient customer support has garnered significant praise, underlining its commitment to user satisfaction.
In the rapidly evolving landscape of workflow automation, Albato positions itself as an efficient and affordable solution, perfect for businesses aiming to streamline processes without the hefty price tag.
Pabbly Connect offers a remarkable solution to boost productivity by seamlessly connecting your favorite applications and services. With its flexible and intuitive interface, users can create customized automated workflows to optimize efficiency in both professional and personal settings.
One of the critical advantages of Pabbly Connect is its ability to facilitate smooth data transfer between various applications and the implementation of complex multi-step workflows. This results in a streamlined and efficient approach to managing tasks and processes.
Setting up Pabbly Connect is incredibly simple, making it accessible to users of all technical backgrounds. Follow these three easy steps: select the desired applications to integrate, choose the appropriate modules to tailor your desired outcomes, and let Pabbly Connect take care of the rest.
Whether aiming to automate sales, marketing, CRM, or eCommerce processes, Pabbly Connect has covered you. Its user-friendly drag-and-drop interface ensures that even less tech-savvy can quickly grasp and utilize the platform to its fullest potential.
Top Features of Pabbly Connect:
Extensive App Integration: With integrations spanning hundreds of apps, Pabbly Connect also supports JSON, XML, and more for direct app integration, granting flexibility based on the app's API.
Scheduler: Plan tasks precisely, allowing actions at specific dates, days, or time intervals.
Filters: Build intricate workflows with the "If/Else" condition. Plus, employ conditional functions like "Does not equal to" or "Contains String" to refine processes further.
Formatters: Easily manipulate Excel functions, converting numbers, dates, text, and more into different desired formats.
Access to Premium Apps: The basic Pabbly Connect plan generously includes connections to apps such as Google Sheets, Gmail, Stripe, WordPress, and many more.
Path Router: A unique feature, this allows users to diverge actions into multiple paths from a single trigger, letting you direct data based on custom conditions.
Pabbly Connect takes workflow automation to greater heights, positioning itself as a true leader in the field. More than just a run-of-the-mill automation tool, it offers a comprehensive solution that propels businesses towards untapped levels of efficiency and exponential growth. Discover the power of Pabbly Connect and revolutionize the way you work.
Decisions is a powerful process automation platform that streamlines and enhances business operations. Its comprehensive set of features, including a Workflow and Rules engine, Integration capabilities, and advanced Reporting tools, equips organizations with the means to drive efficiency and productivity.
One of the standout components of Decisions is its intuitive Studio environment. This dynamic workspace empowers users to build applications effortlessly without extensive coding knowledge. With a suite of Visual Designers, users can create intricate Flows, Rules, Dashboards, and more. The Data Structure Designer also enables users to customize object interfaces with databases, simplifying data management processes. By adopting a no-code approach, Decisions empowers users of all technical backgrounds to create complex business logic easily.
Key Offerings of Decisions:
Versatility in Business Logic: Whether handling Insurance Claims or managing Loan Applications, Decisions easily adapts to varied organizational needs.
Seamless Integration: Thanks to the Studio's capabilities and REST API services, Decisions can effortlessly merge with existing infrastructures, making data sourcing smooth.
Web-Based Delivery: Decisions guarantee cross-platform compatibility by operating entirely within modern browsers. This cloud-based approach, leveraging HTML5 and CSS3, streamlines deployment and upkeep.
A quick peek at the 'Installation Requirements' article is crucial for those eyeing Decisions. This guide demystifies the system needs and configurations, ensuring a hassle-free platform setup.
With its innovative approach to business automation, Workato is at the forefront of the digital era. As an iPaaS (Integration Platform as a Service) solution, Workato empowers businesses to enhance efficiency while leveraging the power of AI and ML in their process automation workflows.
At the core of Workato is iPaaS technology, a game-changing concept that facilitates seamless integration of cloud applications. By enabling data to flow effortlessly between these applications, Workato weaves together automated workflows that were previously dependent on manual efforts. Workato empowers human talent to focus on more strategic and value-added endeavors by shouldering repetitive tasks through bots.
But Workato is a platform and a versatile toolkit thoughtfully designed to optimize and streamline business operations. Let's explore some of its standout features, which make it an invaluable tool in today's fast-paced business environment:
Diverse Integrations: From CRMs to financial software, Workato is compatible with many business applications.
Customizability at its Best: Tailored triggers and actions enable businesses to automate nuanced processes. Be it a lead notification or customer record creation, Workato has it covered.
Code-Free Workflow Creation: The drag-and-drop builder encapsulated in Workato simplifies automation, making the coding background unnecessary.
Collaborate and Conquer: Workato fosters teamwork, allowing seamless sharing and collaboration on automation projects.
Stay Updated: Monitoring tools and reporting features ensure businesses remain in the loop about their workflows, with instant alerts for discrepancies.
For the Tech-Savvy: Advanced users can revel in custom code writing and API integrations, offering a deeper dive into automation intricacies.
In essence, Workato redefines the automation landscape. Whether a business seeks basic task automation or desires intricate workflows, Workato stands ready, bridging gaps and propelling enterprises into a future of unparalleled efficiency.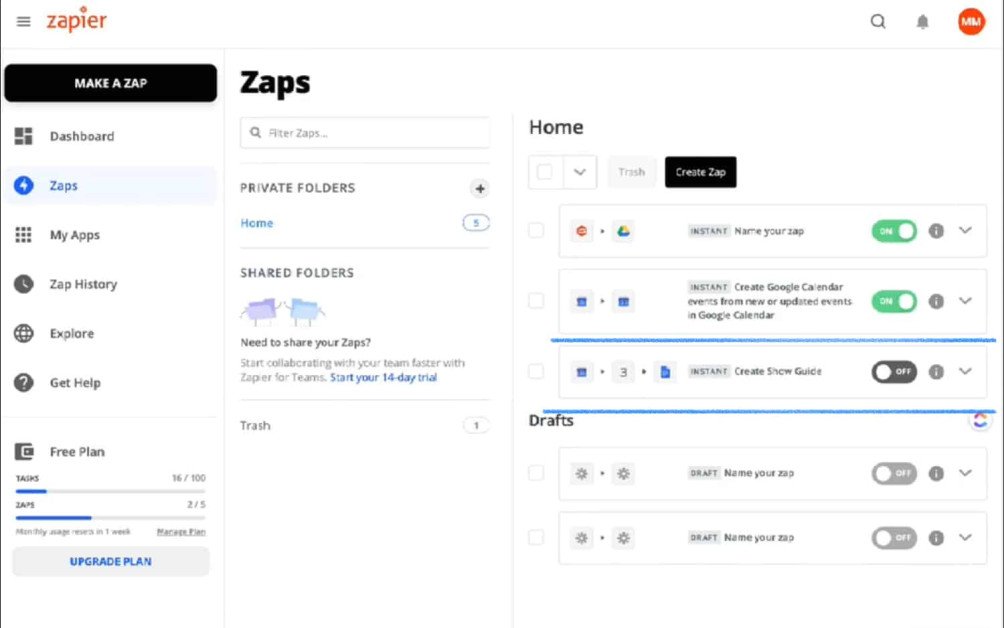 Zapier, synonymous with no-code automation, has been at the forefront of the workflow automation revolution. It's not just a tool. It's a platform that has democratized automation for businesses of all sizes. Zapier remains committed to streamlining operations and connecting disparate apps into a cohesive workflow as it evolves.
Highlights of Zapier
Massive Integration Library: With over 3,000 app integrations, Zapier ensures a solution for almost every conceivable workflow requirement.
User-Friendly Design: Catering to tech novices and experts, Zapier's drop-down menu approach simplifies the creation of automation flows.
Collaborative Features: Advanced plans cater to teams, offering features like shared workspaces and team seats, facilitating seamless collaboration.
Transfer by Zapier: This new feature stands out, helping businesses bid adieu to tedious data entry tasks. By automating bulk data transfers across applications, efficiency is significantly heightened.
In essence, Zapier isn't just an automation tool—it's the bridge that connects many apps, allowing them to communicate and cooperate, forging efficient and streamlined workflows. For those exploring the vast world of automation, Zapier stands as a beacon, guiding the way to enhanced productivity.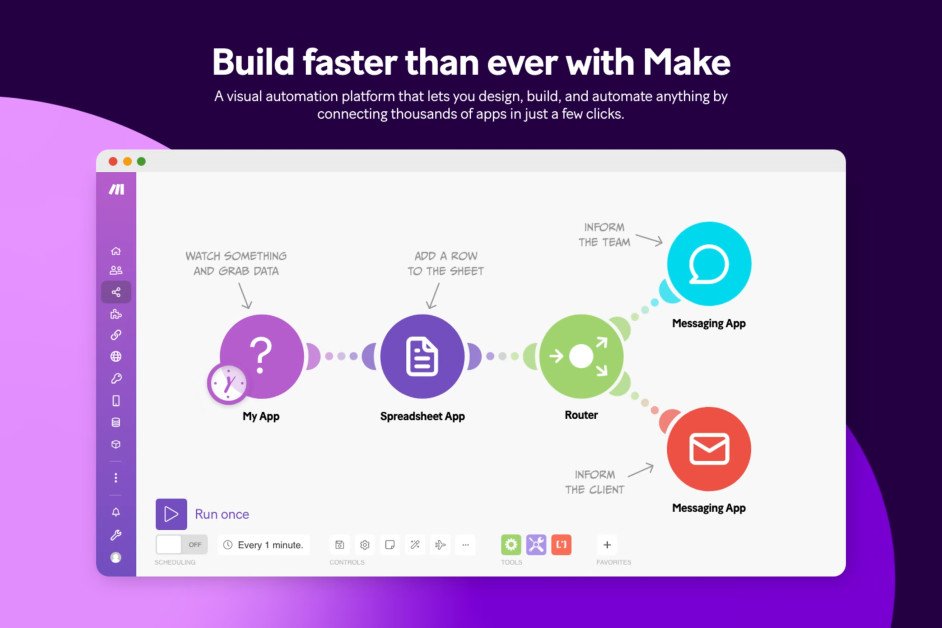 Make is a powerful visual platform that revolutionizes the world of workflow automation. It seamlessly automates tasks, workflows, apps, and even entire systems, making it a game-changer for businesses of all sizes.
What sets Make apart from other platforms is its innovative approach to workflows. While traditional platforms follow a linear structure, Make introduces the concept of scenarios. These scenarios are simple sequences and offer unlimited steps and connections to various apps. This allows for a highly flexible and customizable automation experience.
When it comes to executing these scenarios, Make offers two options. Users can schedule them to run at specific times or initiate them instantly, providing a real-time view of the data flow. This level of control and visibility brings efficiency and transparency to the automation process.
One of the remarkable aspects of Make is its accessibility. It isn't limited to technical experts but can be utilized by teams across various departments. From sales and marketing to IT and HR, all areas of your organization can benefit from Make's comprehensive features. And the best part? You don't need coding skills to leverage its automation capabilities.
With Make, you can streamline your workflows, boost productivity, and unlock the true potential of automation without any hassle.
Top Features of Make:
Visual Drag-and-Drop Builders: Simplify the process of creating intricate workflows.
Dynamic Scenarios: Offers unlimited steps and the ability to connect to endless apps.
Instant Execution: Allows real-time monitoring of data flow.
Extensive Integration: Compatible with 1400+ apps and any public API.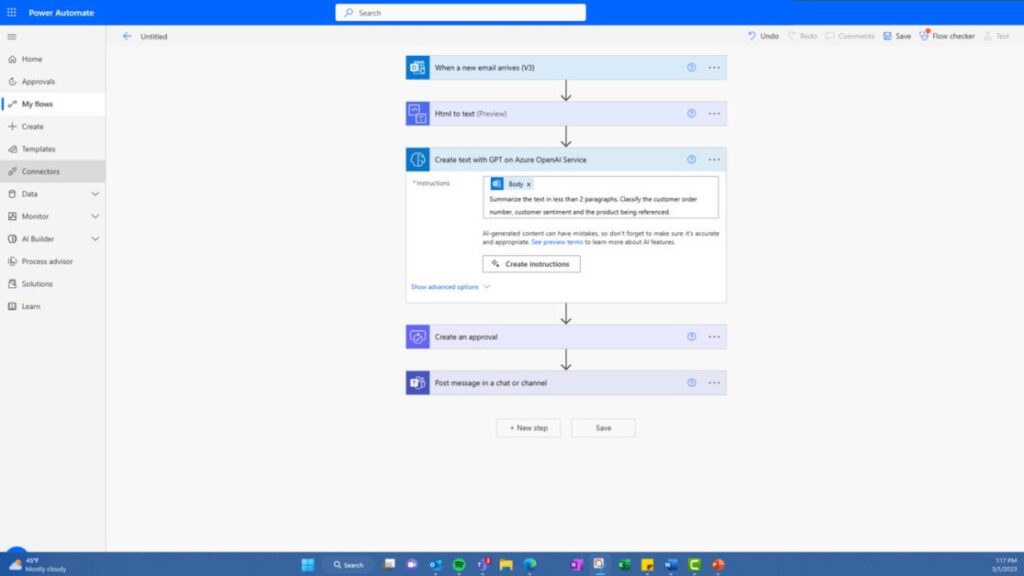 Power Automate, previously called Microsoft Flow, is Microsoft's answer to automating workflows between disparate apps and services. Built to focus on security and efficiency, it streamlines tasks with a vast collection of ready-to-use templates.
Top Features of Power Automate:
Expansive Template Collection: Thousands of pre-designed templates span numerous domains, ensuring quick setup.
Regular App Checks: It diligently checks connected apps for updates every 15 minutes, ensuring timely automation.
Mobile Management: The Power Automate mobile app for all major OS platforms guarantees workflow management on the go.
Highly Customizable: With options for customizable flows, on-premise integrations, and detailed monitoring, users have immense flexibility.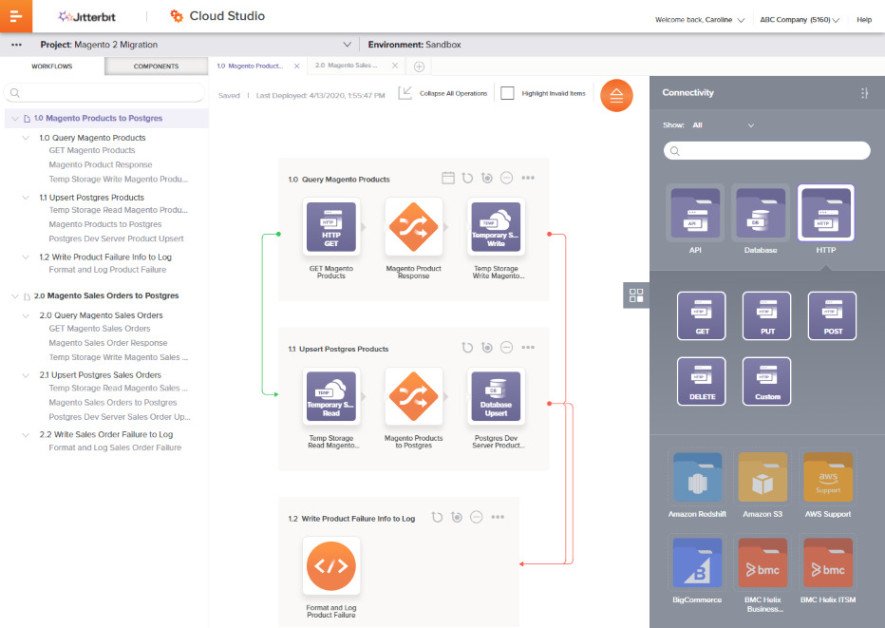 Jitterbit is poised to revolutionize how businesses handle data, offering a platform bridging the gap between varied data sources. This ensures that businesses can seamlessly tap into the power of SaaS, on-premises, and cloud applications.
Key Highlights of Jitterbit
Performance-Focused: Jitterbit employs high-end parallel processing algorithms, ensuring rapid and voluminous data transfer capabilities.
Proactive Monitoring: The platform keeps tabs on your integration, instantly notifying you of discrepancies or errors.
Data Management: Beyond integration, Jitterbit offers tools for data cleaning and intelligent restructuring, making data synchronization between systems a breeze.
Flexible Operations: Users can set integrations to run on schedules, triggers, or in real-time, accessible from anywhere.
Advanced Mapping: With 300+ formulas on board, data mapping and adding business logic between applications is a straightforward task.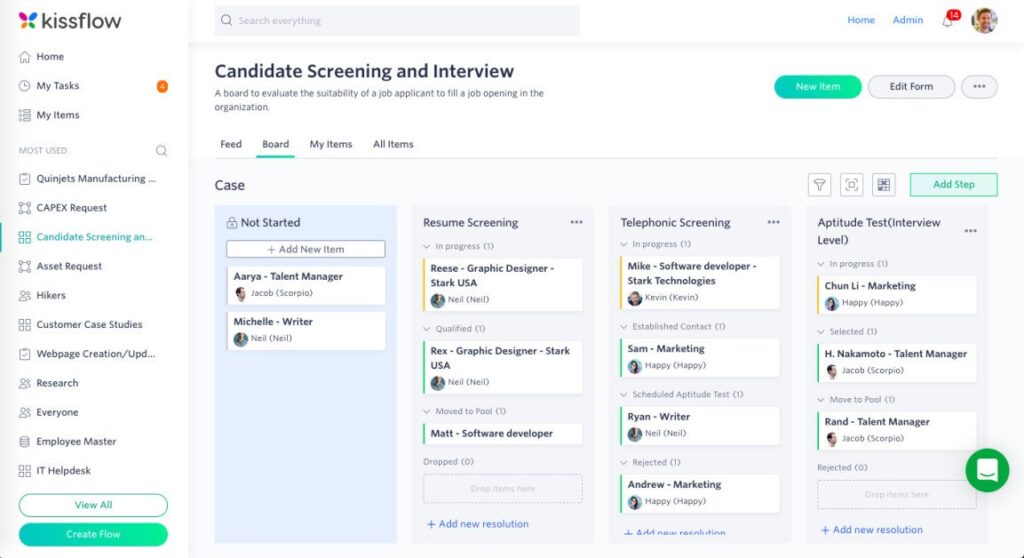 Kissflow is not just another workflow automation tool; it's a comprehensive digital workspace. By consolidating tools required for remote team and project management, it offers businesses a unified solution, eliminating the need for multiple subscriptions.
Features at a Glance
All-In-One Platform: Manage teams, projects, and workflows in a unified space, avoiding the clutter of multiple platforms.
No-Code Magic: Empower team members to use user-friendly, no-code tools to construct and automate their workflows.
Inter-Platform Integrations: Beyond its extensive suite, Kissflow supports integration with other platforms, bypassing the need for expensive APIs.
Remote Management Simplified: Being a digital workspace, it's geared towards making remote management of tasks and teams efficient and uncomplicated.
The Power and Potential of Workflow Automation
The rapid advancements in workflow automation tools have ushered in a new era of technological innovation. These tools offer a wide range of unique features that enable businesses to streamline their operations, reduce manual efforts, and ensure smooth data flow. From intuitive no-code solutions that empower even non-technical users to sophisticated API integrations that facilitate complex data transformations, the capabilities of these tools are truly transformative.
The widespread adoption of these platforms is a testament to the increasing importance of automation in the modern business landscape. With the ever-growing volume of data, intricate operational challenges, and the imperative for agility, automation has evolved from a luxury to an absolute necessity. By leveraging these tools, organizations can easily navigate the complexities of their operations, drive productivity to new heights, and foster a culture of innovation.
In this fast-paced digital age, embracing automation is no longer an option but a strategic imperative for businesses that aim to stay ahead of the curve. The future belongs to those who seize and harness the potential of automation to optimize their processes. By doing so, businesses can pave the way for unparalleled growth, success, and a competitive edge.