In this blog post, I will tell you what is the difference between windows 10 and windows 11? I will give you this information.
Microsoft was updating windows 10 for years but now windows 10 is going to stop because windows 11 is a new operating system Windows 11 is the latest operating system of Microsoft which was introduced for common users on 04 October 2021. This is an operating system after Windows 10. Since the announcement of Windows 11, people have started moving towards Windows 11. Windows 11 is a Safe and Single Platform Operating System. That is, this one operating system can run with many devices. You can use it from Computer Laptop to Mobile Phone, Tablet, Gaming Device, Internet of Things.
» Windows 11 Free Download ISO file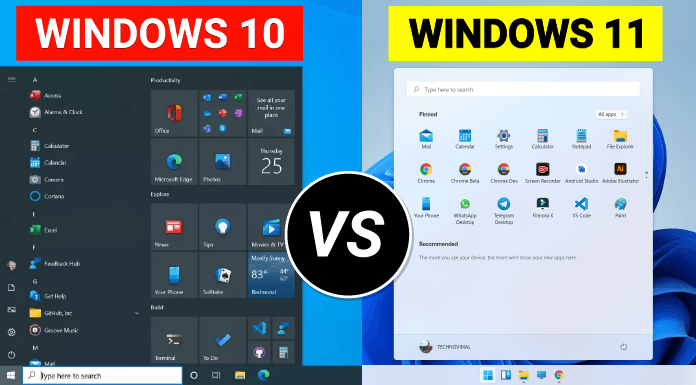 How Windows 11 is Different from Windows 10
 Windows 11 is coming by the end of this year. To know what is the main difference between Windows 11 and Windows 10, you will have to read these steps completely.
» 20 Best Windows 11 New Features
Minimum system requirements
This is the minimum requirement in your system to run windows 11 and windows 10 in your system
Difference between minimum requirements of Windows 11 and Windows 10:–
| | | |
| --- | --- | --- |
| Requirements | Windows 11 | Windows 10 |
| Processor | 2 or more cores on a 64-bit processor or system-on-a-chip (soc) | 1 GHz or faster processor/soc |
| RAM | 4 GB RAM | 1 GB RAM for 32-bit / 2 GB RAM for 64-bit |
| storage | 64 gb or more | 16 gb for 32-bit / 20 gb for 64-bit |
| system firmware | UEFI, Secure Boot Enabled | N/A |
| TPM | Trusted Platform Module ( TPM ) version 2.0 | N/A |
| graphic card | DirectX 12 Compatible Graphic Card / WDDM 2.x | Directx 9 compatible graphics card / WDDM 1.x |
| display | 9 inches with HD resolution ( 720p ) | 800×600 Display |
| internet | Windows 11 requires internet | no internet required for windows 10 |
How to upgrade Windows 10 to 11?
Just like windows, 10 was upgraded for free for windows 8.1 and windows 7 users, similarly windows 11 will be available for free for windows 10 users.
The minimum requirements of Windows 11 are much higher than that of Windows 10 as Windows 11 will only run on a 64-bit PC and to run Windows 11 your PC must have TPM version 2.0 and UEFI Secure Boot enabled.
You can find out whether your pc can run Windows 11 or not by downloading Microsoft's pc health check-up app. If the tool says that your pc cannot run windows 11 then you can set your bios.
You can run an insider preview of Windows 11 by installing the windows insider program on your pc. Right now there are some bugs in Windows 11 that can corrupt the data of your pc.
» Best Free VPN for Netflix Mobile & PC
New Start Menu and Taskbar
The biggest difference between Windows 11 and Windows 10 is the start menu and the taskbar. In windows 11, the start menu and taskbar have been brought to the center of the screen from the left side. If you want, you can move the start menu and taskbar back to the left.
The start menu and taskbar make windows 11 similar to Mac OS and Chrome OS. If you click on the start menu in windows 11, then you will see a list of apps and you will get to see the option of recommended.
The tiles which used to be in windows 10 have been removed from Windows 11. Many changes have been made in the taskbar in Windows 11 as compared to windows 10. The Cortona function and timeline have been removed in Windows 11.
In Windows 11, you will get to see the option of the search bar, snap layout, Microsoft team, message box, and widgets in the taskbar. You cannot pin the taskbar to the right and left sides of the screen. In windows 11, the taskbar will always be at the bottom of the screen. . You will not be able to customize the taskbar even with the help of apps.
» Netflix Premium Accounts & Passwords
Snap Layouts Multi-Tasking
In Windows 11, new features have been given for multi-tasking as compared to windows 10. Snap layout is designed for multi-tasking.
Windows 10 enables you to view multiple windows at once but there is a lot of possibility of things going wrong in it but this will not happen in windows 11. You can run multiple windows simultaneously using the snap layout in windows 11.
You can open windows of different sizes by using maximize button, you will not find it in windows 10.
Using Microsoft Teams
After the release of Windows 10, Microsoft launched the messaging app Teams two years later in 2017 and in Windows 10 this app became the alternative app.
In Windows 11, the Microsoft team has been given a place in the taskbar. It will play a huge role in Windows 11. You can make video and voice call with your friends, family members using Microsoft Team in Windows 11.
If your friends or relatives do not have Microsoft Teams installed, then you can communicate or talk to them through message.
Android Apps Support  
A big change has been made from Windows 10 to Windows 11, which is that of android apps, you can now run android apps in windows 11.
Now Microsoft store will let you download android apps from the Amazon AppStore. Microsoft Store for Windows 11 has been redesigned to help you find apps and movies
You will be able to record and post Tik Tok videos in Windows 11 directly from your Windows device. For Windows 11, Microsoft has introduced native apps including Disney, Zoom, Canva, and Visual Studio in the Microsoft Store.
Better Gaming Features
You will get to see better gaming facilities in Windows 11 than Windows 10. If you are a pc gamer then you will want to install windows 11.
You will be able to download more than 1000 games in high quality from the Xbox game pass in windows 11 and you will be given a subscription to the Xbox game pass.
 In Windows 11, you have been given the feature of Auto HDR which will update auto light in gaming. Auto HDR will help ancient games look better. Games will be uploaded to Xbox every month.
Widgets
One of the main differences between Windows 10 and Windows 11 is that widgets have been launched in the taskbar of Windows 11, which you will not see in Windows 10. In widgets, you can get information about news, weather, on this day, calendar, etc. at a glance.
Xbox tech to improve gaming
Windows 11 will get certain features found in Xbox consoles, like Auto HDR and DirectStorage, to improve gaming on your Windows PC. This marks another move toward integrating PCs and Xbox consoles for Microsoft.
Windows 11 will be Available in Different Versions
Windows 11 is not just an operating system but it also has different types. These variants are designed keeping your needs in mind.
Windows 11 Home
Windows 10 is designed keeping in mind the general users. All its features can be used by every user. It can be used on computers, laptops, tablets. In this, the Windows Start Button has been added to the desktop like Windows 7. And safe and simple Microsoft Edge has been made to browse the Internet.
Windows 11 Pro
The advanced type of Windows 11 is Windows 11 Pro. It is designed to meet the needs of small businesses. You can use it on Laptop, PC, and Tablet. Windows Pro has some advanced features that make small businesses more secure, faster, and more efficient. Device and app management are more efficient in this edition. Apart from this, it also guarantees to keep your data safe. It also has the support of cloud technology.
Windows 11 Enterprise
Windows 11 Enterprise has been developed to meet the needs of medium and large businesses. It provides powerful and advanced capabilities to protect the confidential data of devices and apps from modern threats. In this, you get advanced features and you can access them immediately when the update comes.
Windows 11 Education
A big use of computer is also done in education and its need is different from the need of others. To meet these needs of the education sector, Microsoft has made available Windows 11 Education Version. It is mainly designed to meet the needs of school staff, administrative officers, teachers, and students.
Windows 11 Mobile
Mobile is used more than computers in the world. Windows 11 Mobile for smartphones and small  Tablets is designed to use. Windows believes that the experience of Windows 11 on both devices and mobiles should remain the same for the user. That is, the way you use it on a computer, you can use it on mobile as well.
Windows 11 IoT Core
The concept of the Internet of Things has also become true in our world. Electronic devices are now turning into smart devices. For this Windows 11 has launched Windows 11 IoT Core Edition. It will be used in Wearable Devices, POS Machines, Robots, ATMs, etc.
Windows 11 price
The price of Windows 10 directly depends on your requirement. The kind of Windows 10 you want will be priced the same. The price of different variants of Windows 10 according to their website is as follows.
The price of Windows 11 Home is Rs 9299.
The price of Windows 11 Pro is Rs 14,799.
The price of Windows 11 Pro for Workstation is Rs 22,799.
Where to buy Windows 11?
Many people do the work of getting Windows 10 from their familiar hardware or computer repairer. But keep in mind that there is also a risk of getting Pirated Window from here. If you want to buy a genuine Windows 11, then buy it directly by going to its Website  Shop Windows. From here you can buy it online. After this, if you want, get it installed by someone you know. If you know how to install then you can do it yourself but if you don't know then don't risk installing it. Get it installed only by an expert.
Conclusion
Windows 11 brings many improvements, and the most notable is a complete user interface redesign, which is coming as a major upgrade from Windows 10.
The Start menu has been streamlined and feels less cluttered than before. Rounded corners look great on windows, and the same goes for other user interface elements.
Multitasking has been improved, and you can now easily switch between Snap layouts and better organize open windows.
Probably the biggest changes are native support for Android apps and an overhaul of the Microsoft Store which will become the centralized hub for all application downloads.
Finally, gaming improvements like DirectStorage, AutoHDR, and Xbox Game Pass for PC will take gaming on your PC to a whole new level.
The latest OS is a big step forward with great features and a more streamlined user interface, so there's no reason not to enjoy it.
Are you excited about Windows 11 and are you going to switch or do you plan to stay on Windows 10? Let us know in the comments section below.
MORE INSIDE TECHNOVIMAL.IN