How to Install Windows 11 from Windows 10? If you are searching about this then you are in the right place, Microsoft keeps updating its Windows program and in new updates, users get many features like talking about Windows 10, then In this, the users get. Cortana is a virtual computer assistant with which you can give any command, that is, you can get any work done.
» Windows 11 Free Download ISO file
Similarly, the App Store is also available in this and in the new update many more features like the menu bar, icons, messaging app, etc. are available to the users, apart from this security programs are also updated while updating Windows. So that your device is completely protected.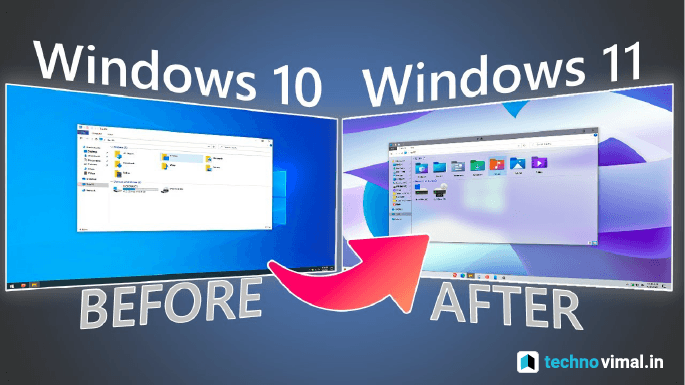 What is Windows 11?
Software and hardware are used to run the computer, everyone knows about the hardware, the software is called the program using which the computer is run i.e. any kind of work like photo editing, video editing. Used in software etc, the computer has Windows and Linux operating system (OS), any device like mobile, computer, etc have an operating system, if you use android mobile then it works on the Android operating system does.
Similarly, the computer remains Windows OS and new updates keep happening, computer users first get Windows XP operating system by Microsoft which was upgraded, and then Windows 8, 8.1 followed by the Windows 10 operating system and most people. We are used to it, but now Microsoft has also announced Windows 11, in which users get features like Stylish Menu Bar, Beautiful Icon, etc.
» Windows 11 Free Download ISO file
Windows 11 Features List
Microsoft has added many features in Windows 11, let's know about some of the popular features.
Stylish Taskbar:- Has made the taskbar stylish and attractive, in earlier Windows, the icons of the taskbar were found in the left and right, but now all the icons will be visible in the center which is also very nice to look at and it also makes your device look good. Seems like.
Start Menu:- In this Windows, the Start menu will be in the center instead of the left and all the options will be visible in the center, this will make the PC look good, as well as new options will be available to the users. Start menu, using which many things can be done.
Multi-Window:- Mobile users will be aware of multitasking, almost all smartphones can do multitasking, in simple words, whenever you open an app in mobile and open another app while that app or game is open, a page other than the app or game After opening, opening a new page is called multitasking, a similar feature is also there in Windows operating system, which many users are not aware of, in which users have multiple tasks on the same screen. You will be able to do all the work, that is, you can run 2 programs or more programs simultaneously on the screen.
Gaming Performance:- It supports high-definition games, it supports Auto HDR so that users can play many high-performance games on their PC, Windows 11 also comes with an Xbox app feature so that if you want to play Xbox games. If you want, you can play many Xbox games on it.
Cortana:- Cortana Virtual Assistant is available in Windows 11, for which the microphone is used, it is a virtual assistant that can do any work on the computer by giving commands.
» Windows 11 Free Download ISO file
How to install Windows 11 from Windows 10?
Windows 11 was in a lot of headlines even before the launch and many people have discussed it on social media, everyone wanted to know where to download Windows 11 and it will be free or will it have to be bought, and Windows 10 What will the users do? You can upgrade it for free, all these questions have been answered, Microsoft has shared all the information about Windows 11, including how fast the PC's processor needs to be to use it, The graphic card is also mentioned. RAM and ROM, Windows 11 is not yet officially launched.
But you can use it through Microsoft Insider Program, as you must be aware, in many Android apps, users get the option of the beta program, using this option beta users can install any app before other people. can. This program tries to fix the shortcomings of the app and whether the new update is being liked by the users or not, it is also known from the beta program, like the Android beta program, the Windows Insider Program in the computer also understands. Yes, you can upgrade to Windows 10 using it.
Windows 11 Requirements Minimum Ram, Processor
Processor:- To run Windows, the computer processor should be at least 1 GHz or faster with a 2 core processor and 64-bit compatible processor.
RAM:- To use this Windows PC's RAM should be at least 4GB i.e. 4 Gigabyte.
Hard Disk Or ROM:- The hard disk size of a PC should be more than 64GB.
Display:- High Definition Display should be 720 pixels or more.
Graphics Card:- Compatible with DirectX 12 and WDDM 2.0 Driver.
How To Download And Install Windows 11
If you have Windows 10 on your PC then you can easily upgrade to this Windows 10 and it is free for which there is no charge of any kind, here you can upgrade your computer's Windows by following some steps can do.
First of all, open your computer, here the windows icon will appear, click on this icon, now many options will be visible, out of which click on the setting icon.
Now you will reach the computer settings, there will be many options, out of which click on the option with Update & Security.
After this you will see an option with windows insider program here, click on this option, in insider program you have to click on the get started option.
Now you will see Link a account option, on clicking on it you will be asked to select microsoft account if you are logged in with microsoft account, if you do not have an account in it then I have already done about it by reading that post You can create your Microsoft account then click on Continue option.
After this you will see the option of pick your insider setting, click on Confirm.
After this, you will be told about the Windows Insider program and if you want to know about its privacy statement, you can read about it by clicking on it, then clicking on the confirm option.
Now you will be asked to restart the computer, click on the Restart Now option.
» Windows 11 Free Download ISO file
After this, the process of Windows Update will start running, after the process is completed, the PC will open, and a new dashboard will appear.
Important:- While following all these steps, keep your device connected to the Internet, because when you update Windows, its file is downloaded which requires an internet connection, if your device will not be connected to the internet, then its File will not download.
Windows 10 to Windows 11 Update FAQs
Q.1 How to buy Windows 11?
Ans – This Windows will be available to the users on Microsoft's site, what will be its cost, the company has not yet told about it.
Q.2 Will I have to buy a new computer for Windows 11?
Ans – No, you do not need to buy a separate computer for this, for this, you have been told about the system requirements, according to that your PC is compatible, then you can download and install Windows on the same PC itself.
Q.3 Will Windows 11 be available for free?
Ans – Windows 10 users will get a free upgrade to Windows 11, but for this, your PC should also be compatible according to the system requirements.
Q.4 Will Windows 11 Pre-Install be available on the new computer?
Ans – After the launch of Windows 11, you will get this pre-installed i.e. pre-installed in the new computer.
Q.5 What is the difference between Windows 10 and Windows 11?
Ans – Many features are the same in both Windows but many more features have been added to it, in which the android app store, Xbox App, etc. are prominent.
Conclusion
You must have come to know about how to upgrade Windows 10 to Windows 11, but in this way you can download Insider Preview of Windows 11, in this, you will get many features like a new taskbar, menu, attractive design, etc. Some features like Android App Store or Android App Support feature will not be available in this,
Andy software has to be used to install Android apps on the computer, but now you will be able to install Android apps on any of your computers without using any emulator software, also it has HDR support. This can improve the performance of the game.
Friends, How to download and install Windows 11 You must have known about this, if you liked this information and found it useful, then share it with your other friends on social media sites and other similar information related to the Internet. Share on Keep visiting our site.