In the ever-evolving digital communication landscape, emojis and GIFs have seamlessly integrated into our daily conversations, injecting a delightful dose of expressiveness and entertainment. A world of possibilities awaits Android users seeking to elevate their GIF game. Here, we present a curated selection of the top 10 GIF keyboards available for Android and iPhone, promising to enrich your messaging experiences.
These GIF keyboards offer a treasure trove of animated expressions, allowing you to convey emotions, reactions, and sentiments with flair. Whether you're looking to add humor, bring excitement, or make your messages stand out, these keyboards provide an extensive library of GIFs.
Read Also: 15 Best GIF Maker Apps on Android and iPhone.
From witty one-liners to classic movie moments and adorable animals, these keyboards cater to every taste and mood. They seamlessly integrate with your messaging apps, ensuring a seamless and engaging conversation experience. So, let's embark on this journey and explore these incredible options that promise to infuse your messages with charm and personality, one GIF at a time.
10 Best GIF Keyboards for for Android & iPhone in 2023
The Google Play Store boasts an extensive array of Android GIF keyboard apps, but sifting through them can be daunting. To simplify your search, we've curated a list of the finest GIF keyboard apps for Android and iPhone users. These apps are designed to facilitate seamless GIF sharing on instant messaging and social networking platforms.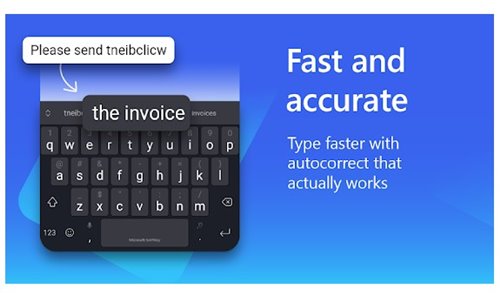 Microsoft SwiftKey has solidified its position as a household name in the realm of Android keyboards, and it continues to dazzle users with its impressive GIF integration. This innovative keyboard app boasts a treasure trove of GIFs and offers a seamless experience that elevates self-expression to new heights.
Extensive GIF Library: Microsoft SwiftKey's GIF library is extraordinary. It houses an extensive collection of animated images catering to a wide range of emotions, making finding the perfect GIF to convey your feelings effortlessly. Whether you're feeling joyful, humorous, or even a tad sassy, SwiftKey has the ideal GIF at your fingertips.
Seamless Integration: The integration of GIFs into SwiftKey is a testament to its user-friendly design. Accessing GIFs is as easy as tapping the dedicated GIF button, eliminating the need for third-party apps or tedious searches. This integration ensures a smooth and hassle-free experience, enhancing communication without interruptions.
Personalized Suggestions: SwiftKey goes the extra mile by offering personalized GIF suggestions. The keyboard learns your preferences over time, leveraging its powerful AI, presenting GIFs that align with your unique style and conversations. This tailored approach makes expressing yourself not only easier but also more enjoyable.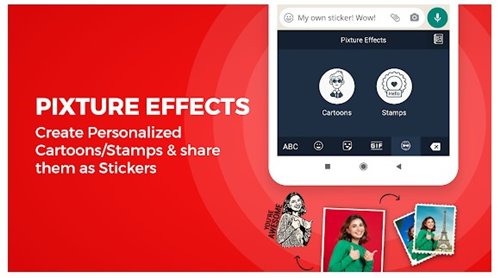 The Xploree AI Keyboard is not your ordinary keyboard; it's a faithful companion that brings an innovative touch to your daily conversations. Utilizing the power of artificial intelligence, this keyboard goes beyond mere text input to enhance your messaging experience in three remarkable ways.
Dynamic GIF Suggestions: Say goodbye to dull and static conversations. Xploree's AI Keyboard intelligently suggests relevant GIFs that match your conversation context perfectly. Whether you want to add humor, express emotions, or make your chats more engaging, this feature ensures you always have the right GIF at your fingertips.
Personalized Predictive Text: Xploree doesn't just predict the next word; it understands your unique style and context. It learns from your typing habits and provides highly accurate and personalized predictive text suggestions, saving time and ensuring your messages reflect your voice.
Multilingual Mastery: Breaking down language barriers, Xploree AI Keyboard supports multiple languages seamlessly. It suggests words and provides translations and synonyms, making it an ideal choice for multilingual users or those looking to learn new languages.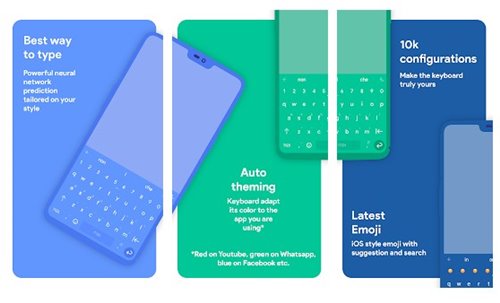 Chrooma Keyboard is renowned for its dynamic and visually captivating themes, offering users an immersive typing experience that effortlessly adapts to their mood and style. With many customizable articles and an expansive library of GIFs, Chrooma empowers you to personalize your keyboard like never before.
Vibrant Themes: Chrooma Keyboard boasts a stunning collection of themes beyond aesthetics. These themes don't just change the keyboard's color; they evoke emotions and set the tone for your interactions. Whether you're feeling bold, elegant, or playful, Chrooma has a theme to match your vibe, ensuring that your keyboard becomes an extension of your personality.
GIF Support: Elevating your conversations to the next level, Chrooma offers seamless GIF integration. With a vast library of GIFs, you can express yourself with humor, emotion, or creativity. Easily search and share GIFs within your chats, adding a dynamic and engaging element to your messages.
Customization: Chrooma Keyboard puts you in the driver's seat of your typing experience. You can fine-tune every keyboard aspect, from the key layout to the font style, creating a unique and comfortable typing environment. Personalization extends to gestures, voice input, and predictive text, allowing you to tailor your keyboard's functionality to your preferences.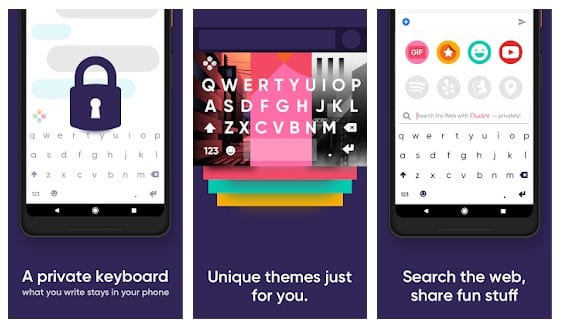 Fleksy is the ultimate keyboard app that prioritizes both speed and accuracy, and its GIF feature exemplifies this commitment to seamless communication. Here are three outstanding features that make Fleksy's GIF functionality stand out:
Lightning-Fast GIF Selection: Fleksy's intuitive gestures transform how you send GIFs. With a swift swipe and a tap, you can access a vast library of animated expressions, all within the blink of an eye. No more wasting time scrolling through endless options; Fleksy's user-friendly interface ensures you find the perfect GIF in a flash.
Powerful GIF Search Engine: Fleksy boasts a powerful GIF search engine that empowers you to discover the most relevant and entertaining GIFs for any conversation. Whether you want to convey excitement, humor, or any other emotion, Fleksy's search engine effortlessly matches your mood with the ideal GIF, enhancing your messaging experience.
Seamless Integration: Fleksy seamlessly integrates GIFs into your conversations, ensuring your chats are dynamic and engaging. With just a few taps, you can effortlessly share these animated gems, adding a touch of creativity and humor to your messages. Fleksy's GIF feature is a game-changer, allowing you to express yourself precisely and quickly.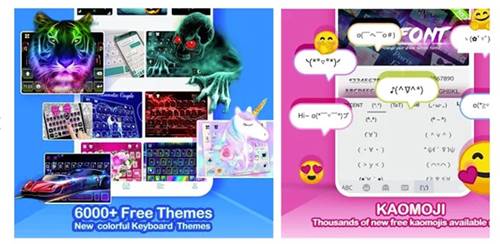 Kika Keyboard distinguishes itself with its innovative and engaging feature that allows users to craft personalized GIFs. This standout functionality empowers individuals to transform their emotions and expressions into captivating GIFs, infusing a distinctive and customized element into their conversations. With the Kika Keyboard, users can effortlessly elevate their communication by:
Expressing Uniqueness: Kika Keyboard lets users break away from generic expressions by turning their reactions and sentiments into bespoke GIFs. This empowers them to communicate in a way that is distinctly personal and resonates more deeply with their friends and contacts.
Enhancing Engagement: The ability to create personalized GIFs fosters a heightened level of engagement in conversations. These one-of-a-kind animations convey emotions precisely, making interactions more vivid and interactive, ultimately strengthening connections with friends and contacts.
Creative Communication: Kika Keyboard encourages users to explore their creativity. Allowing them to craft GIFs from their own expressions opens up innovative and imaginative communication possibilities, making conversations more dynamic and enjoyable.
Ginger Keyboard is your ultimate communication companion, offering more than grammar assistance. This powerful tool takes your writing to the next level while elevating your GIF-sharing experience. Here are three key features that make Ginger Keyboard a must-have:
AI-Powered Grammar Checker: Ginger Keyboard harnesses the power of artificial intelligence to transform your writing. It doesn't just fix your grammar; it enhances your language skills. It understands context, suggests precise corrections, and provides real-time feedback as you type. Whether you're composing an important email or a casual text message, rest assured that your transmission will be error-free and polished, thanks to Ginger's intelligent grammar checker.
Expansive GIF Library: Expressing yourself has never been easier with Ginger's extensive GIF library. It adds a new dimension to your conversations, allowing you to convey emotions, reactions, and humor effortlessly. Browse through a wide range of GIFs conveniently categorized for every occasion. From funny memes to heartwarming animations, you'll find the perfect GIF to enhance your messages and make your conversations more engaging.
Comprehensive Communication Support: Ginger Keyboard is your all-in-one communication tool. It goes beyond grammar and GIFs to provide a holistic approach to effective communication. Whether you're looking for synonyms, definitions, or translations, Ginger has you covered. It helps you find the right words, understand their meanings, and communicate more effectively in multiple languages, making it an indispensable tool for personal and professional communication.
Go Keyboard Pro provides users with a feature-rich typing experience, offering many tools to enhance communication. Here are three key features that make it stand out:
Extensive Emoji and GIF Library: Go Keyboard Pro boasts an extensive collection of emojis and GIFs, ensuring you always find the perfect expression for any situation. Whether you're celebrating a victory, consoling a friend, or just looking to add a touch of humor to your messages, the app's vast emoji and GIF library has you covered. This feature allows you to communicate with more nuance and emotion, making your messages more engaging and relatable.
Customization Options: Personalization is at the heart of Go Keyboard Pro. The app offers a range of customization options, allowing you to tailor your keyboard to match your style. You can choose from various themes, fonts, and critical shapes, ensuring your keyboard looks great and feels comfortable. This level of customization lets you create a keyboard that reflects your unique personality.
Efficient Typing Tools: Go Keyboard Pro provides efficient typing tools beyond emojis and GIFs. Swipe typing, auto-correction, and predictive text make typing faster and more accurate. Additionally, the keyboard supports multiple languages and offers a translation feature, making it ideal for users who communicate in different languages or travel frequently.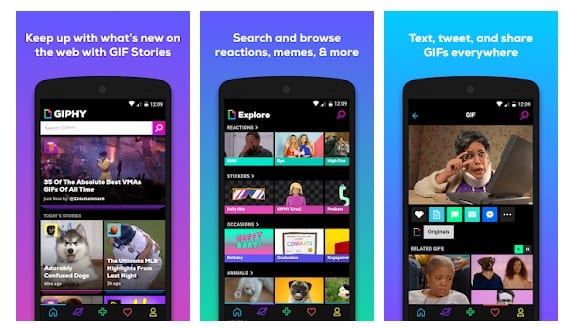 Giphy stands as the undisputed leader in GIFs, and its keyboard application upholds this reputation with unwavering excellence. This keyboard app offers a seamless gateway to Giphy's vast and diverse GIF library, ensuring users can discover and share their favorite animated gems effortlessly. Here are three standout features that make gypsy's keyboard app a must-have:
Extensive GIF Library Access: Giphy's keyboard app provides users with unparalleled access to a colossal collection of GIFs. The app's library caters to every mood and occasion, from hilarious reaction GIFs to heartwarming moments. Whether you're searching for a witty response or a touch of nostalgia, Giphy has you covered.
Effortless Integration: The app seamlessly integrates into your messaging experience, allowing for quick and convenient GIF sharing. With a few taps, you can locate the perfect GIF to enhance your conversations, making communication more dynamic, engaging, and expressive.
Personalization and Trending Content: Giphy's keyboard app goes the extra mile by offering personalized recommendations and showcasing trending GIFs. This feature ensures you stay up-to-date with the latest viral sensations and can effortlessly infuse your conversations with the hottest GIF trends.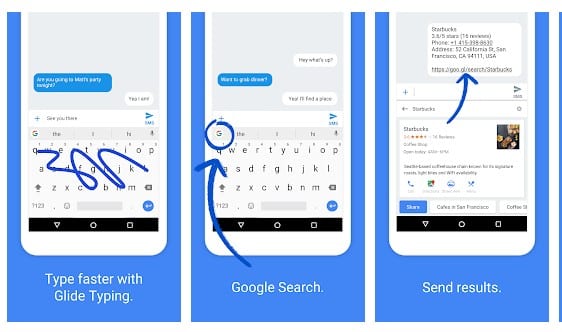 Gboard, the brainchild of Google, seamlessly blends simplicity with a wealth of functionality to redefine your typing experience. This innovative keyboard app offers a trifecta of features that make it a must-have for smartphone users:
GIF Integration: Gboard boasts an impressive built-in GIF support system that elevates your messaging game. Say goodbye to the hassle of searching for the perfect reaction GIF. With Gboard, you can effortlessly find and send GIFs to convey your emotions and responses with just a few taps. It's like having a GIF library, ensuring you can always find the ideal animated expression for any situation.
Google's Robust Search: One of Gboard's standout features is its integration with Google's powerful search engine. You can look up information, images, and GIFs without leaving your messaging app. Whether planning a meet-up, fact-checking during a conversation, or simply curious about a topic, Gboard's seamless access to Google search ensures that you have instant answers and visual content.
Simplicity and Efficiency: Despite its impressive functionality, Gboard remains remarkably user-friendly. Its intuitive interface ensures that even novice users can navigate its features effortlessly. With a clean design and intelligent suggestions, Gboard streamlines your typing experience, making it quicker and more efficient.
The Facemoji Emoji Keyboard seamlessly integrates the world of emojis and GIFs into a delightful and user-friendly package, making it easier than ever to express your emotions and enhance your digital conversations. With an extensive collection of emojis and GIFs right at your fingertips, here are three key features that set Facemoji apart:
Vast Emoji and GIF Collection: Facemoji boasts an expansive library of emojis and GIFs, ensuring you'll always find the perfect visual to convey your feelings. Whether you're feeling happy, sad, excited, or anything in between, you'll discover a wide range of expressive options, allowing you to communicate your emotions with precision and flair.
Seamless Integration: Facemoji seamlessly integrates emojis and GIFs into your keyboard, making them easily accessible during conversations without cumbersome app-switching or searching. This smooth and intuitive integration enhances your messaging experience, allowing you to respond quickly and creatively to messages from friends and family.
User-Friendly Interface: Facemoji prides itself on its user-friendly interface, making it a breeze to navigate and customize. To suit your style, you can personalize your keyboard with themes, fonts, and emoji layouts. Additionally, its predictive text and autocorrect features help you type more accurately and efficiently, ensuring your messages are expressive and error-free.
Frequently Asked Questions (FAQs)
Q: Can I use these GIF keyboards on any Android device?
A: These GIF keyboards are compatible with most Android devices, ensuring a GIF-tastic experience for all.
Q: Are these GIF keyboards free to download?
A: Many GIF keyboards offer free versions with in-app purchases for additional features. You can enjoy basic GIF functionality without spending a dime.
Q: How do I set up a GIF keyboard on my Android device?
A: Setting up a GIF keyboard is easy. Go to your device's settings, select "Language & Input," and choose your preferred GIF keyboard as the default input method.
Q: Can I create my custom GIFs with these keyboards?
A: Some keyboards, like the Kika Keyboard, allow you to create personalized GIFs, adding a unique touch to your conversations.
Q: Do these keyboards come with advanced features besides GIFs?
A: Yes, many of these keyboards offer advanced features like spell-check, predictive text, and customizable themes to enhance your overall typing experience.
Q: Which keyboard has the most extensive GIF library?
A: Giphy Keyboard is renowned for its extensive GIF library, offering many conversation options.
In Conclusion
Enhance your Android messaging experience with the best GIF keyboards available. Whether you prioritize personalization, AI recommendations, or a massive GIF library, these keyboards have you covered. Say goodbye to plain text messages and hello to a world of expressive communication. Install your preferred GIF keyboard today and share GIF tastic moments with your friends and family.