No one likes duplicate and plagiarized Content, whether it is a scholar or a blogger. That's why people look for Online Plagiarism checkers. This is because originality is never seen in Plagiarised Content, due to which it cannot be called authentic Content. In such a situation, if you are a blogger, Then Google completely rejects this type of Content.
Now the question comes then how to check whether any content is plagiarized. Then let me tell you that there are many such Free and Paid Plagiarism Checker Tools available on the Internet so that you can verify English and Hindi Content.
In today's article, "Best Free Plagiarism Checker Tools for the Blog," we will learn about free plagiarism tools you can use in your blog or any content. Then let's get started.
What is Plagiarism?
Plagiarism is copying a person's language, words, and ideas and showing them as their work without giving credit or reference to that person.
If I tell you to blog, copying the contents, images, and other ideas from another person's website or blog and publishing it on your website or blog is called Plagiarism. It works to cheat that person's hard work by stealing others' thoughts.
In other words, Plagiarism is, in a way, the act of copying and pasting the Content of others, which means copying someone else's Content or ideas entirely and using them in their work without that person's permission. This type of theft work steals a person's work or ideas and works on it himself.
Read Also: Top 10 Best Video Editing Apps(100% FREE)
When you credit the original author, including the person's name, the blog's name, and where the blog is published or printed, or tell about that source, Plagiarism does not happen. Plagiarism occurs when you include all this information in your blog, giving no reference or credit.
What are Plagiarism Tools?
Plagiarism Checker is a tool or software that helps determine whether our Content is copied or unique. It is also known that if the Content is a copy, then from which source blog or website it is a copy? The Plagiarism checker tool also tells us what percentage of the Content is copied in our content text.
The Paganism Checker tool is readily available on the Internet, both free and paid. These tools scan the entire Internet, which helps Internet users to find and correct plagiarized Content in their text. Plagiarism makes it easy to rank with free Content and get Google AdSense approval. Today, I will list the name of the best free online plagiarism checker tool with percentage text in 2022, which will help find the original Content in your article or Content.
Top 10+ Best Free Plagiarism Checkers 2023
Here are the best free plagiarism checker tools in 2023 available online. 
Quetext.
Duplichecker.
Plagiarism Detector.
Search Engine Reports.
Small SEO Tool.
Google Search Engine.
1. Quetext – Best Free Online Plagiarism Tool
Quetext is one of the Best Free Online Plagiarism Check Tools. Although premium, you can also use it in Beta Version for Free.
This tool is quite user-friendly to use. Some devices are pretty complex and have many features, so the script is more, and it takes a lot of time to show you the results.
Read Also: 10 Best Video Editing Apps For Shorts
But this tool is made only to check whether your Content is Plagiarized. That's why many Scrips and API Keys have been used in it, so you get the results immediately.
Whatever your Content will be plagiarized in Qtext, it highlights it from the Free Plagiarism Tool Underline and also tells the source of that Content, i.e., on which Site that Content is available.
Along with this, how much Plagiarism is there in your Content? It also shows you as 38% of your Content is plagiarized.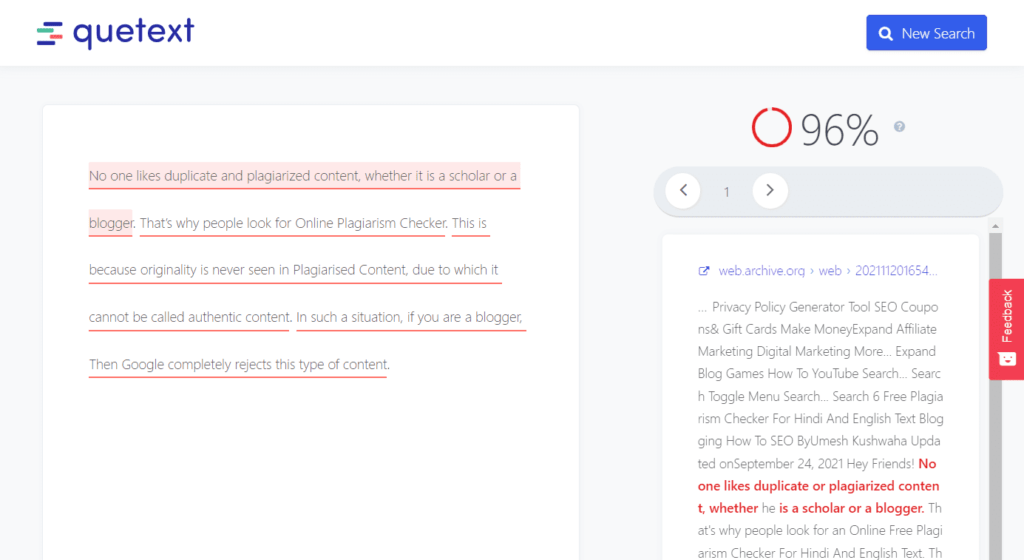 As the above image shows, I have done a Random Article Scan to Make Money Online. The Content is 100% Plagiarized. It also tells you on which Site the Original Article is available.
And you can also see in the image below, which is the Content of this article, which is free from Plagiarism, which increases the authenticity of my Site.
Read Also: How To Increase Your Bing Search
This tool is handy if you can do content writing work for a client by not blogging.
Because by scanning all the Content in this, you can check whether the Content you have written is plagiarized, read it and save it in CSV format and send it to your client so that the uniqueness and originality of your Content are proven.
| Cons | Pros |
| --- | --- |
| You Have To Paste Text To Scan | Easy To Use |
| Plagiarism Checking By URL Is Not Available In Free Version | Clean And Attractive Interface |
| You Have To Paste Text To Scan | Very Fast To Show Result |
| Plagiarism Checking By URL Is Not Available In Free Version | Premium Version At Affordable Price |
My Recommendation For Quetext
As I mentioned above that, in the free version, you can only scan 1000, so you may need the premium version, which costs $9.99 / month.
Some reptiles provide this tool at a low cost, which you do not have to take because you can scan only 500 at a time, less than Free Tools.
Website: www.quetext.com
2. Duplichecker Plagiarism Checker Tool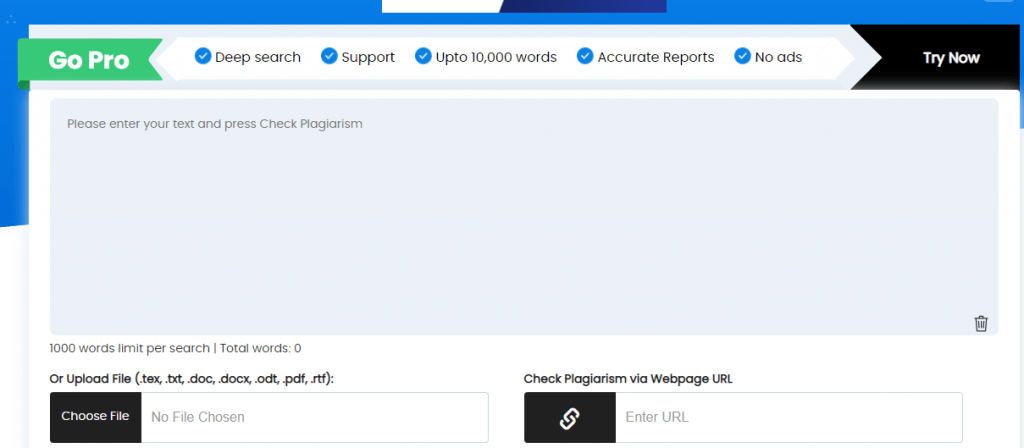 Duplichecker is One of the Fastest Plagiarism Checker Tools, with free and premium versions available. The specialty of this Best Online Free Plagiarism Checking Tool is that this tool tells you the results quickly.
With the help of this tool, you can check whether your Content is Plagiarized in 3 ways.
By Pasting The Content In Tool Directly
By Entering URL
By Uploading Text File
Suppose you have saved the Content. Txt or. Doc or any other text format, there is no need to open that file, copy the Content from it, and paste it into the tool.
You can check whether your Content is Plagiarized by directly uploading it to File Is Plagiarism Checker Tool.
In Beta Version (Free Version), you can scan Content up to 1000 words in one search, which is the limitation of the Free Version.
If you require to scan more words in One Go, then you can also purchase the premium version of this tool, which starts at a very affordable rate.
The Basic II Plan of Duplichecker Plagiarism Tool starts from just $10/Month, in which you get a lot of premium features.
If you feel that the Basil II plan is not enough for you and its subsequent plan is not affordable for you. You must purchase the method according to your budget and requirement. The Duplichecker Plagiarism Tool offers a custom plan.
Website: www.duplichecker.com
3. Plagiarism Detector
You will be surprised to hear about Plagiarism Detector that this tool is entirely free. However, its pr mum version is available, and it has such a feature that you hardly have to buy its premium version.
If your Content is short, i.e., fewer words, you can check it by Directly Copy Paste, and if there is long Content, you can check it through the URL.
The Word Limit of this Best Online Free Plagiarism Tool is 1000 Words, and if you want to scan longer articles, you can also take its premium version, which is quite fair.
PLAGIARISM DETECTOR Free Plagiarism Checker
If you do not want to spend $ 20 and feel that the features available for $ 20 are more, and you do not need as many features, then you can also apply for Custom Plan.
With Custom Plan, you can pay the same amount by taking the exact features you need. For example, if you think your Content is not more than 2500 words, you can spend as much for that feature by taking Custom Plan, which is the student. Plans will be less.
That is, if you think the plan with the features you need will come in 10 to 15 dollars, you can opt-in through Custom Plan.
Another feature of this tool is that you can check your content plagiarism by URL and by pasting the Content.
With the help of this Best Online Plagiarism Checker Free Tool, you check not only Plagiarism but also Grammar, due to which there is absolutely no need to take Grammarly or any other Grammar Checker Paid Toll to check Grammar Sense of your Content.
Website: plagiarismdetector.net
4. Search Engine Reports Plagiarism Checker Tool
Search Engine Reports is also an online free paganism checker too. This is my favorite and best plagiarism checker tool. The main reason for using it is that it searches the Content deeply and accurately in google, which means it identifies each sentence in the Content.
Read Also: 33+ Best WordPress Plugins & Tools for your Site.
In this tool, not 1000 words but up to 2000 words can be checked at a time. In this, you can also search your original Content by copy-pasting your Content in the box, uploading the document file, and searching through website URLs and Dropbox.
Website: searchenginereports.net
5. Small SEO Tool Plagiarism Checker Tool
Small SEO Tool is a simple plagiarism checker tool, which is an free tool and is straightforward to use. Many features are available in this tool to detect copied Content. With this, you can search for the limit of 1000 words at a time.
With this, the first way to check Plagiarism, you can upload a document file. Secondly, you can copy and paste your Content in the box, and thirdly you can check for Plagiarism from the website URL. Apart from this, you can upload your content file through the cloud. You can also find the originality of the text by uploading it from google drive and Dropbox.
Website: smallseotools.com
6. Grammarly Plagiarism Checker Tool
Grammarly is also the best free plagiarism checker tool, with many features available. With ththiselp, oanalyze and check the Plagiarism in the Content and also identify your writing issue so that you can write error-free Content. It also provides a Grammarly extension you can install to correct grammatical mistakes in your browser. Register on it before using it.
Read Also: 33+ Best WordPress Plugins & Tools for your Site
Website: grammarly.com
7. Google Search Engine
You can also check the Plagiarism of your Content through Google. Perhaps many people will not know these tricks that Google Search Engine can also check duplicate Content.
It does not work like any tool, but you can check the short paragraph content of your article by copying and pasting it into a google search. In this, it will not tell how much% of your Content is copied, but the website whose original Content is there will show it first.
Conclusion:
So, friends, I hope you have liked all the best free online plagiarism checker tools I have mentioned for Hindi and English. You can use online Plagiarism checking tools, whatever you want. If you use any other good free plagiarism tool, please comment and let me know so I can update this list.
If you liked this post, share it with your friends and social media groups so that all of them can know about this free online plagiarism checker tool. You can tell by commenting if you have any questions or suggestions related to this. Thanks for visiting the TechnoVimal blog!