In the digital age, visual communication has become paramount. Whether you're promoting an event, showcasing your business, or simply expressing your creativity, digital posters have emerged as a versatile and powerful tool. The convenience of creating stunning posters right on your mobile device has made poster maker apps increasingly popular.
In this article, we'll explore the 10 best digital poster maker apps for Android and iOS, allowing you to elevate your visual content and captivate your audience.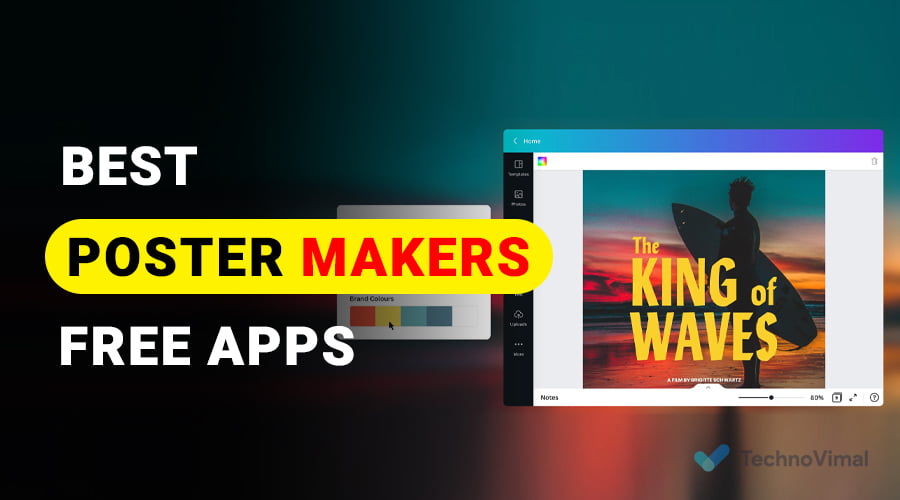 Best Poster Maker Apps For Android And IOS
Here are the top ten digital poster makers that will help you unleash your creativity and design visually appealing posters for various purposes:
Adobe Spark stands as a dominant force in the graphic design world, and its poster maker app is no exception. With an array of customizable templates, fonts, and graphics, Adobe Spark enables users to create captivating posters effortlessly. Whether you're a beginner or an experienced designer, Adobe Spark offers a user-friendly interface with professional results. From promotional posters to social media graphics, this app has got you covered.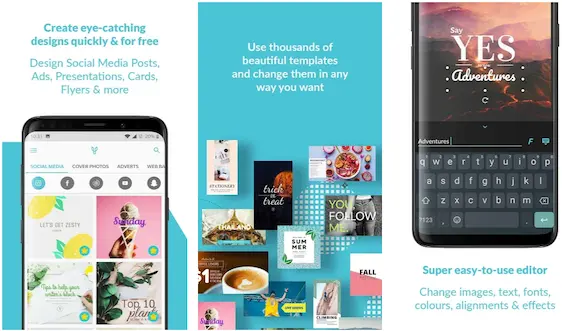 Desygner is a poster maker app that empowers users to craft stunning visuals anytime, anywhere. With a vast library of templates and design elements, Desygner lets you create personalized posters in a snap. Its intuitive drag-and-drop feature allows for seamless customization, making it an excellent choice for both individuals and businesses. From posters to social media banners, Desygner offers a wide range of design possibilities.
This all-in-one app by Photo Cool Apps is a jack-of-all-trades when it comes to graphic design. It offers an extensive collection of templates for posters, flyers, and advertisements, making it a versatile choice for various design needs. The app's user-friendly interface and powerful editing tools ensure that users of all levels can create stunning posters effortlessly.
Canva has revolutionized the design world by providing accessible and easy-to-use tools for non-designers. With Canva's poster maker app, you can access a plethora of templates and customize them to suit your style. Whether you need a poster for an event, a business promotion, or a personal project, Canva has the tools to help you make an impact.
Flyermaker is a dedicated app for creating eye-catching flyers and posters. It offers a wide range of templates and design elements to suit various occasions and themes. The app's user-friendly interface and quick editing options ensure that you can create impressive posters in no time.
GoDaddy Studio is more than just a website builder. It also houses a feature-rich poster maker app that allows users to create professional-looking posters effortlessly. With a vast library of images, fonts, and colors, GoDaddy Studio is an ideal choice for businesses looking to create polished marketing materials.
PostLab takes the hassle out of designing posters by offering a simple yet powerful platform. With its array of templates and design assets, users can quickly craft visually appealing posters. Whether you're a business owner or an individual looking to express your ideas, PostLab has the tools to bring your vision to life.
As the name suggests, Flyersr Maker is focused on delivering top-notch flyer designs. This app boasts an impressive collection of flyer templates, making it an excellent choice for businesses, events, or personal projects. With its intuitive editing tools, you can customize each template to create impactful posters effortlessly.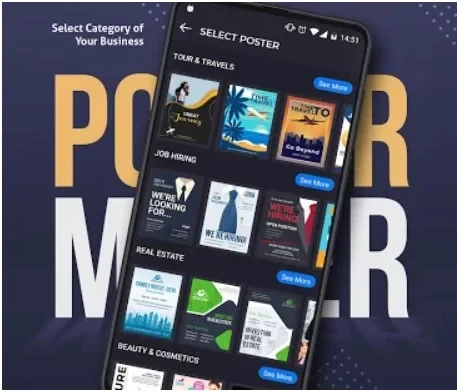 Poster Maker by Stylish App World lives up to its name, offering a range of stylish templates for your design needs. Whether you're promoting an event or announcing a sale, this app provides an array of eye-catching templates to choose from. Its user-friendly interface ensures a smooth and enjoyable design experience.
VanillaPen offers users a creative canvas to design visually striking posters. With its intuitive design tools and vast library of fonts and graphics, you can let your creativity run wild. Whether you're a professional designer or an aspiring artist, VanillaPen provides the perfect platform to bring your ideas to life.
Frequently Asked Questions (FAQs):
Q: Can I use these poster maker apps on both Android and iOS devices?
A: Yes, all the mentioned apps are available for both Android and iOS platforms, allowing users to create posters on their preferred devices.
Q: Are these apps suitable for beginners with little to no design experience?
A: Absolutely! These apps offer user-friendly interfaces and pre-designed templates that cater to users of all design skill levels.
Q: Can I import my own images into the poster designs?
A: Yes, most of these poster maker apps allow you to upload and incorporate your images, enabling you to personalize your designs further.
Q: Are these apps free to use, or do they require a subscription?
A: While some apps offer free versions with limited features, many provide subscription plans that unlock premium templates and advanced editing options.
Q: Can I share my posters directly from these apps to social media platforms?
A: Yes, these poster maker apps usually come with built-in sharing options, allowing you to post your creations directly to your preferred social media platforms.
Q: Do these apps offer customer support in case of technical issues?
A: Yes, most of the reputable apps on the list offer customer support to assist users with any technical difficulties they may encounter.
Conclusion:
In conclusion, the world of digital poster makers has never been more accessible and diverse. Whether you're an entrepreneur looking to promote your business, an event organizer aiming to attract attendees, or an individual with a passion for design, these 10 best poster maker apps for Android and iOS have something to offer you. From beginner-friendly options like Canva to powerful platforms like Adobe Spark and GoDaddy Studio, each app provides unique features to elevate your visual content and make a lasting impression on your audience. So, why wait? Download your preferred poster maker app today and let your creativity shine!