In the ever-evolving landscape of culinary innovation, our smartphones have become indispensable kitchen companions. In 2023, Android and iPhone users are spoilt for choice with many cooking apps that cater to every level of expertise, from kitchen novices to seasoned chefs. These digital culinary assistants are revolutionizing the way we cook, making it more accessible and enjoyable than ever before.
This comprehensive guide will take you on a delectable journey through Android and iPhone's top 10 cooking apps. Whether you're looking to whip up a quick weeknight dinner or master intricate gourmet dishes, these apps have you covered. We'll provide valuable insights, expert tips, and personalized recommendations to ensure you harness the full potential of these culinary companions.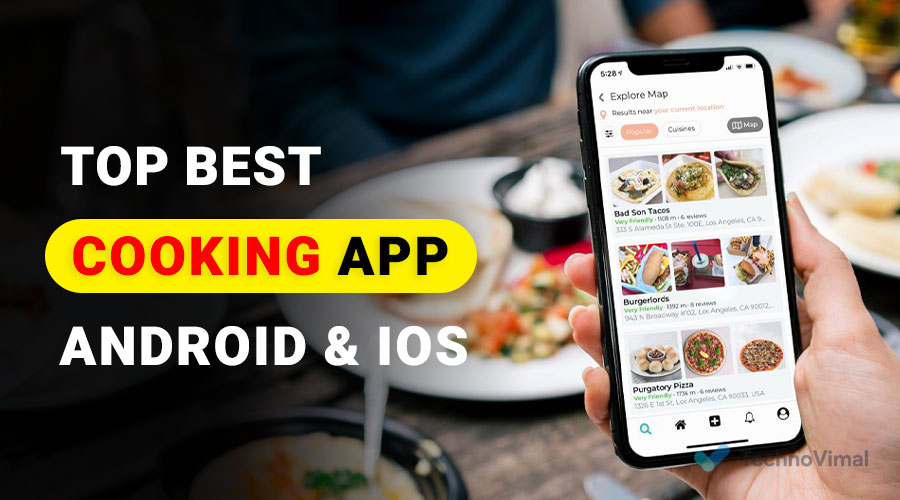 Prepare to elevate your cooking skills, discover new recipes, and embark on a culinary adventure as we unlock the secrets to culinary success in the digital age.
10 Best Cooking Apps for Android and iPhone 2023
Here, we list the best Android and iPhone apps for cooking to help you cook professionally. So, have a look at the apps discussed below.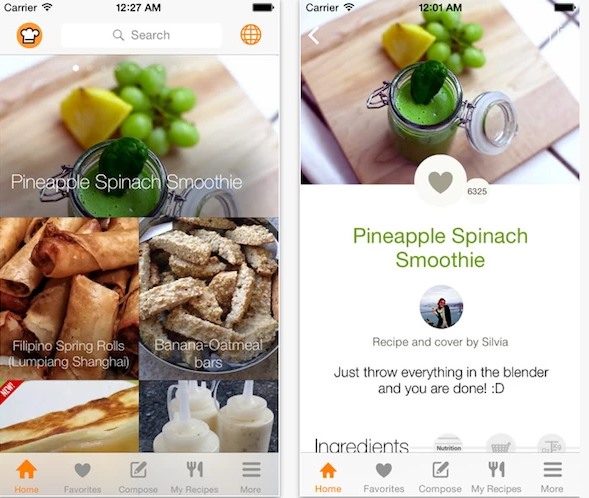 Kitchen Stories is your ultimate culinary companion, a treasure trove of gastronomic delights that caters to everyone, from novices to seasoned chefs. Our platform seamlessly blends meticulously crafted recipes, in-depth tutorials, and a thriving community eager to share their passion for food.
Step-by-Step Excellence: Our recipes come to life with crystal-clear, step-by-step instructions and engaging videos. You'll effortlessly master gourmet dishes, even if you're a beginner.
Personalized Culinary Journey: Kitchen Stories tailors your experience, offering customized recipe recommendations based on your preferences and previous culinary adventures. Say goodbye to endless scrolling and hello to your next culinary masterpiece.
Effortless Shopping: Our integrated shopping list feature ensures you have all the ingredients at your fingertips: no more last-minute grocery store dashes or forgotten essentials.
Community Connection: Join our vibrant food-loving community to exchange ideas, tips, and inspiration. Share your creations, seek advice, and make friends who share your passion for delicious things.
Read Also: 10 Best Email Apps for Android in [December 2023]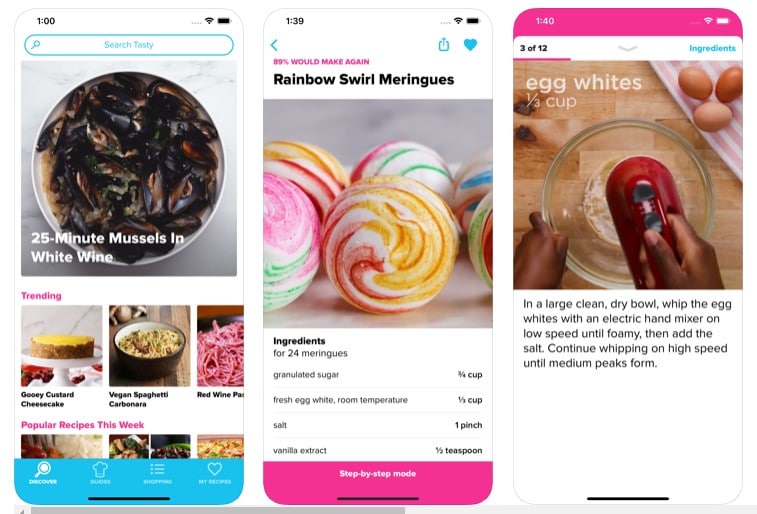 Cookpad is your global kitchen, where passionate home cooks from around the world unite to share their cherished recipes. It's not just an app; it's a vibrant culinary community that ignites the flames of your cooking creativity.
Global Culinary Connections: Connect with food enthusiasts spanning the globe. Discover diverse flavors, techniques, and traditions that transport your taste buds on a worldwide culinary adventure.
Share Your Culinary Masterpieces: Showcase your kitchen prowess by sharing your favorite recipes effortlessly. Be the star of your cooking show and inspire others with your gastronomic creations.
Exploration Beyond Borders: Embark on a gastronomic journey through an ever-expanding library of recipes. Unearth mouthwatering dishes from far-off lands, and master the art of international cuisine in your kitchen.
Community-Driven Inspiration: Join a warm and welcoming community that celebrates the joy of cooking. Exchange tips, tricks, and stories, fostering a love for culinary arts that brings people together in an enriching, flavorful experience.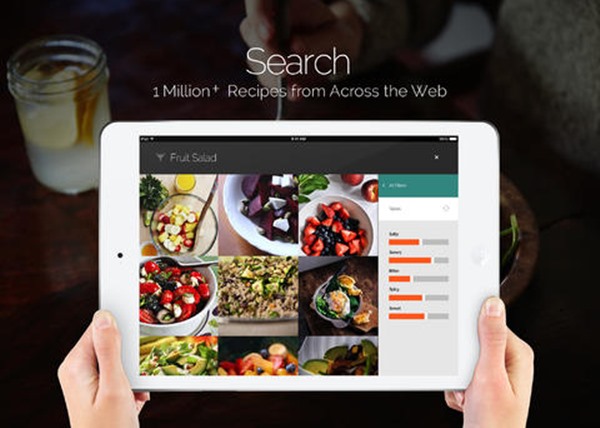 You are introducing Yummly, the ultimate culinary companion that revolutionizes your cooking experience. Say goodbye to culinary dilemmas and hello to culinary delight. Yummly is your culinary genie, granting your every foodie wish, and it's all just a tap away.
Tailored Culinary Magic: Yummly crafts a personalized culinary journey just for you. With a deep understanding of your dietary preferences, it curates an ever-expanding repertoire of mouthwatering recipes that align perfectly with your tastes and restrictions. From keto to vegan, we've got you covered.
Effortless Meal Planning: Bid farewell to meal planning stress. Yummly streamlines your weekly meals effortlessly. Discover delectable recipes, create customized meal plans, and generate intelligent shopping lists instantly—no more last-minute grocery store dashes.
Expert Cooking Tips: Elevate your culinary skills with Yummly's expert tips and tricks. From beginner-friendly basics to advanced techniques, our app offers insights and guidance at every level, turning every meal into a masterpiece.
Kitchen Confidence: Yummly empowers you to become a kitchen maestro. With easy-to-follow recipes, step-by-step instructions, and handy cooking timers, you'll cook confidently, impressing yourself and your loved ones.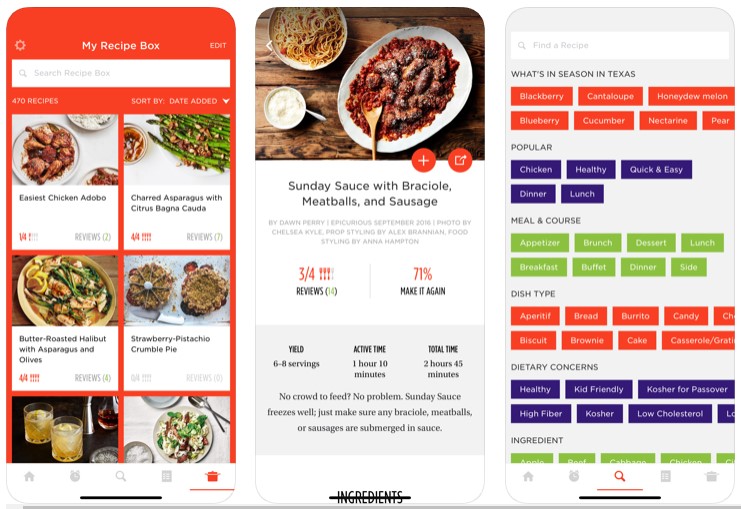 NYT Cooking, brought to you by The New York Times, is your ultimate culinary companion, unlocking a world of gastronomic delights and kitchen expertise. With a treasure trove of meticulously curated recipes, it's your passport to culinary mastery.
Elevate Your Culinary Journey: Immerse yourself in a culinary world curated by renowned chefs and food experts. Discover diverse tried-and-true recipes to transform your home cooking into a gourmet experience.
Learn From the Best: Benefit from the wisdom of culinary giants as you explore step-by-step guides, cooking tips, and techniques shared exclusively by experts. Expand your culinary horizons and refine your skills with insights from the masters.
Unparalleled Variety: NYT Cooking boasts an expansive collection of recipes for every taste and occasion, from appetizers to desserts. Whether a novice or a seasoned pro, you'll find the perfect recipe to satisfy your cravings.
The New York Times Seal of Approval: Enjoy the prestige of cooking with The New York Times stamp of excellence. Each recipe is rigorously tested and endorsed, ensuring your culinary creations are exceptional.
BigOven revolutionizes home cooking with its colossal recipe repository, housing 350,000 diverse dishes to ignite your culinary imagination.
Endless Culinary Inspiration: Dive into a world of gastronomic creativity as BigOven offers an unparalleled treasure trove of recipes. Our extensive collection caters to every taste and craving, from family favorites to exotic cuisines.
Effortless Meal Planning: Say goodbye to mealtime stress with BigOven's intuitive meal planning tools. Seamlessly organize your week, create shopping lists, and adjust servings to fit your needs. It's your recipe, your way.
Minimize Food Waste: BigOven's ingenious leftovers feature is your key to reducing food waste. Quickly transform surplus ingredients into delectable new dishes, saving money and helping the planet.
Community and Collaboration: Join a vibrant cooking community within BigOven. Share your culinary creations, swap tips, and collaborate on recipes with fellow food enthusiasts. Cooking is not just a chore; it's a delightful journey with BigOven by your side.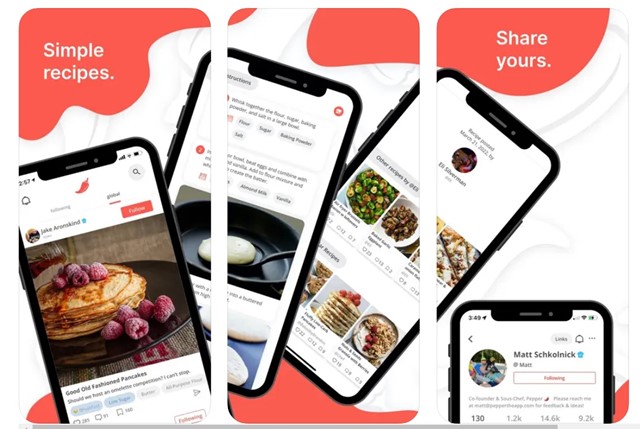 Revolutionize your culinary experience with SideChef, your ultimate cooking companion. Say goodbye to recipe books and hello to a world of seamless, hands-free cooking. With SideChef's intuitive voice commands and step-by-step guidance, you'll embark on a culinary journey like never before.
Voice-Guided Cooking: SideChef listens and responds to your voice commands, offering real-time guidance as you cook—no need to touch your device with messy hands.
Extensive Recipe Library: Access an extensive library of diverse recipes, ranging from gourmet meals to quick weeknight dinners. Never run out of ideas with endless culinary possibilities at your fingertips.
Personalized Recommendations: SideChef learns your preferences over time and suggests recipes tailored to your taste, dietary restrictions, and available ingredients.
Smart Kitchen Integration: Seamlessly connect SideChef to your smart kitchen appliances for a smoother cooking experience. Control your oven, stove, or other devices with voice commands for precise cooking.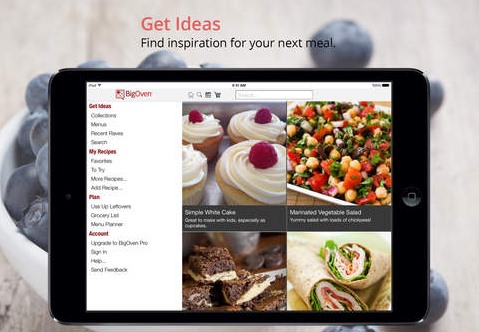 They are introducing Pepper, the ultimate culinary companion for discerning food enthusiasts who crave simplicity and elegance in their cooking journey.
Gourmet Recipe Curation: Pepper offers a carefully curated selection of gourmet recipes that cater to your refined taste buds. Explore a world of culinary delights, from classic French cuisine to exotic Asian flavors, all handpicked to ensure an unforgettable dining experience.
Your Digital Recipe Sanctuary: Say goodbye to cluttered cookbooks and recipe cards. Pepper provides a digital recipe box to store and organize your favorite recipes seamlessly. Access your treasured collection anytime, anywhere, with the tap of a finger.
Elevate Your Culinary Skills: Elevate your cooking style effortlessly with Pepper's refined approach to gastronomy. Dive into step-by-step tutorials, expert tips, and ingredient substitutions to perfect your culinary creations, ensuring each dish is a masterpiece.
Community of Foodies: Connect with like-minded foodies who appreciate the art of gastronomy. Share your culinary triumphs, exchange ideas, and inspire one another in a vibrant community dedicated to the finer things in life.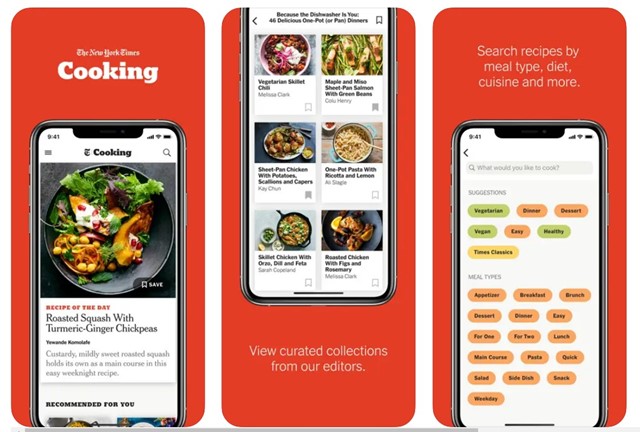 Epicurious is your ultimate culinary companion, boasting an unparalleled collection of recipes sourced from renowned chefs, prestigious magazines, and acclaimed cookbooks. It's a culinary treasure trove that caters to every food enthusiast's cravings.
Unrivaled Recipe Database: Dive into an expansive database of mouthwatering recipes spanning cuisines, dietary preferences, and skill levels. From quick weekday dinners to gourmet delights, we've got you covered.
Personalized Recipe Hub: Create your culinary haven by saving your favorite recipes for quick access. Organize them effortlessly so you're always ready to whip up something delicious.
Expert Cooking Guidance: Elevate your culinary prowess with expert advice from seasoned chefs. Our platform offers tips, tricks, and techniques to help you master the art of cooking.
Community and Inspiration: Connect with fellow foodies, share your creations, and draw inspiration from a vibrant culinary community. Epicurious is not just a recipe repository; it's a hub for culinary exploration and creativity.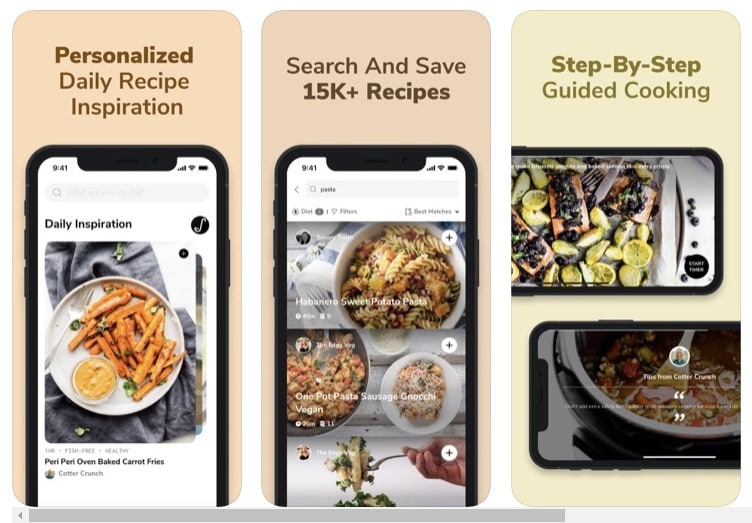 "Dive into the delectable world of plant-based cuisine with 'Oh, She Glows,' your passport to a flavorful and nutritious culinary adventure. This cookbook is your ultimate companion on the path to a healthier, more vibrant lifestyle.
Wholesome Delights: Discover a diverse array of mouthwatering recipes that celebrate the goodness of plant-based ingredients. Each recipe is a delightful fusion of flavor and nutrition, from savory main courses to decadent desserts.
Nourish Your Body: Elevate your well-being with every bite. 'Oh, She Glows' offers recipes that are not only delicious but also packed with essential nutrients, vitamins, and minerals, promoting your overall health and vitality.
Embrace the Green Lifestyle: Immerse yourself in the joys of eco-friendly and sustainable cooking. These recipes help reduce your carbon footprint and support a more environmentally conscious way of life.
Vibrant and Delicious: Experience the magic of rich, colorful dishes that are as visually appealing as scrumptious. 'Oh, She Glows' proves that plant-based eating can feast on the senses.
Discover the ultimate culinary companion with Tasty, your premier app for a delightful cooking journey filled with visually stunning recipe videos. Embrace the art of cooking like never before as you delve into our exquisite collection of recipes worldwide.
Immersive Visual Experience: Prepare to be mesmerized by our high-quality recipe videos that showcase every step of the cooking process, ensuring you never miss a beat.
Global Culinary Exploration: Embark on a gastronomic adventure with our diverse cuisines and recipes. From classic comfort food to exotic dishes, Tasty has it all.
User-Friendly Interface: Our intuitive app design makes navigating through recipes a breeze, whether you're a seasoned chef or a novice in the kitchen.
Interactive Cooking: Enhance your culinary skills with interactive features like ingredient lists, cooking timers, and shopping lists, ensuring your cooking experience is as smooth as possible.
Frequently Asked Questions (FAQs)
What are the minimum requirements for these apps?
Minimum requirements vary by app, but generally, you'll need an Android device with a compatible operating system.
Are these apps free to download?
These apps offer free versions with optional in-app purchases or premium subscriptions for added features.
Can I find recipes for special diets on these apps?
Many apps offer filters and categories for special diets like vegan, gluten-free, and keto.
Do these apps require an internet connection to use?
While some features may work offline, an internet connection is typically required to access the full range of recipes and features.
Are these apps beginner-friendly?
Absolutely! These apps cater to all levels of cooking expertise, from beginners to seasoned chefs.
Which app is the best for meal planning?
Yummly and BigOven are excellent choices for meal planning, offering personalized recommendations and shopping list features.
Conclusion
These ten best cooking apps for Android in 2023 are your ticket to culinary excellence. Whether you're a passionate home cook or just starting your cooking journey, these apps have something for everyone. From personalized recommendations to step-by-step guidance, they'll transform your kitchen into a culinary haven. Download your favorites today and embark on a delicious adventure!